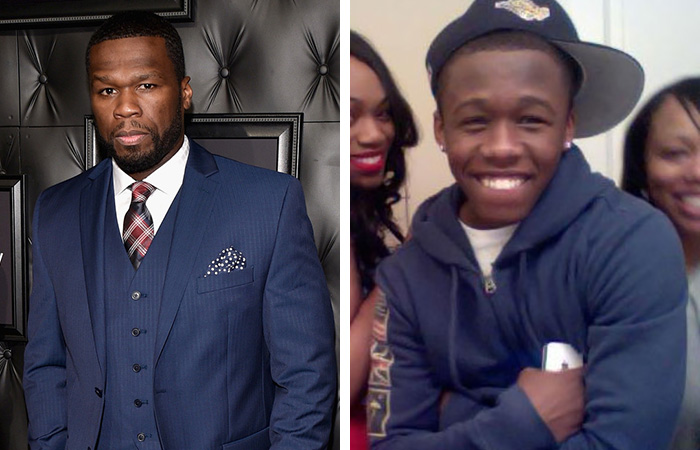 And the award for "Worst Father of the Year" goes to … 50 Cent!
At one point in time, 50 Cent was hands down one of the hottest rappers in the game. Remember in 2003 when he released "In Da Club" and had us all thinking it was our birthday even though it really wasn't?
Or what about when we asked our significant other "21 questions" to make sure they were really down to ride? Yep, 50 had some hits back in the day.
Fast forward to 2015 and 50 is this business mogul/actor who somehow manages to end up in countless Internet beefs and cyber-bullies anyone he doesn't like or has a problem with. Seriously, this guy has more beef than a meat locker.
His latest victim, however, just so happens to be his 18-year-old son Marquise Jackson.
Over the past couple of years, 50 and Marquise have both been open about their strained relationship due to 50's problems with Marquise's mom Shaniqua Tompkins.
50's beef with Shaniqua dates back to 2008 over his $4 million Long Island mansion that she claimed he promised to give her, which later caught on fire "mysteriously."
According to Shaniqua, 50 hired a hit-man to kill her and instead of just taking out the hit, he made the house go up in flames. And things between 50 and his baby mama haven't been on a good note ever since, with both of them hurling insults and accusations about each other back and forth.
And just to prove how much Shaniqua really makes his skin itch, 50 posted an old pic of him and Marquise days ago with the caption, "This kid is gonna hate his mother when he realize what she did to him. He has to make it on his own like I did. SMH GOOD LUCK."
Of course he deleted the post, but that's what screenshots are for:
Damn.
It's one thing to hate your baby mama, but to punish your own child over you guys not seeing eye-to-eye is beyond childish and impossible to respect.
We hope Marquise grows up to be very strong and one day beats 50's ass. Can't say he doesn't deserve it!
Be the first to receive breaking news alerts and more stories like this by subscribing to our mailing list.