In an exclusive interview with the Today show Charlie Sheen revealed to the world that he is indeed HIV positive.
Sheen said he was diagnosed with HIV four years ago, but in an extreme effort to keep his diagnosis a secret he has paid millions of dollars to thwart numerous blackmail attempts, he told Today's Matt Lauer this morning.
The interview was timed to beat a National Enquirer cover story about his sex life and HIV-positive status which is scheduled to hit newsstands on Wednesday (Nov 18).
"I'm here to admit that I am in fact HIV-positive," 50-year-old Sheen told Lauer in the bombshell interview. "It's a hard three letters to absorb. It's a turning point in one's life."
Sheen said he wasn't exactly sure how he contracted the virus, but made it clear that it wasn't from sharing dirty needles.
"It started with what I thought was a series of crushing headaches," he said. "I thought I had a brain tumor. I thought it was over."
Sheen, who appeared on the show by himself at first before being joined by his personal doctor Robert Huizenga, told Lauer he takes at least four antiviral pills every day to keep the virus suppressed.
Dr. Huizenga said Sheen's biggest hurdle will be overcoming his substance abuse issues and depression, and the HIV is the least of his worries.
According to Dr. Huizenga, who is the Associate Clinical Professor of Medicine at UCLA, Sheen currently has an "undetectable level of the virus in his blood."
"Individuals who are optimally treated, who have undetectable viral loads, who responsibly use protection, have an incredibly low… it's incredibly rare to transmit the virus," Dr. Huizenga said. "We can't say that that's zero, but it's a very, very low number."
So, in other words, as long as Charlie is safe and responsible, he won't infect anyone with HIV and his disease should not affect his quality of life.
Sheen said since his diagnosis, he's told all of the women he's slept with about his status, leading "with condoms and honesty," and the two women he's had unprotected sex with are "under the care of my doctor and they were completely warned ahead of time."
Sheen blamed his honesty for the blackmail payments, and he said he needed to "put a stop to this onslaught of attacks and untruths."
The actor admitted to spending "upwards of $10 million" to several people who knew about his diagnosis, including a prostitute who snapped a cell phone picture of his HIV meds and threatened to leak it to the press.
He said part of his reason for going public was to stop the barrage of "shakedowns."
Though Sheen was once the highest-paid actor on TV, he said his current financial situation is "not great."
"What people forget is that's money they're taking from my children," Sheen said. "I've got five kids and one grandkid."
"Are you still paying some of these people?" Lauer asked. "Not after today I'm not! I release myself from this prison today," Sheen said, adding that he expects some of his former sex partners to file lawsuits.
Sheen said he's told both of his ex-wives Denise Richards and Brooke Mueller about his diagnosis, as well as some of his children, including his 30-year-old daughter Cassandra Estevez.
"I told my oldest daughter Cassandra the other night, and I felt bad, it hit her hard," he said. "But she recovered, and she's tough like her dad."
He explained further: "I said, 'Sweetie, I'm sorry I didn't tell you sooner, but it didn't seem like you could do anything for me, and I didn't want to burden you with the stress. But she was a rock star about it."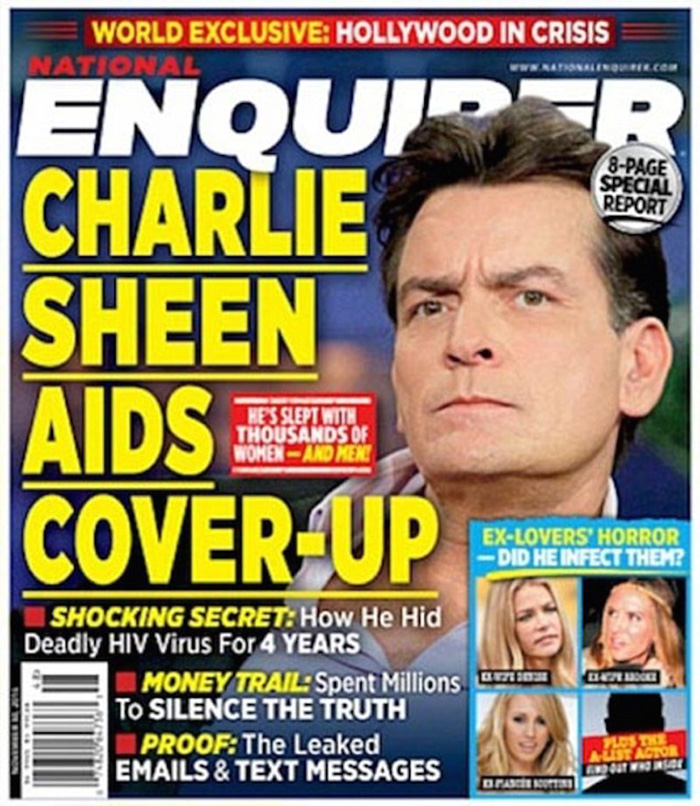 Sheen's confession follows weeks of speculation sparked by a National Enquirer blind item from late October that said that "decades of debauchery" had finally caught up with a "bad-boy Tinseltown star" who was hiding his HIV-positive status from the world.
The Enquirer named Sheen on Monday, and shortly after, NBC reported that Sheen was due to make a "personal announcement" on the Today show, while various outlets with the inside scoop divulged that Sheen would be revealing that he's HIV positive.
Sheen hopes to dispel the stigma of HIV by going public with his diagnosis.
"I have a responsibility now to better myself and to help a lot of other people and hopefully with what we're doing today others will come forward and say, 'Thanks, Charlie,'" he said.
He added, "I'm not going to be the poster man for this, but I will not shun away from responsibilities and opportunities that drive me to helping others."
Be the first to receive breaking news alerts and more stories like this by subscribing to our mailing list.