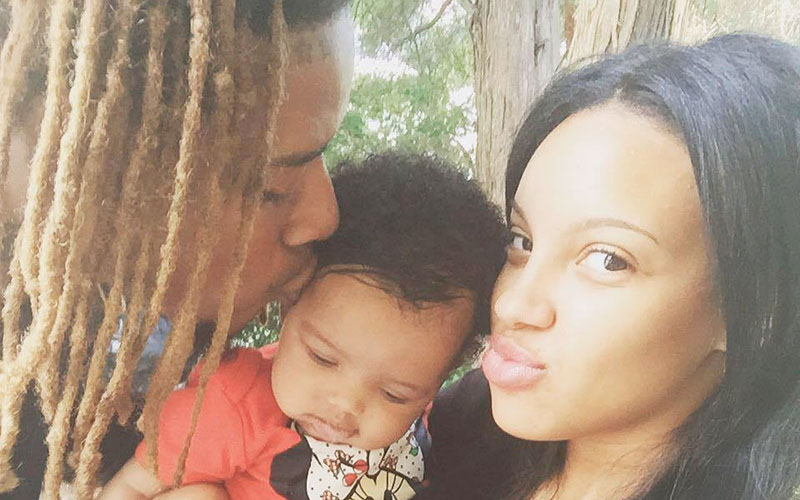 Fetty Wap may be having the greatest year in his life musically, but that doesn't stop even him from having baby mama issues.
Footage of the "Trap Queen" rapper arguing with his baby mama Lezhae Zeona and threatening to shoot her house up surfaced on the Internet this past weekend.
In the video, which is said to have been recorded outside of Lezhae's grandmother's house, Fetty Wap's BM holds a knife and yells back at Fetty (or at the very least someone who looks and sounds like him) as he makes death threats.
Fetty had apparently been looking for Lezhae after hearing she aired him out in a radio interview.
"I'ma f*ck you up!" Fetty can be heard yelling at his baby mama before calling her a "bum," to which she replies, "I wasn't a bum when you was eating my p**sy."
Immediately after the altercation, the "My Way" rapper took to his Instagram to share a video of him laughing his ass off about what went down:
https://instagram.com/p/9gtD-Xk10D/
Clearly unbothered by the incident, Fetty later took to Twitter to give his take on the incident:
End of the day I ain't see my daughter In a month so yea I was upset , Shit happens when ppl wanna be famous ?

— FettyWap1738 (@fettywap) November 1, 2015
Lezhae also made her own social media post about what happened between her and Fetty:
Point blank let n*ggas make that they're first and last time calling themselves doing a pop up cause they really don't want these type of problems! [100 emoji] and you could never call me a bitchh, im a female, 5'4 127 pounds I came outside by myself (my grandmother and daughter don't count cause neither one of them could do anything) when there was not one but two grown ass men callin me out my heart ain't NEVER pump no koolaide n*gga you bleed like so wassup!
She added in a separate post one minute later:
And let's not forget to mention that my daughter was RIGHT there Wap did that sh*t in front of my grandmother and my daughter smh I recorded it so y'all could really see what type of n*gga he is! That n*ga ain't sh*t never will be sh*t point blank he ain't bout none of that sh*t he talk about! He's a whole bitch how Tf you pull up on your bm with death threats and you got grown ass men in the hood frfr that's really coming for you and your don't say sh*t to them?! You lil disrespectful ass dirty ass fake ass bitch ass cornball ass wanna be ass lying ass f*ck ass n*gga!!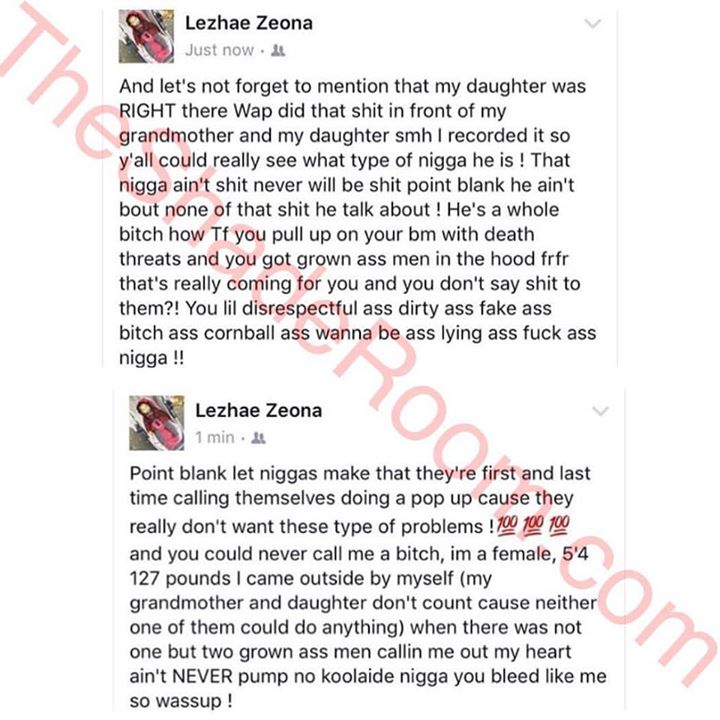 Be the first to receive breaking news alerts and more stories like this by subscribing to our mailing list.