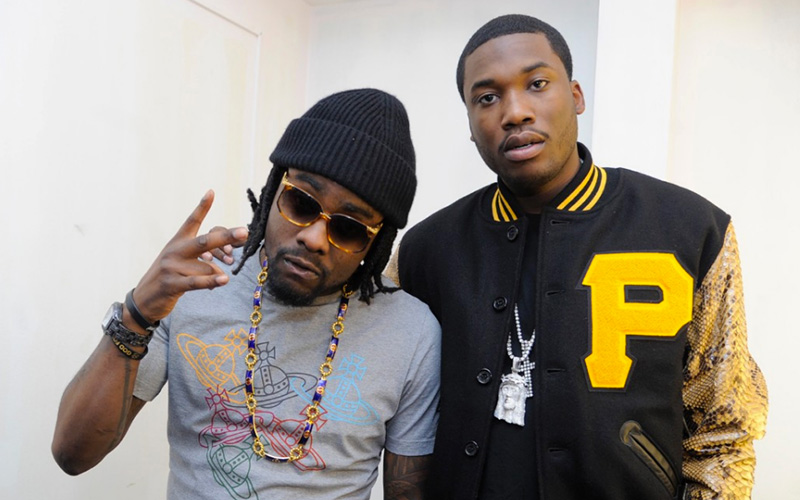 It's obvious Meek Mill still hasn't learned anything from that lyrical ass whooping he took from Drake over the summer.
After his MMG label mate Wale made an appearance on The Breakfast Club yesterday, Meek took to Instagram and went completely OFF on Wale for his comments on Meek taking an "L" to Drake in their rap beef.
In his Breakfast Club interview, Wale simply gave his personal opinion on the battle and said that he felt like Meek "brought a pencil to a gun fight," which is 100% true.
Wale also acknowledged that Meek didn't have a chance from the beginning due to Drake's relationships in the music industry and the fact that everyone jock rides Drake, whether his music is good or bad.
Once Meek caught wind of the interview, he went on a lengthy rant on Instagram, calling Wale a "jealous" and "broke" rapper.
Meek also kicked Wale out of MMG (which we didn't know was even possible considering he's not the boss, but whatever) and told him to go jump off a roof.
Wale has since responded on Twitter, but it's clear that he is neither bothered nor fazed, which he shouldn't be.
https://twitter.com/Wale/status/656955125941014528
https://twitter.com/Wale/status/656965495959236610
https://twitter.com/Wale/status/656965688452583424
https://twitter.com/Wale/status/657011606275104769
https://twitter.com/Wale/status/656979792508665856
This isn't the first time Meek Mill has attacked Wale on social media. Remember when Meek got mad because Wale didn't tweet his album? This guy is the definition of Petty Wap.
Be the first to receive breaking news alerts and more stories like this by subscribing to our mailing list.