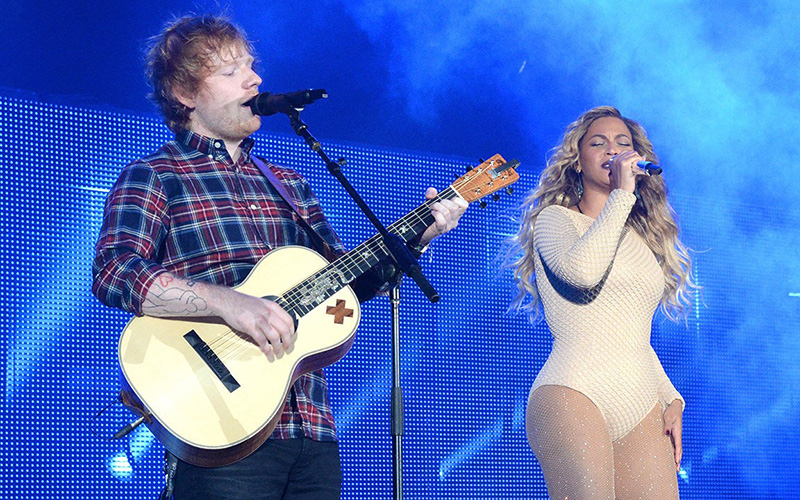 Beyoncé headlined the 2015 Global Citizen Festival on Saturday, September 26th at Central Park in New York City, and during her one-hour concert, she brought out singer-songwriter Ed Sheeran (who had performed earlier in the evening) for an awe-inspiring rendition of "Drunk In Love."
Ed Sheeran's acoustic cover of Beyoncé's hit single has been a fan favorite since he debuted it last year in a live radio interview, and fans of both artists were thrilled when they took the stage together and sang the track as a duet.
WATCH HERE:
The "Thinking Out Loud" singer later revealed in a radio interview that it was hard making eye contact with Queen Bey due to the nature of the song and the fact that her husband Jay Z was watching from not too far away backstage.
"It was cool! I had a conversation with her after it and I was like, 'I hope you weren't offended!' because she was like looking at me, but I had my eyes closed the whole time and I was like, 'I hope you weren't offended that I didn't want to make eye contact during that song," Ed told The Elvis Duran Z100 Morning show the following Monday (Sep 28).
And why did you not want to make contact, Ed?
"Well Jay [Z] was standing on the side of the stage," he explained, "and the song is quite open and I just don't want to make eye contact with someone's wife when I'm singing lyrics like that."
Such a polite boy, that Ed Sheeran.
Be the first to receive breaking news alerts and more stories like this by subscribing to our mailing list.