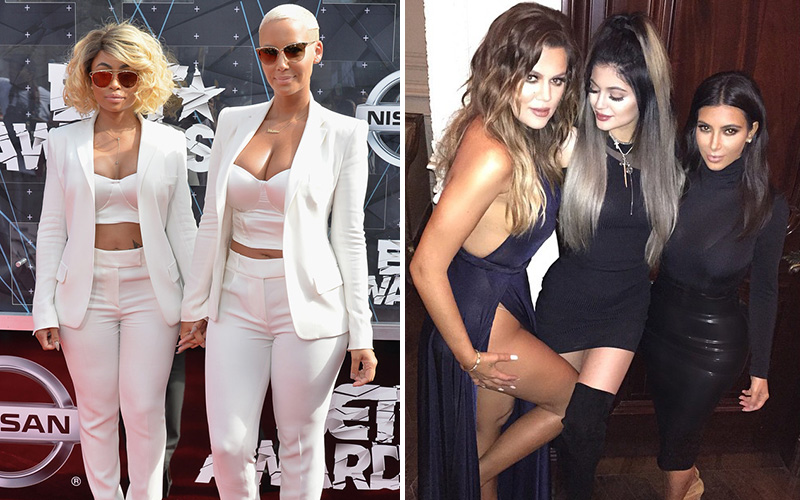 Despite Amber Rose trying to make peace with the Kardashian Klan, the family of K's and J's are still not too fond of neither Amber Rose nor her BFF Blac Chyna.
Radar Online reports that the Kardashian Klan is very worried about what Amber Rose and Blac Chyna could potentially reveal about them in their new MTV reality show.
Amber and Chyna both have close times to the family. Kim is married to Amber's ex boyfriend Kanye West, and Amber has also had beef with Khloe before (who is rumored to be dating another one of Amber's exes James Harden).
Also, Blac Chyna used to be friends with Kim Kardashian (Remember the good ol' days?) and she has a son with Kylie Jenner's boyfriend Tyga, which is an ever closer relation, so you can kinda see why the Kardashian Klan is so pressed about them possibly spilling secrets about their family.
According to a "well-connected" Radar source, the "Keeping Up with the Kardashian" stars have prepared cease and desist letters for Amber Rose and Bla Chyna before filming for their show begins so that they aren't legally able to mention their names on camera.
"They haven't sent it to them just yet. They are hoping that Amber Rose and Blac Chyna take the high road and keep them out of their new show," the source explained to Radar.
"Khloe and Kim confronted Amber Rose regarding her and Blac Chyna's reality show," the source revealed. "They told them that if that they will to whatever is necessary to prevent them from harming the Kardashian family and spilling their secrets."
"The Kardashians have asked Amber and Blac politely several times to please not make it an anti-Kardashian show," the source added. "They are terrified that the two of them will use their platform to make it a non-stop Kardashian bashing fiasco."
A source connected to Amber tells Radar that Amber isn't afraid of the Kardashians and their threats, and she proved as much by calling up "one of the sisters" (probably Khloe?) personally to tell her that she "'does not give a f*ck' what they do because she and Blac Chyna have the freedom to say and do 'whatever they want.'"
The source continued, "They are sick of the fact that the Kardashians think that they can say and hurt anyone and no one says anything back to them. Amber told her straight up that they will never be silenced."
"Amber and Blac laugh at the fact that the Kardashians think they have any control over the situation," the source divulged. "But Amber also told her that they are not going to waste all of their time on TV talking about them."
Good for Amber!! Don't let those Kardashians silence you, but also let them know that you have better things to do than to "slander" them on your show.
Last month TMZ broke the news about Amber and Chyna's reality show, which was being finalized at the time. It makes sense that these two would do a show together too, because they both have a lot in common.
TMZ points out that they're both "recently single, working mothers with high-profile rappers for baby daddies and money in the bank," and not to mention the fact that the duo "have past love affairs with the stripper pole."
Sources close to the production said the show will not be "ratchet," with it instead focusing on the besties taking care of their kids while juggling "work."
Be the first to receive breaking news alerts and more stories like this by subscribing to our mailing list.