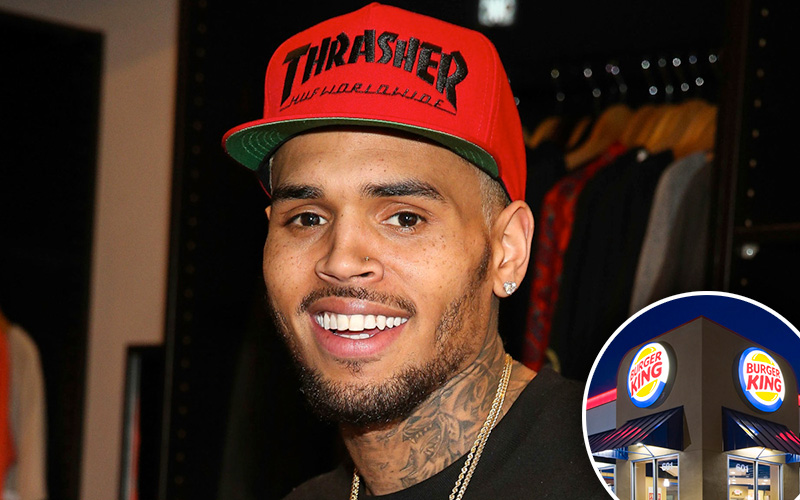 Despite the fact singer Chris Brown often comes off as a temper tantrum-throwing, constant bad decision-making a-hole, he's actually business savvy and has a lot of accolades under his belt.
Chris recently took part in Us Weekly's "25 Thing You Don't Know About Me" and revealed that he owns fourteen Burger Kings. (Yes you read that clearly… 14!)
According to Burger King's Website, you must have at least a $1.5 million net worth (Chris Brown's net worth is reportedly $30 million) and at least $500,000 liquid assets to qualify.
On top of that, the average cost for developing a new BK can be anywhere between $1 and $2 milion, plus, once the restaurant opens the owner pays a monthly royalty fee of 4.5% of gross sales.
So this is definitely a smart business move for Chris, but it's far from a cheap one.
Chris also proudly shared that he's the only singer to be incarcerated and have a No. 1 record at the same time, which is honestly one hell of an accomplishment.
Check out the full list of 25 things you don't know about Chris Brown below:
1. I am a neat freak.

2. I listen to Sango and Hippie Sabotage on Pandora.

3. I'm the only singer who has been incarcerated and had a No. 1 record at the same time.

4. I've trained in martial arts and boxing.

5. I own 14 Burger Kings.

6. I paint monsters that are mirror images of people's negative views of me.

7. I was 13 when I got my first tattoo.

8. I don't bite my tongue.

9. I freestyle all my songs.

10. I love to paint murals, and then I donate most of the profits to charity.

11. I recently went to church for the first time in 15 years and loved it.

12. I am a huge comic book fan.

13. I direct or codirect and edit all my videos.

14. I bought my mom a $1 million dollar house when I was 15 years old.

15. I don't eat beef or pork.

16. I talk to a pastor twice a week.

17. When I was 6, I witnessed a relative attempt to commit suicide.

18. I'm a man of many emotions.

19. My first car was a Lamborghini.

20. I smile a lot because this world doesn't allow for people to cry.

21. After creating my clothing line, I made $4 million in the first year.

22. I love dancing with my daughter [Royalty, 15 months].

23. I love to help choose my daughter's outfits.

24. Success or money never changed who I am as a person.

25. I think the best thing God created was a woman.
Say what you want about Chris Brown, but the guy is a lot smarter than you think.
Be the first to receive breaking news alerts and more stories like this by subscribing to our mailing list.