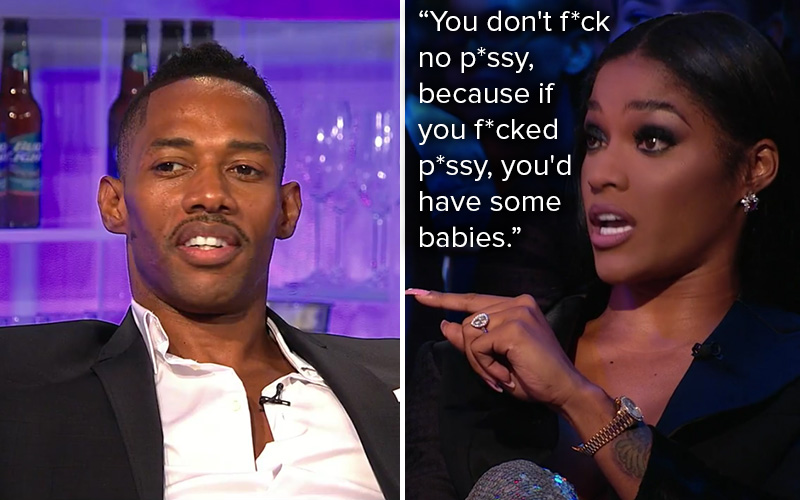 Now that the fourth season of "Love & Hip Hop Atlanta" has wrapped, it's time to get ready for the always explosive multi-part reunion special, which kicks off TONIGHT!
If you'll remember, last year, Joseline and Stevie J were removed from the set prematurely during the Season 3 reunion when they started a massive brawl between most of the cast after attacking Benzino and Althea.
So don't expect any major physical altercations because we're sure security was EXTRA tight this time around, but you can definitely expect some shade being tossed around and a lot of tea being spilled.
VH1 posted a preview clip on their website showing Joseline teaming up with Mimi (yes, you read that right!) against "Freako" Nikko and his estranged wife Margeaux.
When the matter of the sex tape between Mimi and Nikko came up (WHY ARE WE STILL TALKING ABOUT THIS?!?), Joseline quickly jumped to Mimi's defense, even though the two have never seen eye to eye.
In case you forgot, Mimi and Nikko made a sex tape that became a huge storyline for Season 3 and also rolled over into Season 4. After the sex tape was released, Nikko got Mimi to sign some contract giving him the "rights" to a book about her life.
Following a consultation with Deb Antney, Mimi came up with a great idea to get out of said book deal. She got her daughter with Stevie J, Eva, to draw some pretty pictures and BAM, Nikko got his "book."
During the reunion, Joseline was asked on her opinion about the "25%" Nikko is (or was?) supposed to get from Mimi's book sales (not the book Eva made, the REAL book).
"She shouldn't give him shit!" Joseline said, as Mimi's BFF Ariane agreed, saying "Absolutely."
"He didn't do nothing, who the f*ck is he?" Joseline continued. "And guess what? She should've known he was full of sh*t because look at him, he look like sh*t.
Joseline also fired shots at Margeaux, saying she "looked like a d*ck[?]" (It's hard to read Joseline's lips and the profane word was bleeped out) before going IN on Nikko.
"Fix your grill, d*ck sucker" Joseline says to Nikko, "because you suck more d*ck than your bitch do."
Miss Deb also jumped in, talking about a "bigger picture" and how "pissed off" she was over Mimi and Stevie J's young daughter even being brought into this at all (Nikko had said Eva would be calling him "daddy" after the book's release).
"You don't mess with the kids!" Deb shouted at Nikko, who basically told her to mind her damn business because "you ain't got nothing to do with this."
Before Deb could even get a word out, Joseline spoke up and told Nikko, "Go make a baby, you 45 and ain't got no kids. You are an undercover, because a n*gga that's 45 would have kids! Where yo kids at? Go make some kids and stop trying to make somebody else call you daddy. Because guess what? You don't f*ck no p*ssy, because if you f*cked p*ssy, you'd have some babies."
LMAO… Joseline is TOO real!!!
You can catch the two-part "Love & Hip Hop Atlanta" reunion tonight (Mon. Aug 24) and next Monday (Aug 31), but in the meantime, check out this sneak peak below:
Be the first to receive breaking news alerts and more stories like this by subscribing to our mailing list.