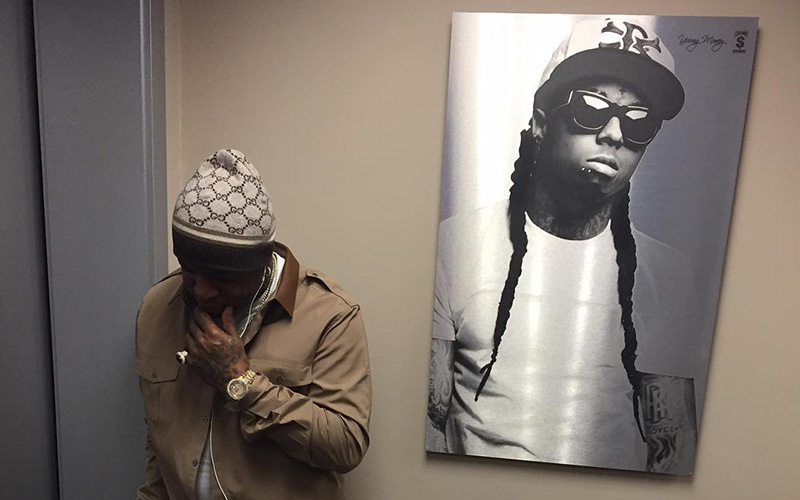 Birdman and Lil Wayne are still at odds, but that doesn't mean that they don't still have love for each other. Or at least that's what Birdman is trying to promote on Instagram.
Last Saturday (Aug 15), the Cash Money head honcho posted a photo showing him standing next to a large portrait of Wayne with a caption that reads, "4 Life LFLS YMCMB" — an obvious reference to their Young Money Cash Money Billionaires imprint and their 2006 joint album 'Like Father Like Son.'
https://instagram.com/p/6atGvWiZ7i/
Other than his recent hour-long interview with Angie Martinez and a few statements released to TMZ, Birdman has been pretty radio silent regarding his feud with his surrogate "son."
"The media makes it worse than what it really is," Birdman told Martinez in an effort to downplay the beef. "Me and my son don't scream at each other. I'm a man. He respects me as his pops and I respect him as my son. There ain't never come a day where he's going to talk to me in a disrespectful manner. We didn't come from that cloth."
Birdman also vehemently denied taking part in the drink-tossing incident and tour bus shooting, in which he and Young Thug were named in an indictment.
As for Lil Wayne, the only time he's mentioned the beef (other than when he first made it public on Twitter last year) has been in his music — the  Young Money freestyle cypher and the first song on 'Sorry 4 the Wait 2' (aka that mixtape no one liked) — and none of the things he's said has been nice.
It's painfully obvious that Birdman misses his "son" Lil Wayne, but it's definitely not the other way around.
Be the first to receive breaking news alerts and more stories like this by subscribing to our mailing list.