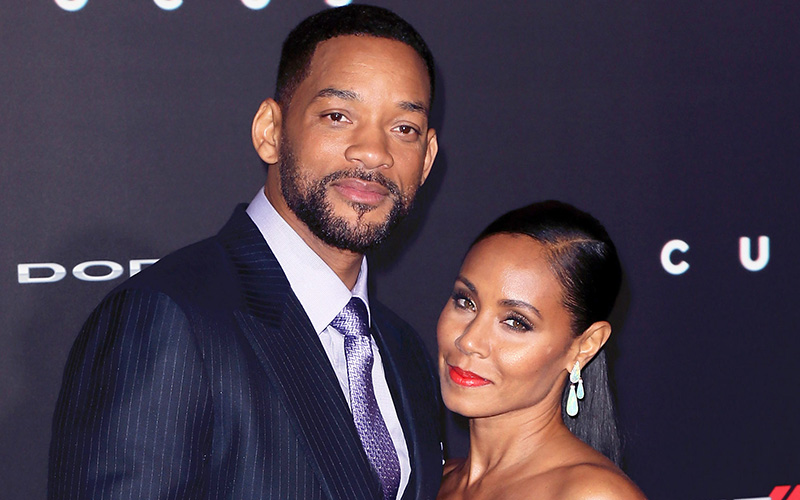 There was a rumor going around that Will Smith and Jada Pinkett Smith were going to announce their split at the end of the summer, but according to Will Smith, he and his wife of nearly 17 years are "NOT GETTING A DIVORCE!!!!!!!!!!!!!"
Citing their (n)ever reliable "insiders," Radar Online reported early Monday (Aug 3) that the "Fresh Prince of Bel-Air" alum and "Gotham" star's marriage "has been on life support for a long time" and "they're exhausted from trying to maintain the façade of a happy union."
The insider continued, "They've decided to pull the plug in a carefully choreographed manner, [and] agree announcing their split at the end of the summer is the right move," adding that the longtime couple had "worked out a confidential settlement to protect their $240 million fortune, and prepare their kids [son Jaden, 17, and daughter Willow, 14] for the fallout."
Even though he usually doesn't "respond to foolishness," the actor took to Facebook Monday afternoon to shut down the divorce rumors himself.
"Under normal circumstances, I don't usually respond to foolishness. (Because it's contagious) But, so many people have extended me their 'deepest condolences' that I figured – 'What the hell… I can be foolish, too!'" Smith wrote.
"So, in the interest of redundant, repetitious, over & over-again-ness… Jada and I are…NOT GETTING A DIVORCE!!!!!!!!!!!!! : -) I promise you all – if I ever decide to divorce my Queen – I SWEAR I'll tell you myself! #Dumb People Should Have to Wear Scarlet D's"
Gossip Cop had already debunked the rumors after being told they were simply "not true" via an "impeccable Smith family source."
Smith and Pinkett met in 1994 when Pinkett auditioned for the "Fresh Prince of Bel-Air" for the role of Smith's girlfriend Lisa Wilkes, which ended up going to Nia Long.
Will and Jada became friends, dated and got married in December 1997. They have three children together, 17-year-old son Jaden, 14-year-old daughter Willow and 22-year-old son Trey from Will's previous marriage to Sheree Zampino.
The Smiths have constantly dodged divorce rumors amid reports that they have an "open marriage."
Back in June, Jada told Howard Stern in an interview that she is not her husband's "watcher," and as long as he can look at himself in the mirror and feel good about himself, he is free to do whatever as he wants.
"Here's the deal with that, Howard, you've got to trust who you're with. And at the end of the day, I'm not here to be anybody's watcher," she said.
"I'm not his watcher. He's a grown man. Here's what I trust — I trust that the man that Will is, is the man of integrity. So, he's got all the freedom in the world. As long as Will can look himself in the mirror and be okay, I'm good."
She further explained, "Here is what's real — I'm not the kind of woman that believes a man is not going to be attracted to other women. I'm just not that girl. It's just not realistic.
"And just because your man is attracted to another woman, does not mean he doesn't love you. That's not what it means. And it doesn't mean he's going to act on it. If your man can't really see another woman's beauty, how the hell is he going to see yours?"
Be the first to receive breaking news alerts and more stories like this by subscribing to our mailing list.