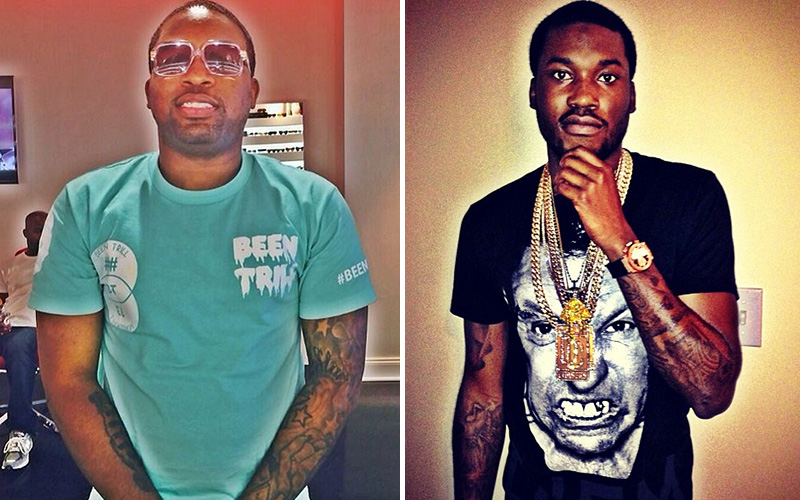 Meek Mill has been taking numerous L's (in public and on social media) over his beef with Drake, which Meek sparked when he called Drizzy out for using the assistance of ghostwriters to create hit songs.
Not only did Drake essentially dance all over Meek's grave at OVO Fest by putting memes mocking Meek's defeat on the big screen behind him during his highly anticipated headlining performance, but now it sounds like a rapper claiming to be a ghostwriter for Meek Mill is trying to make things go from bad to worse for Mill.
Bossip reports that a rapper named Louie V Gutta "has a bone to pick with Meek" and is putting the Philly native on blast for using his services as a ghostwriter — which is big because Meek accused Drake of using ghostwriters, and now he's a pot calling a kettle black.
Earlier this week on Twitter, Louie V (@LouieVGutta) hosted an impromptu Q&A session after someone asked him if he had really wrote for Meek Mill. He confirmed their inquiry, telling them to look for "V. Robinson" in Meek's album/mixtape credits.
Asked how many songs he'd written for Meek, he told another user "a lot." He also confirmed to someone else that he wrote "a few tracks" for Meek's first album.
Another person asked him if he had beef with Meek, and he replied, "no beef but I still don't f**k wit him cuz of the lies he spread."
Someone else asked him if he would write a diss track against Drake for Meek and he told them "f**k no he on his own [laugh crying emoji]."
And he explained to another Twitter user that he wouldn't write a rebuttal for Meek because "the 6 god [prayer hands emoji]" is his "fav rapper."
He also said "Drake won," in regards to the beef and revealed he would love to work with the Canadian rapper if given the opportunity, because, "who wouldn't?"
Check out the tweets below: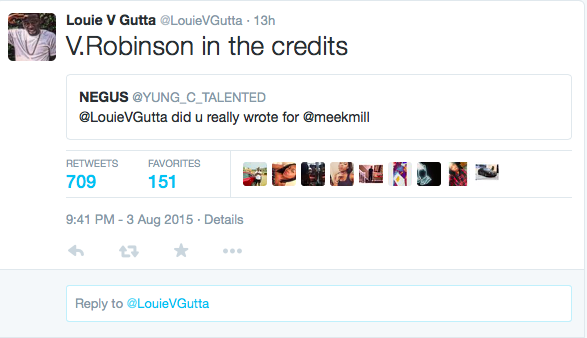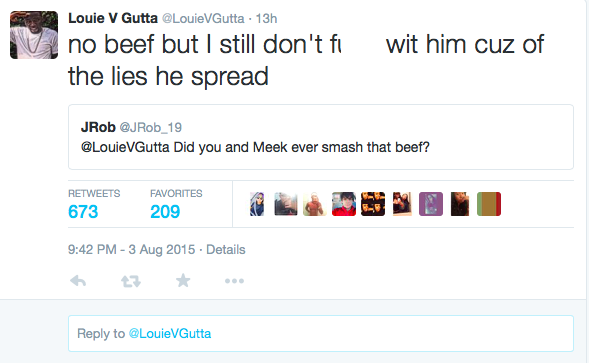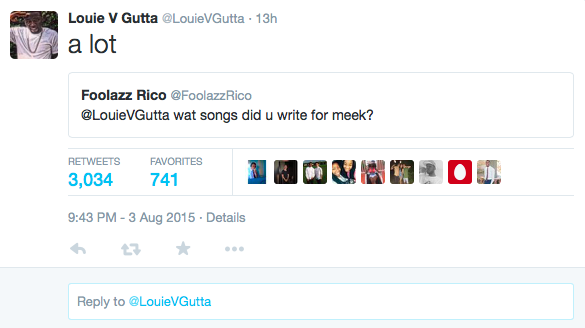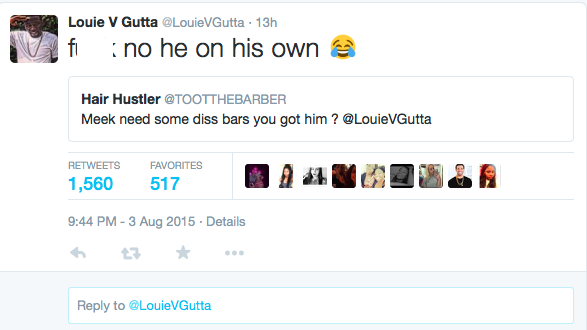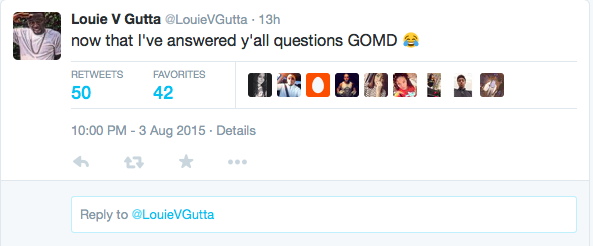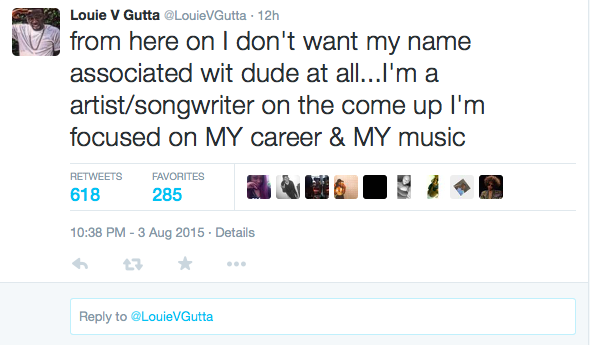 For what it's worth, the Dreams and Nightmares credits listed on Wikipedia mentions a "Vincent Robinson" (Louie V Gutta's real name) as a writer on a song called "Rich & Famous," which Gutta features on as a guest performer.
However, that's the only song we could find with his name on it. "V. Robinson" was nowhere to be found.
In related news, Gutta addressed his alleged ghostwriting for Meek on a freestyle over Drake's "Back to Back" beat he released Thursday (Aug 6). He hints that he once helped his former Dream Chasers Records boss with his lyrics.
"Ain't about who wrote this or who wrote that. I'm just happy my contribution earned a n**ga a plaque," Gutta raps.
According to All Hip Hop, Gutta and Meek's issues go back as far as last years when the rappers had a public falling out over Gutta apparently tweeting support for Slowbucks' chain being snatched at Hot 97's Summer Jam concert. At the time, both Gutta and Meek fired shots at each other over freestyles to Drake's "0 to 100."
Earlier this summer it was rumored that Gutta was pistol-whipped at a Meek Mill video shoot in Philly, but Gutta later denied being involved in an incident that day.
Be the first to receive breaking news alerts and more stories like this by subscribing to our mailing list.