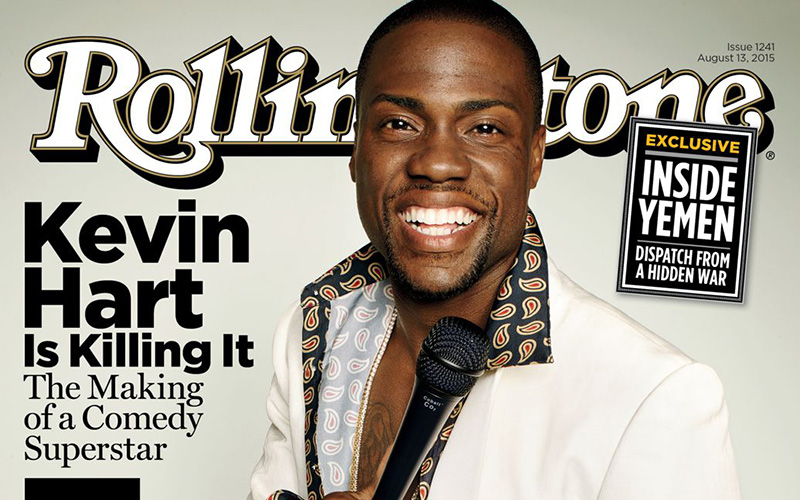 Kevin Hart has been doing his thing for a while now, but he is literally at the top of his game at this very moment, and it's no surprise because he's put in a lot of work to get there.
Whether or not you find his brand of comedy funny, you can't dispute the fact that he's one of the hottest comedians in the country, his stand-up shows sell out and the DVD-releases do extremely well too.
Every time you turn around, this guy is either in a new movie (he's shooting at least 3 right now, including "Ride Along 2," and he's also touring for another stand-up show to be released on DVD) or working on a TV show (i.e. "Real Husbands of Hollywood").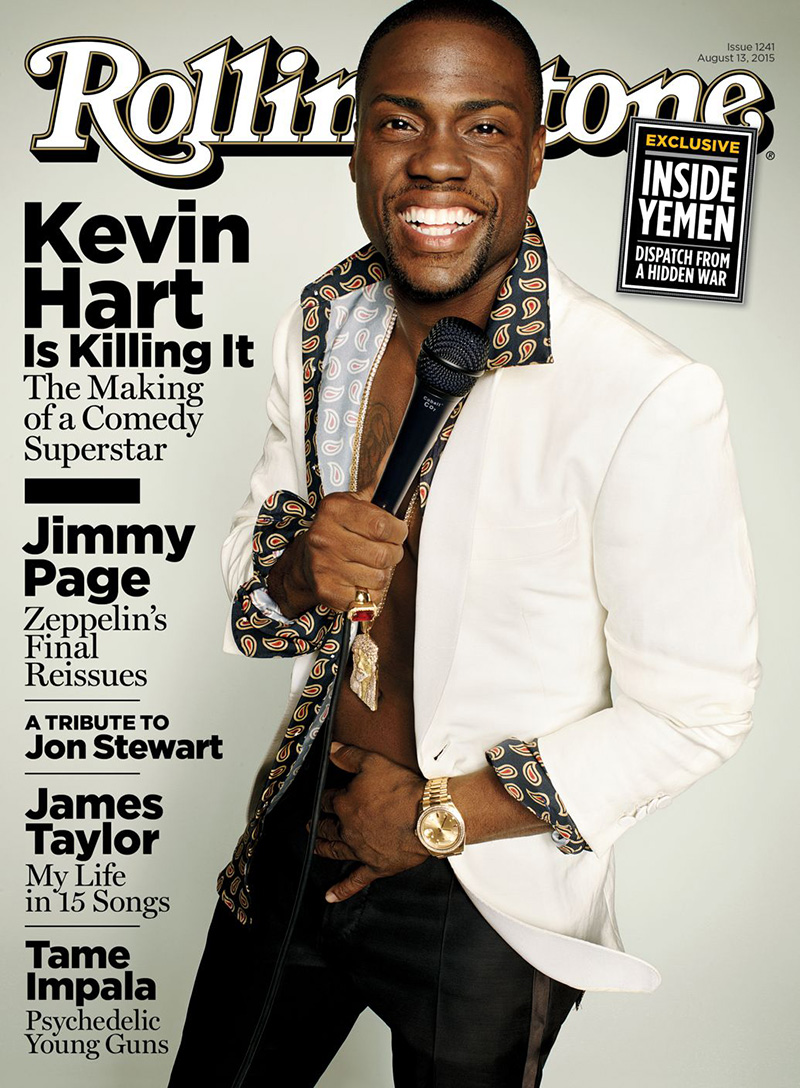 At this point, it's safe to call Kevin Hart a "comedic rock star," and he made that title official by gracing the August 13th 2015 cover of Rolling Stone — a magazine only reserved for rock stars.
Hart gushed about the honor to his 20 million Instagram followers:
God is truly amazing….I can officially check a major goal off of my list….That goal was to one day grace the cover of "Rolling Stone" Magazine….And damn it that day has come people!!!!!

WOOOOOW I am blown away by this….Make sure y'all pick up a copy and read this amazing article….Or go to Rollingstone.com to read it…Just make sure you read it….The title of "Comedic Rockstar" is now OFFICIAL!!!!!

#ComedicRockstarShit #DressedInRockstarAttire #RollingStone #HardWorkPaysOff #iStillGotaLotOfWorkToDo #Motivation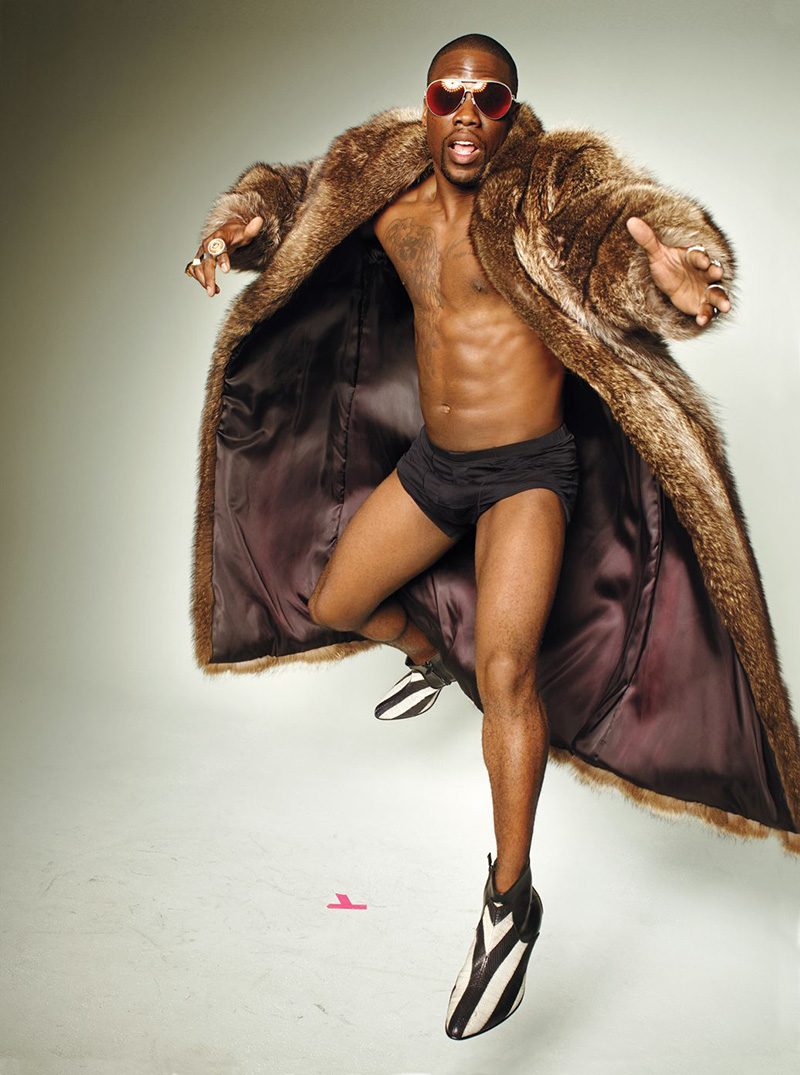 Inside, Kevin strips down for a photo spread and talks about learning to channel his pain into laughter for his stand-up routines, and how he has become the household name that he is today.
Kevin says he laid the groundwork for that by performing at just about anywhere just to get his name out there:
"I've been to some of the damnedest places for comedy. I performed in a place in Atlantic City called Sweet Cheeks. It was a male strip night, and some nights a female strip night, and in the middle they would stop the stripper show and have intermission, where as comedians it was our job to go up and make the people laugh.

"I performed at family dinners, family functions, like where you get there and you're the entertainment for a household. You name it: All shots to my pride have been taken."
Hart grew up sleeping in a bunk bed squeezed in the hallways of a small one-bedroom apartment he lived in with his single mom and older brother.
But now, the 36-year-old calls a massive mansion that resides in a gated community in a Los Angeles suburb his home, and it was there that the "Get Hard" actor sat down with Rolling Stone to discuss his life and his meteoric his rise to fame over the past few years.
One major subject he tackled was the issue of homophobia. If you'll recall, during a skit from his 2010 "Seriously Funny" comedy tour, Kevin told a joke about how he would be devastated if son turned out to be gay. The bit goes like this:
"One of my biggest fears is my son growing up and being gay. That's a fear. Keep in mind, I'm not homophobic…?Be happy. Do what you want to do. But me, as a heterosexual male, if I can prevent my son from being gay, I will."
Today, Hart says he wouldn't even think about telling the joke because folks are a bit more "sensitive" about topics of homosexuality and homophobia. But he says when he made the joke, it had nothing to do with his son, it was more about him dealing with his own issues of homophobia.
"It's about my fear. I'm thinking about what I did as a dad, did I do something wrong, and if I did, what was it? Not that I'm not gonna love my son or think about him any differently. The funny thing within that joke is it's me getting mad at my son because of my own insecurities — I panicked.

"It has nothing to do with him, it's about me. That's the difference between bringing a joke across that's well thought-out and saying something just to ruffle feathers.

"I wouldn't tell that joke today, because when I said it, the times weren't as sensitive as they are now. I think we love to make big deals out of things that aren't necessarily big deals, because we can. These things become public spectacles. So why set yourself up for failure?"
Hart also touched on the issue of race America, saying that while he doesn't joke much about race or address race issues in his stand-up shows, behind the scenes and off-stage, those issues "infuriate" him.
"It's not my style of comedy. It angers me, but not onstage," he said. "Onstage, my job is to take away whatever problems are in the world, for that brief moment of time."
He continued:
"A guy in the hood with two nickel bags of weed gets five years in jail, because they say they want to make an example of him, but I haven't seen one judge make an example out of one of these police officers that killed one of these young black men.

"When I see videos of children being shot dead by police, I don't talk about it because it's something that scares me. Because I have kids. At that point, it's not a joking matter. There is no joking there. I would not touch it."
He added:
"[I want to be seen as] a motivational figure. I won't acknowledge what I won't let beat me. Have I experienced racism? Of course. But will I make you feel superior by saying I've felt trumped at times? No. I'll beat you by succeeding.

"I want to show my generation that a man of color, despite the roadblocks, can still make it. There's moments when I took to social media and said things, but it's always been on the positive side.

"I gave a message to Baltimore: At the end of the day, we're only hurting ourselves by destroying what we have. We have to go back and live there. We're torching, firebombing, looting our stuff. We need that CVS! Be smarter than this!"
As Kevin Hart continues to sell out arenas (like Madison Square Garden, TWICE) and bring in the big numbers at the box office, he is also working on numerous other projects, including his viral comedy site "Laugh Out Loud," which he hopes will rival sites like Funny or Die, and he also has plans to get into the lucrative fitness sector.
"At this point, I'm competing against Kevin Hart," he said.
Click here for Kevin's full Rolling Stone interview.
Be the first to receive breaking news alerts and more stories like this by subscribing to our mailing list.