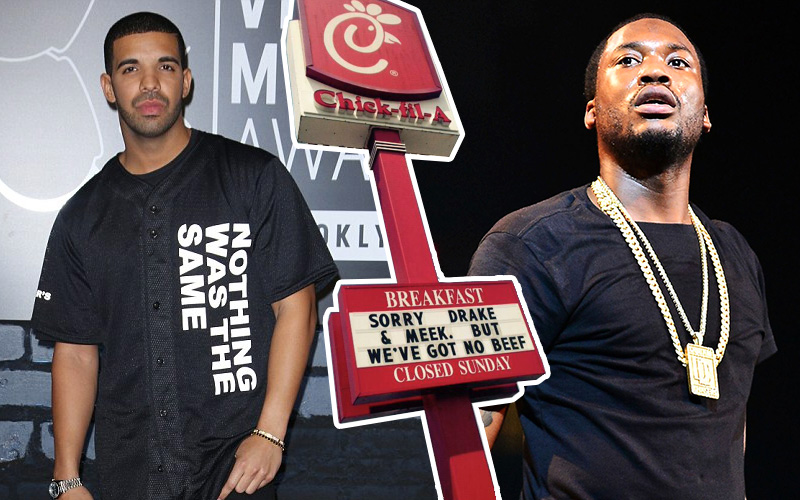 In case you didn't already know, Drake and Meek Mill are beefing.
It all started when Meek got mad at Drizzy for not promoting his new album Dreams Worth More Than Money on Twitter, an album that Drake is featured on. (BTW, Drake did, however, promote Future's album Dirty Sprite 2, which he is also featured on.)
http://t.co/qZyz2ybsnh @1future Dirty Sprite 2 and I am on there!!! FBGOVO

— Drizzy (@Drake) July 10, 2015
Meek responded to the apparent slight by tweeting that Drake uses ghostwriters, even going so far as naming the alleged ghostwriter Quentin Miller.
https://twitter.com/MeekMill/status/623700698509758464
https://twitter.com/MeekMill/status/623703382675460096
https://twitter.com/MeekMill/status/623727782279843842
Drake fired back by releasing two diss tracks ("Charged Up" and "Back to Back"), which were well received by the public.
Meek, however, was railed on for his tardy for the party ass diss track "Wanna Know," which took him nine days (NINE DAYS) to release. In it, he reveals that one time Drake got peed on in a movie theater.
Social media erupted with memes and funny jokes on Twitter, which wasn't surprising at all because that happens all the time.
What was surprising though was when the big brands and food chains like Chick Fil-A, Burger King, White Castle, Whataburger, Rosetta Stone, Cinepelex, etc. chimed in with their hilarious responses.
https://twitter.com/GAFollowers/status/628268550042554368
Meek Mill take it from us- if you gonna serve beef serve it high quality

— Whataburger® (@Whataburger) July 31, 2015
All these burgers and they still got beef. #BackToBack pic.twitter.com/ZCHfazodwB

— Burger King (@BurgerKing) July 29, 2015
It's ok, @MeekMill. Maybe beef isn't your thing. #ChickenRings @Drake pic.twitter.com/4W8oPuoqQK

— White Castle (@WhiteCastle) July 31, 2015
What I find when I get to work ….. pic.twitter.com/zRUAmlFqHt

— Casey P ? (@Cardi___C) August 3, 2015
Sorry @MeekMill, looks like you have egg on your face. @Drake wins. #overeasy.

— Eggland's Best (@EgglandsBest) July 31, 2015
Stay fed, Philly.

— Helper (@helper) July 31, 2015
— Helper (@helper) July 31, 2015
We might not be able to translate the latest #MeekMill soundtrack, but we can help you learn languages most ppl speak http://t.co/rt9VwAAc49

— Rosetta Stone (@rosettastone) July 31, 2015
@Drake not in our theatre tho, right?

— Cineplex (@CineplexMovies) July 31, 2015
Chicken fingers turn to twitter fingers pic.twitter.com/EQLwa3cWTJ

— Whataburger® (@Whataburger) July 31, 2015
Drake pass the mic:
?Last name Burger,
First name Greatest! ?

— Whataburger® (@Whataburger) July 31, 2015
TIL: They raise Grade-A beef in Toronto.

— Helper (@helper) July 29, 2015
Damn. It's bad enough getting roasted by social media, but how many people can say they've been dissed by Hamburger Helper?
Be the first to receive breaking news alerts and more stories like this by subscribing to our mailing list.