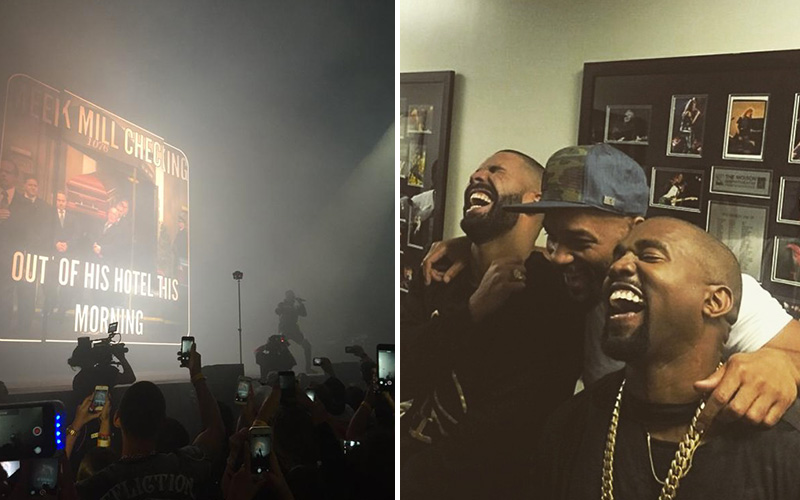 Drake is still killing Meek Mill in every way possible.
Just when we thought the humiliation couldn't get any worse, Drake opened up the final night of his OVO Festival on Monday (Aug. 3) performing his Meek diss tracks "Charged Up" and "Back to Back."
Back to Back. #OVOFest pic.twitter.com/TgFPGHXQGh

— Word On Road (@WordOnRd) August 4, 2015
As Drake rapped to the songs, memes making fun of Meek Mill appeared on a huge screen behind him.
Drake Rocks A "Free Meek Mill" T-Shirt Backstage At 2015 OVO Fest In Toronto – http://t.co/oeGODoIC4S #OVOFest pic.twitter.com/4rLOuo8QjK

— Young Money HQ (@YMHQ) August 4, 2015
Drake was also spotted earlier in the day rocking a "Free Meek" t-shirt during the warm-up for the show — the same shirt he wore during a concert while Meek was locked up.
And if that wasn't enough, there's footage of Drizzy hilariously laughing backstage (at Meek Mill memes, perhaps?) with Kanye West and Will Smith.
https://twitter.com/itsbizkit/status/628434777113296896
Looks like Meek Mill can officially kiss his career (or any bit of respect he had in the rap game) goodbye.
R.I.P Meek Mill. At least he's keeping his teeth clean though:
Watch Drake's entire "Charged Up" / "Back to Back" performance here (via Nigel D):