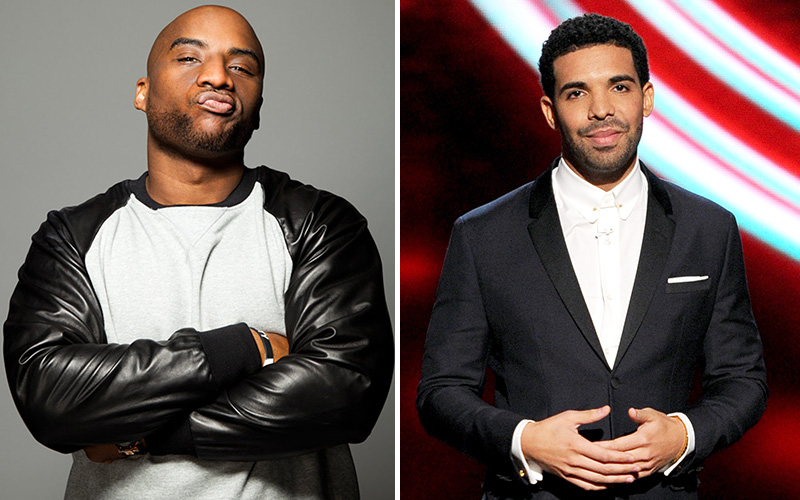 Hold up, did Drake really just send the Breakfast Club's Charlamagne Tha God six bottles of Dom Pérignon champagne? According to Charlamagne's own Instagram account, the answer to that question is YES!
Drake is apparently a man of his word, because in his new Meek Mill diss track "Back to Back" (the second diss track he's released in one week) he rapped about buying bottles of champagne for Charlamagne, and he followed through by actually buying the bottles.
You gon' make me step out of my fuckin' frame
You gon' make me buy bottles for Charlamagne
You gon' make me go out of my fuckin' way
"Look at this y'all, Drake really sent the bottles," Charlamagne told his IG followers. He then read a note that was sent along with the bottles: "Let's be friends, Aubrey Graham."
In case you missed it, Charlamagne declared Hot 97 radio personality Funkmaster Flex was the "Donkey of the Day" after he failed to deliver on a promise to listeners that he would be releasing a diss track from Meek Mill.
It turned out the whole thing was just a ruse and Meek was trolling Drake fans, which ultimately made Funkmaster Flex look bad for taking Meek's side in the beef.
"I want to thank you all for coming to celebrate the life of Aston George Taylor aka Pump Faker Flex aka Flex Hogan aka Funkmaster Flex," Charlamagne said on the Breakfast Club Tuesday morning (Jul 28). "Our childhood has been ruined because another '80s icon has proved that he's not who we thought he was all these years."
Drake has never been a fan of Charlamagne because of comments the infamous shock jock has made about him on the his popular Power 105.1 morning radio show, the "Breakfast Club." And Charlamagne has made it clear on numerous occasions that Drake just isn't his cup of tea.
Regarding Drake and their purported "beef," Charlamagne told Noisey in an interview earlier this year:
"I don't even know this guy. I've never met the guy. I saw him for the first time in person at Kanye West's fashion show a couple weeks ago, I was actually standing right by him.

"I'm just not a fan. Listen, do I respect his talent? Absolutely. I think when he raps he's one of the best, but I don't like his singing. When he sings it sounds just Sondra from The Cosby Show. Whenever I express that it's like 'oh my god you're a Drake hater. You don't like Drake.' I'm like, 'that's fine. I have the right not to like him.'

"I don't care if he likes me or not, and I don't have to like him. That's the beauty of life. The beauty of life is that everybody has an opinion. I think he's dope as a rapper, but I'm just not into it."
Now it looks like Charlamagne and Drake are showing signs of solidarity.
Meek Mill? Funkmaster Flex? The balls are in your respective courts at this point.
Be the first to receive breaking news alerts and more stories like this by subscribing to our mailing list.