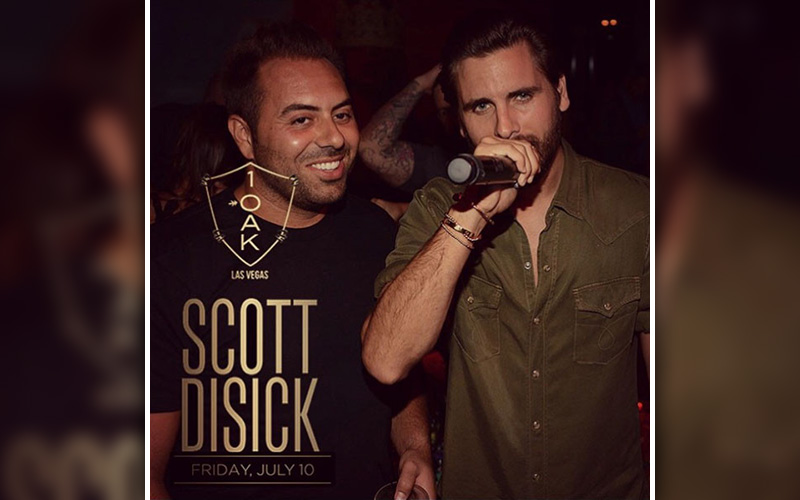 Not even getting dumped by Kourtney Kardashian in front of the whole world can stop Scott Disick from partying
In a message posted to Instagram, Lord Disick promotes a party he will be hosting this Friday, July 10th at Club 1Oak in Las Vegas, and he asks fans to take part in the festivities with him. "Come party with me this Friday in Vegas @1oaklv," he captioned the party's flyer.
Kourtney dumped Scott over Fourth of July Weekend "after his partying habits got out of control," TMZ reported. "His partying lately has made her make this tough decision," a source told the gossip site.
And him being spotted in Monte Carlo being all touch-feely with a woman who is not Kourtney Kardashian probably didn't help the situation either, though sources say at that point Scott already knew it was over between him and Kourtney because he was telling people in Monte Carlo that he was "newly single."
Scott — who has three children with Kourtney (5-year-old Mason, 3-year-old Penelope and 6-month-old Reign) has since deleted his message asking fans to "come party with me this Friday" from Instagram, however a linked tweet remains:
Come party with me this Friday in Vegas @1oaklv https://t.co/TT0NgeJdDJ

— Scott Disick (@ScottDisick) July 8, 2015
No word on why he deleted the message on IG, but we can assume it was due to comments like these:
https://twitter.com/PusherLvGrl/status/618605867517255686
@ScottDisick no offence but shouldn't you be like at least seeing your kids? wyd scott ..

— regina george (@gayforkimk) July 8, 2015
https://twitter.com/ZOHALxo/status/618597902294736896
@ScottDisick YOU HAVE NO SHAME!!!!

— Stormi (@MaaxHutch) July 8, 2015
@ScottDisick @1OAKLV How about a pajama party with Mason, Penelope and Reign? Bet they'd enjoy your time more than 1Oak! Don't Be USED!

— Erin Balogh (@erinebal29) July 8, 2015
@ScottDisick @1OAKLV stop being a dick omfg

— nina (@stemfs) July 8, 2015
@ScottDisick @1OAKLV bro calm the fuck down with the partying and sort your shit together with Kourtney damn

— ?????? (@AdoreJenner) July 8, 2015
@ScottDisick no one cares

— Kim Kardashian West (@KimKWestsDaily) July 8, 2015
The general consensus for Scott is that he needs to stop partying and get his shit together. Do you agree?
h/t: E! News
Be the first to receive breaking news alerts and more stories like this by subscribing to our mailing list.