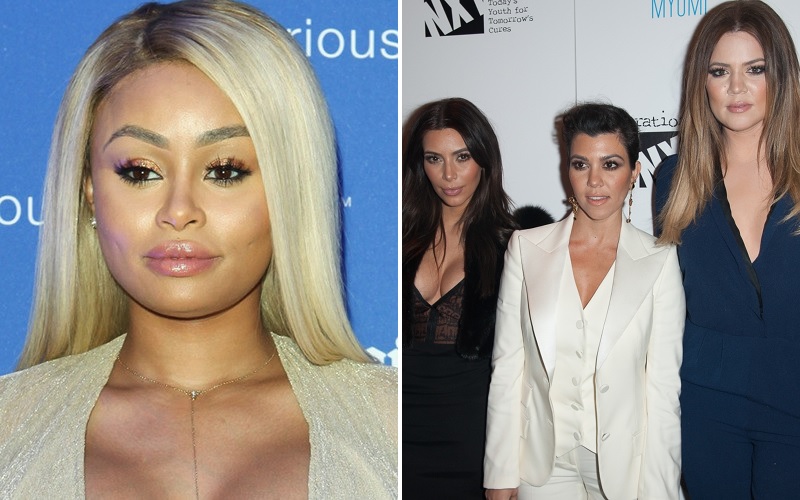 Blac Chyna will technically be a "Kardashian" if she makes it down the aisle with fiancé Rob Kardashian. However, Kim, Khloe, and Kourtney are making sure their future sister-in-law will never be able to cash in on their famous name.
Back in May, Chyna filed an application with the United States Patent and Trademark Office to trademark the name, "Angela Renee Kardashian," her government name upon marrying Rob.
However, the Kardashian sisters recently filed documents to stop this trademark, claiming Chyna is "deliberately seeking to profit from the goodwill and popularity" of the Kardashian brand.
More specifically, attorneys for Kim, Khloe, and Kourtney's individual companies have requested Chyna's trademark be denied. They say the companies would "suffer damage, including irreparable injury, to their reputation and goodwill."
I doubt it's that serious, but I understand the need to protect the "Kardashian" trademark.
Chyna's own brand has been built off her "Blac Chyna" moniker. It does seem strange that she would suddenly professionally go by "Angela Renee Kardashian" after her fans know her as Blac Chyna. Using the "Kardashian" name only fuels speculation she wants to capitalize on the family's fame.
A family friend of the Kardashian tells E! News this is "just business" and "everyone loves each other. In fact, the source adds the sisters were probably unaware of their attorneys' legal moves.
"Their trademark attorneys automatically oppose anyone trying to trademark 'Kardashian.' I doubt the girls were even aware."
Chyna's attorney has also released a statement:
"Since we are in the midst of litigating this matter, I cannot comment directly at this time. However, I will continue to aggressively represent Angela and work diligently with her to protect and grow her intellectual property."
According to E! News, Chyna has until Jan. 10 to challenge the Kardashian lawyers' new filing or the case could go to trial.
Girl, just keep "Blac Chyna" and continue to build your own brand.
Be the first to receive breaking news alerts and more stories like this by subscribing to our mailing list.