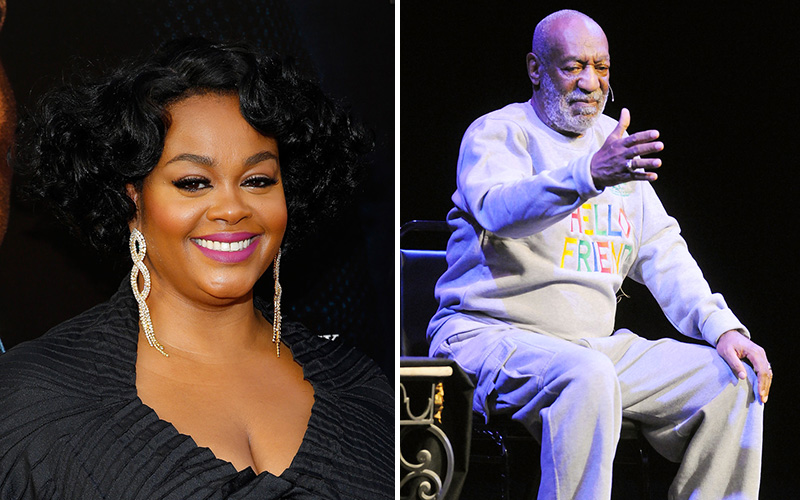 Last November, after dozens of women had already come forward accusing Bill Cosby of drugging and raping them, Jill Scott defended Cosby on Twitter, questioning the claims made by the alleged victims.
Now, after finding out that her former mentor admitted in a court deposition to drugging women he wanted to have sex with, Scott is admitting she was "wrong" to defend the now-disgraced comedian.
Take a look at Jill Scott's November 2014 tweets defending Bill Cosby:
@ShelbyKnox oh ok. So they've proven the alleged allegations? I didn't know. Will they also be giving him back the millions he's donated?

— ?Jill Scott? (@missjillscott) November 24, 2014
@SimplyBerry u know Bill Cosby? I do child and this is insane. Proof. Period.

— ?Jill Scott? (@missjillscott) November 30, 2014
Scott's support didn't go unnoticed either, as Bill Cosby's family reciprocated with this tweet a few days later:
Thank you @MissJillScott, from the Cosby Family.

— Bill Cosby (@BillCosby) December 3, 2014
But now that Bill Cosby has admitted to being a rapist, all of that has changed, and Jill Scott has backtracked on her supportive stance on Cosby's allegations, saying all she needed to believe Cosby could be guilty was for him to literally admit to it.
"About Bill Cosby. Sadly his own testimony offers PROOF of terrible deeds, which is ALL I have ever required to believe the accusations," Scott tweeted Monday (Jul 6) after Cosby's admission was released. "I stood by a man I respected and loved. I was wrong. It HURTS!!! When you get it ALL right, holla."
About Bill Cosby. Sadly his own testimony offers PROOF of terrible deeds, which is ALL I have ever required to believe the accusations.

— ?Jill Scott? (@missjillscott) July 6, 2015
1) We live in America. Many African American men are detained &/or imprisoned for crimes without evidence. I will never jump on bandwagons

— ?Jill Scott? (@missjillscott) July 6, 2015
2) based on social media or hearsay. Proof will always matter more than public opinion. The sworn testimony is proof. Completely disgusted.

— ?Jill Scott? (@missjillscott) July 6, 2015
I stood by a man I respected and loved. I was wrong. It HURTS!!! When you get it ALL right, holla.

— ?Jill Scott? (@missjillscott) July 6, 2015
Reasoning with the angry & unreasonable? No. I'm not sorry for standing by my mentor. I'm sorry the accusations Rtrue pic.twitter.com/8oHD9u12em

— ?Jill Scott? (@missjillscott) July 7, 2015