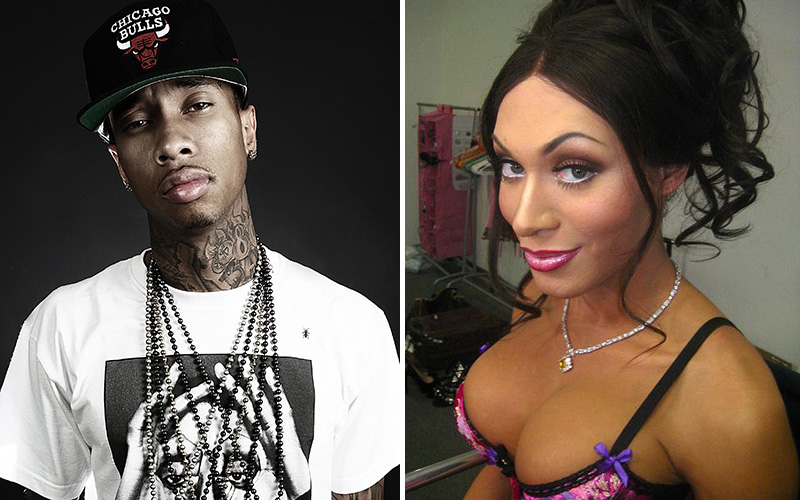 Tyga is being accused of cheating on his much younger girlfriend Kylie Jenner with a grown-up transsexual actress/model named Mia Isabella.
LoveBScott.com received a series of e-mails from an "anonymous" source alleging that the "Rack City" rapper has been in a relationship with Mia Isabella for the past 3 years, even back when he was dating his baby mama Blac Chyna.
The grammatically inconsistent e-mail (which clearly had to be edited for clarity) reads as follows:
"Transsexual actress Mia Isabella & Rapper TYGA had [an] ongoing relationship for almost 3 years since she moved to LA. She's down for him [and] has been since he was with Chyna. Allegedly, there was a possible sex tape when she was roommates with a model named Capri [who was once] linked with Charlie Sheen.

As you can see they got smart and came up with a plan for if the public ever found out about their relationship using her career as a fashion stylist & consultant for his brand as the connection.

In her circle they made no secret of the relationship even inviting people enter their private time together. Clearly for her he's been willing to risk it all having made plans to see each other just a couple weeks ago and never stopping their relationship through a baby mama and alleged girlfriend."
Now, the e-mail alone just sounds like "OK girl, whatever!" but it's the more than THREE DOZEN screenshots of text messages between Tyga (allegedly!!!) and and Mia Isabella — including a couple of photos of a penis attached to the body with the same tattoos as Tyga — is what really has eyebrows raising all over the Internet.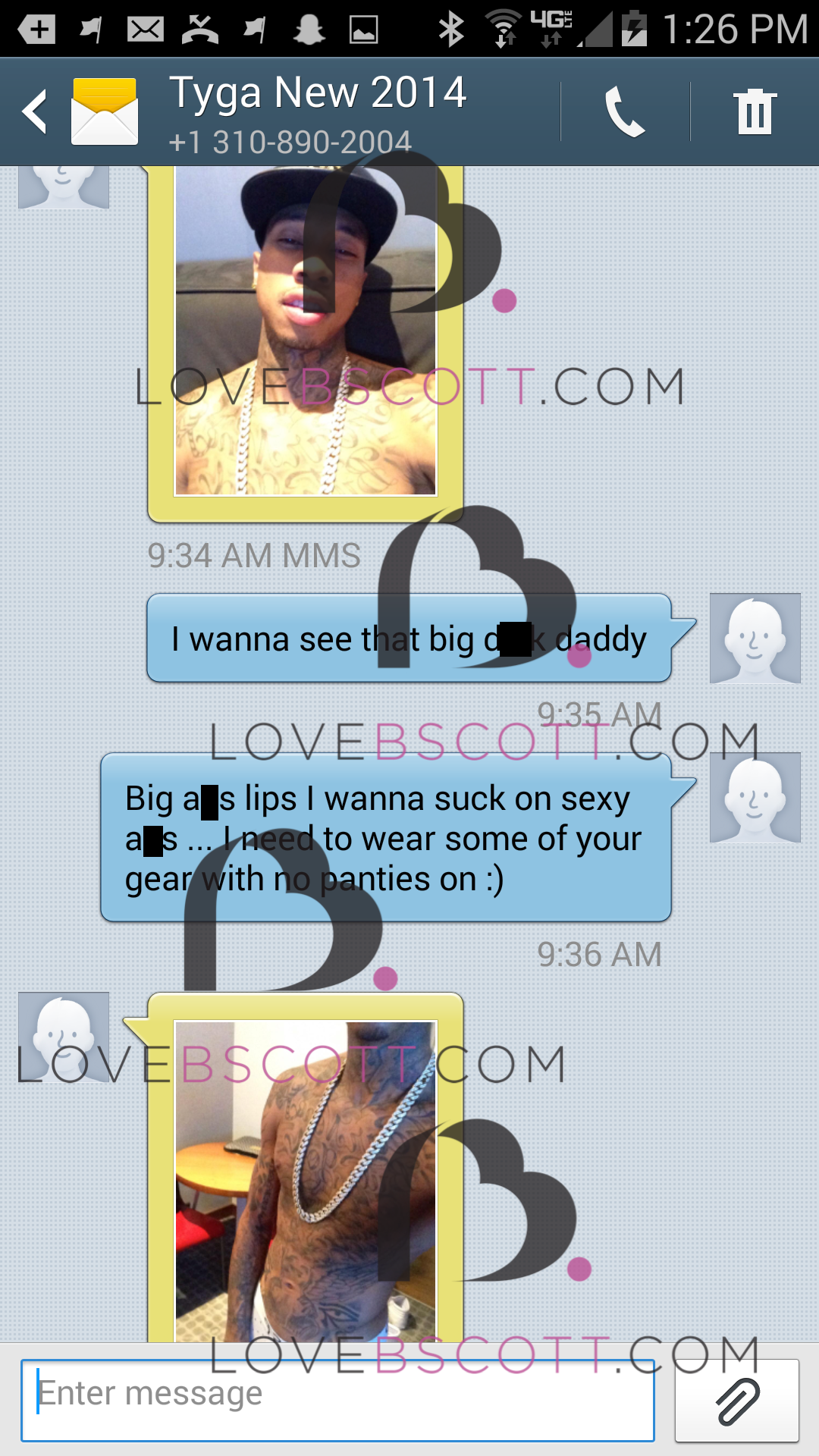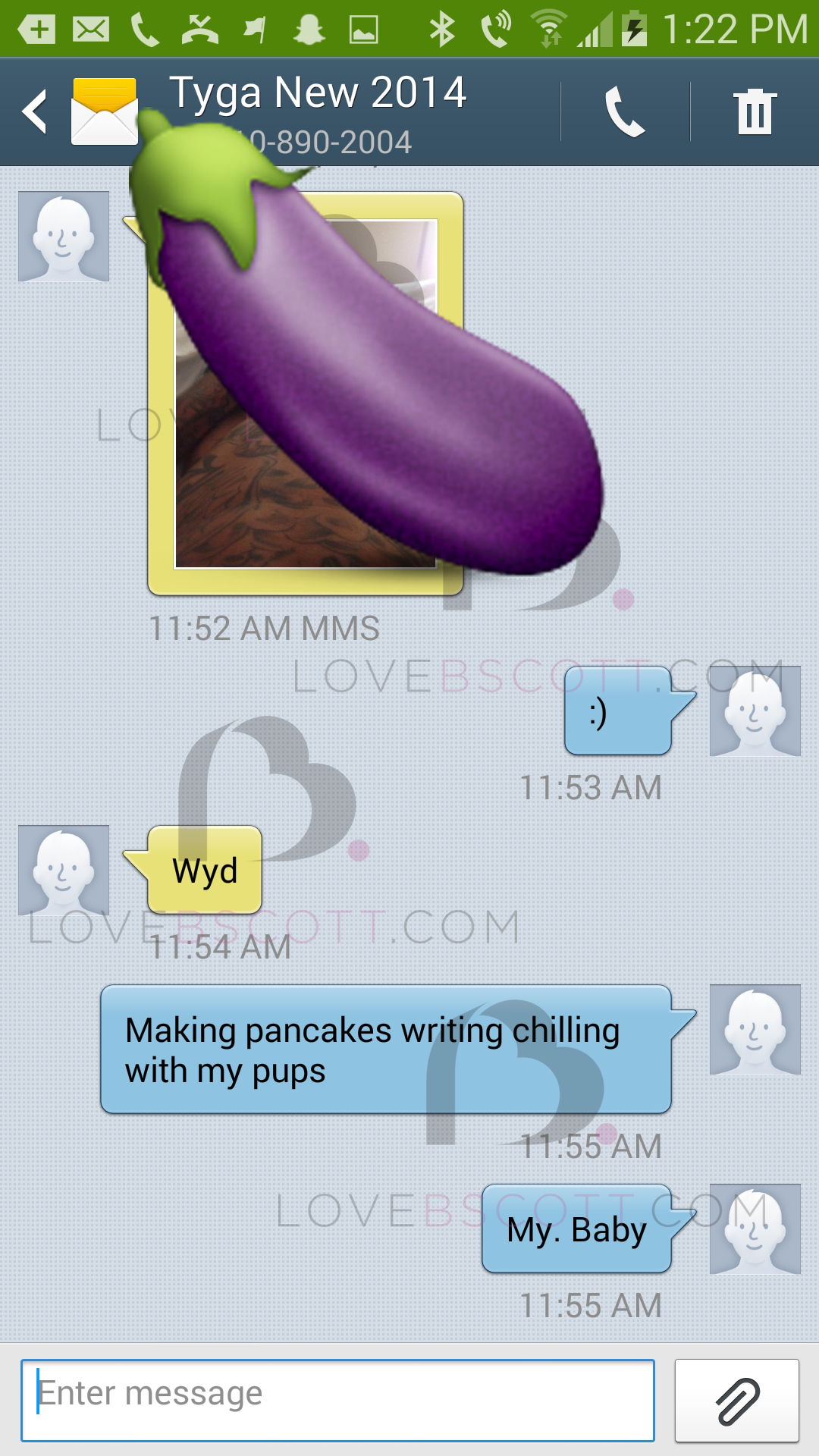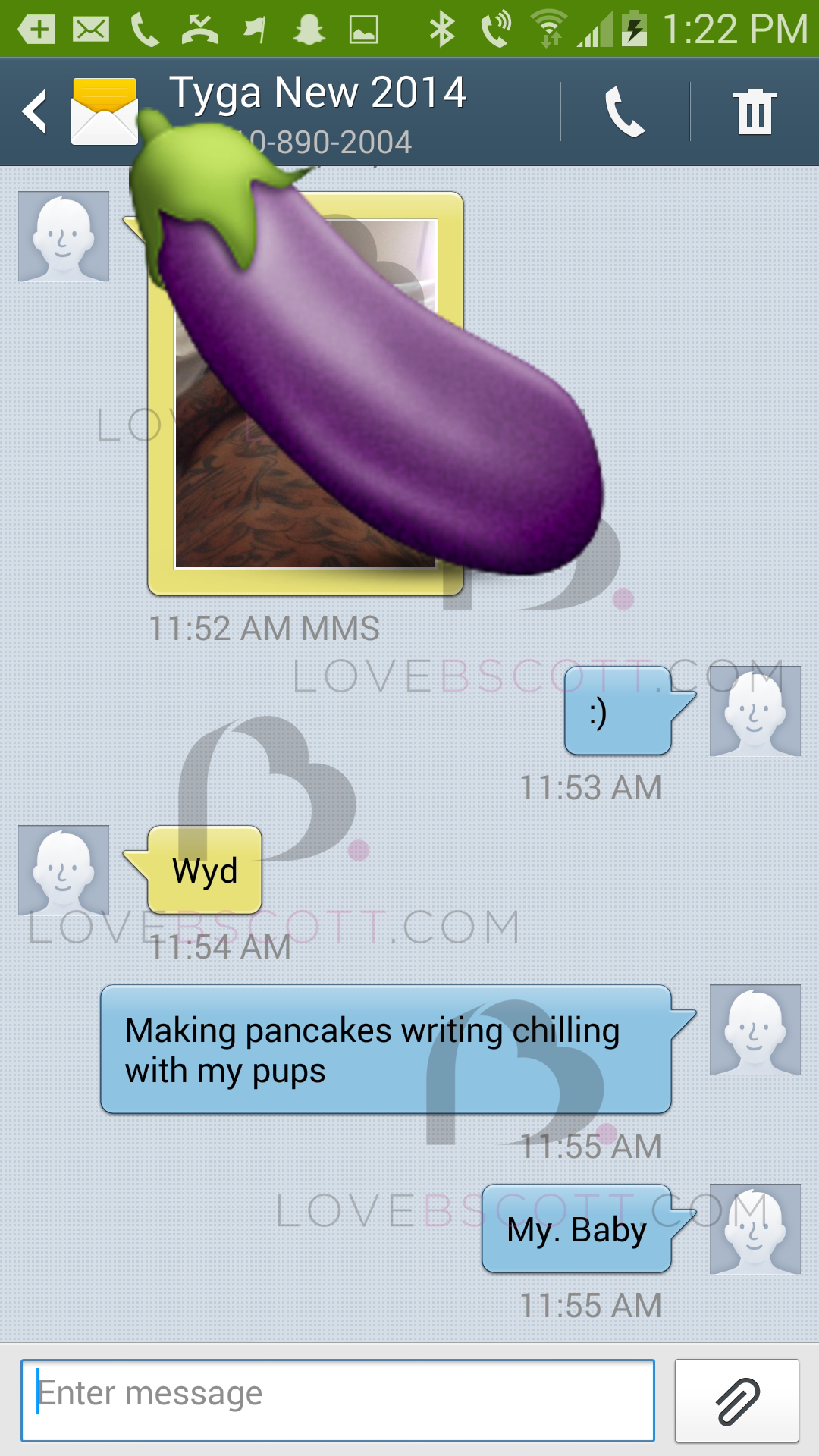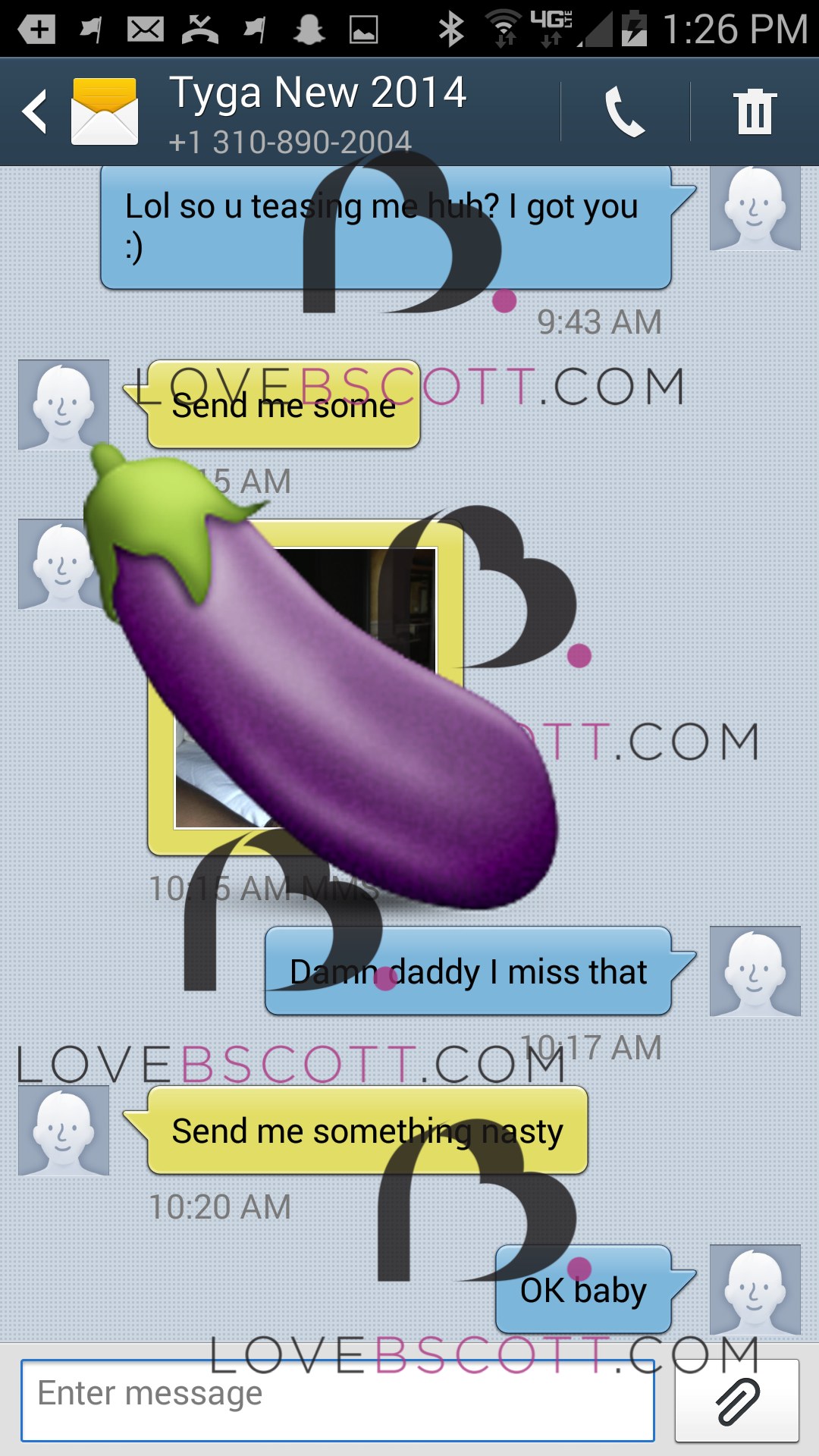 In addition to the two exchanging nude pics, the explicit text messages also show repeated attempts to hook up either at Mia Isabella's house or various hotel rooms.
"Feel free to send me a pic of that big dick" a text message from Isabella reads. "I'll just come c u when u ready," the person believed to be Tyga responds.
"Let's chill tonight!" the person believed to Tyga says in another message. "Where we gonna go?" Isabella asks. Tyga (or someone impersonating Tyga) responds, "I can get a room not far :/"
It's hard to tell whether or not this is really Tyga, since it's impossible to verify someone's identity through text messages.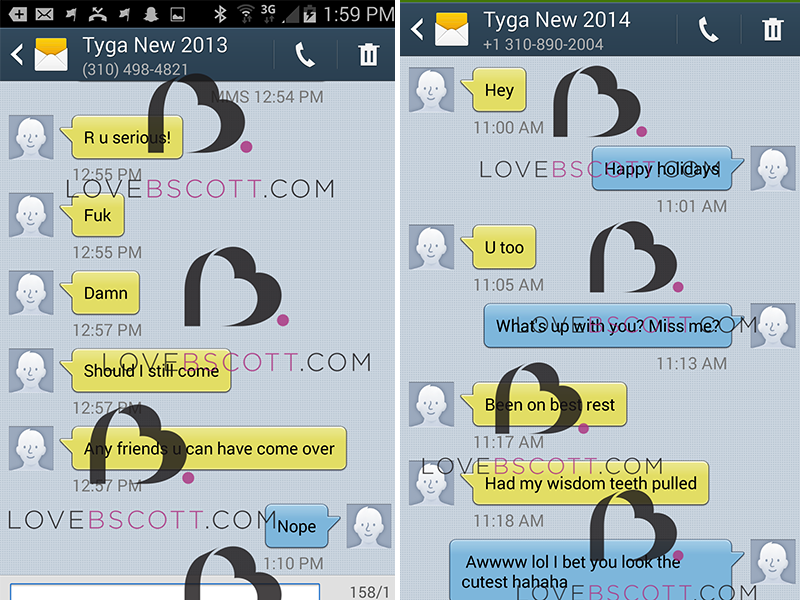 It also looks like the person who is allegedly Tyga changed their number a couple of times too, because in some messages the name reads "Tyga New 2014" and others say "Tyga New 2013," though both numbers have the "310" area code from California.
Whoever this person is though, they have a lot of personal/private photos of Tyga that have never been published elsewhere.
There's also a text message exchange that stands out in which Mia warns Tyga that a former friend had been blabbing off about their "secret relationship," though she reassured him that she would never blow their cover and even had an airtight alibi if people were to find out about them:
If any haters try to publicly connect us I'll only ever say we were friends through fashion because of my work as a stylist and your clothing line never sexual. Cuz that hoe who used to be my roommate been running her mouth and that bitch we did a 3 some with last summer in weho who used to be my friend.
The person assumed to be Tyga responds, "Ok. Don't trip. That's why gotta b lowkey can't trust no1."
That's right, "Tyga." TRUST NO1.
Check out the 30+ screenshots of text messages (including the NSFW dick pics) below:
Be the first to receive breaking news alerts and more stories like this by subscribing to our mailing list.