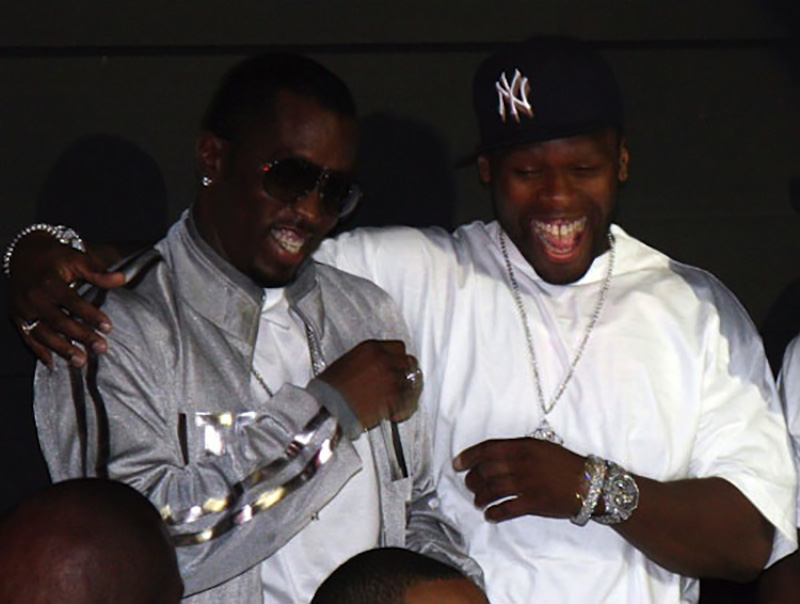 Diddy throws shade and love all at the same time in a Happy Birthday message to his arch-nemesis 50 Cent, who turned 40 years old today.
The Hip Hop mogul shared a throwback photo of him and Fiddy on Instagram and wrote in the caption:
#happybirthday @50cent May GOD BLESS YOU WITH Many more BELOVED! 😜 and I sent you a lifetime supply of the Superior ultra premium @CIROC @ciroc @Ciroc !!!!! Celebrate responsibly!!!! 😂 but all jokes aside birthdays are sacred! Happy birthday KING! Love always PUFFY 😂😭😭😭 ?
Way to hold it down like a boss Puffy! We're sure 50 got a kick out of this.
50 Cent has been taking jabs at Diddy for years, and even though they squashed their beef at one point, it was reignited in 2010 after 50 Cent dissed Diddy on the radio, saying that he's "desperate" and that his music "sucks."
And if you'll recall, later that year, Diddy responded in an address to his haters during the 2010 BET Awards post-show:
"Check this out. I love my people. Let's stop the hate, man. Congratulate. Hate is for suckers. If you hating, you a sucker, and you're ashy and your breath stinks. And you know who I'm talking to, you hatin' ass crab!"
According to a line on a Wikipedia page outlining the many feuds 50 Cent has been involved with, two years later, 50 Cent was seen getting into a confrontation with Diddy backstage at the BET Hip Hop Awards.
50 Cent was overheard calling Diddy a "bitch n*gga" multiple times, and Diddy reportedly walked away saying "I got too much money for this."
More recently, 50 Cent has been clowning Diddy relentlessly now that they're both selling vodka. Sometimes (OK, all of the time), when 50 is promoting his newly endorsed Effen vodka brand on Instagram, he uses the hashtag "#NoPuffyJuice," in reference to Diddy's Ciroc vodka.
And just last month, 50 Cent continued his streak of having no chill when it comes to matters involving a certain Sean "Diddy" Combs by poking fun at Diddy's UCLA arrest:
"Yeah, man. They say Puffy went Ciroc Coco on the coach with a kettlebell. All this shit started since Drake, man. He be wanting to fuck everybody up!"
It's hard to tell if these guys really hate each other or deep down truly admire one another.
Be the first to receive breaking news alerts and more stories like this by subscribing to our mailing list.