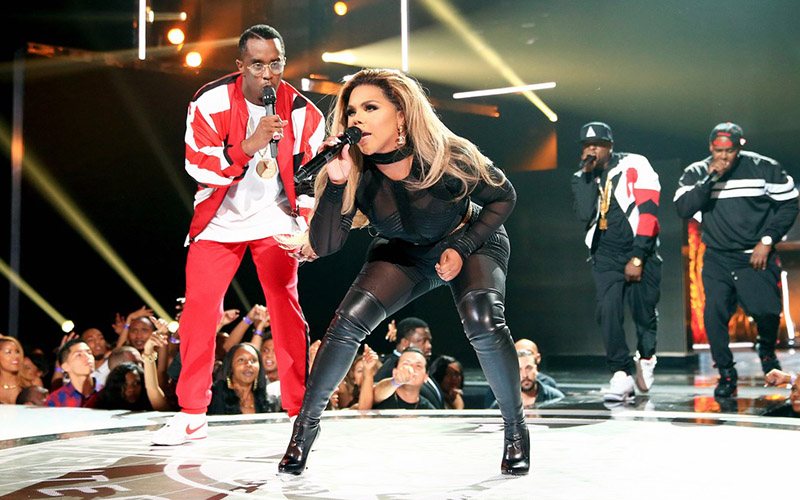 Just days after getting into a physical altercation with a UCLA football coach over his son that landed him in jail, Sean "Diddy" Combs (formerly known as "Puff Daddy") called on his Bad Boy Records family for a huge reunion performance at the 2015 BET Awards.
The 11-minute performance, which was a celebration of Bad Boy's 20th anniversary, was lauded as one of the best moments of the night, and featured several of the label's biggest artists from back in the 90's, like Ma$e, Lil Kim, 112 and Faith Evans.
This is how everything went down, according to our friends at Rap-Up:
The 11-minute Bad Boy reunion kicked off with Puff and Ma$e on "Feel So Good," donning their signature red leather outfits. 112 followed, bringing "Peaches & Cream," as it segued quickly into Diddy's "I Need a Girl Part Two." Faith Evans arrived in a red mink for "Love Like This," and pandemonium ensued.

The momentum remained for Bad Boy 2.0 artist French Montana as he delivered his verse from Bobby Shmurda's "Hot Ni**a (Remix)." Biggie's verse from Total's "Can't You See" set off the classic "All About the Benjamins" with Jadakiss and Sheek Louch front and center.

Of course it couldn't be complete without the Queen Bee. Rising from beneath the stage like a phoenix, Lil' Kim asked "Wanna bumble with the bee, huh?" spitting her "Benjamins" verse over the beat to "Queen Bitch."

While the crowd was still amped, Ma$e and Puff returned for "Mo Money Mo Problems" and Biggie's voice could be heard as the track emanated over the award show airwaves.

Diddy capped it off by debuting his new single "Finna Get Loose" with help from Pharrell, while Chris Brown danced through the aisles and Janelle Monáe joined her Bad Boy family, making this reunion a most memorable one.
Watch the Bad Boy reunion performance the 2015 BET Awards here:
Be the first to receive breaking news alerts and more stories like this by subscribing to our mailing list.