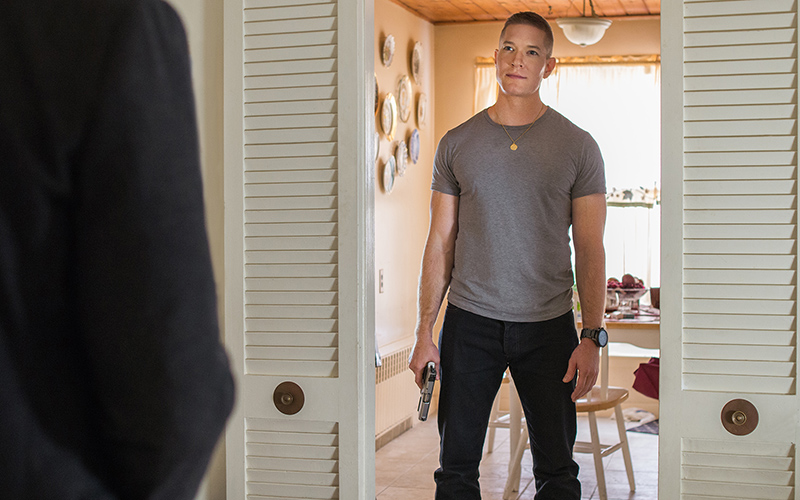 The second season of "Power" picks up right where the first season left off. Literally.
Honestly, if you haven't watched the first season, you definitely should. But if you don't have the time and would like to dive into the show headfirst right now, I suggest you watch the Season 1 Finale, because that will at least get you acquainted with some of the characters and fill you in on WTF is going on … because the Season 2 premiere episode is a helluva doozy.
So… if you do plan on watching it, I wouldn't advise reading past this sentence, because … SPOILERS!!!
Those who did catch the first season and its finale last summer, however, know everything got crazy and then some. Here's a quick recap of what went down on the season finale:
Kanan's (Curtis "50 Cent" Jackson) hired hit woman Pink Boots is told to kill Ghost (Omari Hardwick), but she accidentally hits Tommy's (Joe Sikora) girlfriend Holly (Lucy Waters) instead inside Truth, just as she's telling her boss, Mr. James St. Patrick, that she knows that he is a drug kingpin named "Ghost."
Angela's (Lela Loren) CI — a criminal informant, for the uninitiated — Nomar (Vinicius Machado) is killed by Tommy after a hit is put out on him by Ruiz (Luis Antonio) after the latter discovers that the former was sexting his 14-year-old daughter Isabel (Yainis Ynoa).
Nomar had texted Angela, telling her that his cover had been blown and he felt as though his life was in danger, and he even called her at least three or four times. But because she was too busy having sex with "Ghost," she missed his calls, and by the time she got to him, he was dead. Now her CI is gone and she definitely won't be going to Miami with "Jamie." Because, problems.
Tommy, meanwhile, discovers that Angela is a Federal Agent, which freaks him out to the point that he goes to Angela's apartment, contemplating only God knows what. (Maybe he's trying to kill her?)
Now that you're caught up on what went down last season, let's talk about this epic season premiere episode, which is appropriately titled "Consequences," because everyone (EVERYONE) is dealing with the consequences of their actions from last season.
And in the midst of all the drama and chaos, EVERYBODY wants answers. Kanan wants answers as to why Ghost is still alive. Tommy wants answers on why Ghost is having an affair with a federal agent. And Ghost spends most of the episode trying to find out where Tommy is.
The episode kicks off with Pink Boots running out of the club to her car — after ditching her infamous kicks, of course, and changing into a sexy dress and some heels — because she knows she dun fucked up now.
She was told to KILL Ghost, and she accidentally shot someone else instead, which is bad for her, because now Kanan wants her head. And even though Ghost wasn't hit with the bullet, his pockets and his operation took a major blow after the police shut down Truth indefinitely because of the shooting.
Kanan — fresh out of jail and wearing a red bedazzled Pelle Pelle jacket (likely the same jacket he was wearing when he went to jail 15 years ago) — learns of his assassin's botched murder attempt while riding shotgun in the car with his son Shawn (Sinqua Walls). Kanan tells Shawn not to tell "Uncle Ghost" that he's out just yet, for more than obvious reasons.
Kanan rushes to Pink Boots' crib, and while he doesn't find her, he does find … you guessed it … the pink boots she left behind.
After not finding Pink Boots, Kanan goes after a man apparently connected to her, and he beats the guy within an inch of his life, threatening to go even further if he doesn't find her.
Kanan then hits up a guy he helped while they were both incarcerated and conspires with him to set Plan B in motion to kill Ghost and Tommy so that Kanan can reclaim his position on the throne … you know, since Plan A didn't work and all.
While Kanan is trying to figure out where Shawn's loyalty lies (between him and Ghost), he gifts his son with a gun, but Shawn doesn't want to take it because "Uncle" doesn't like them to "carry" in case they get pulled over. "Whatever Ghost don't know won't hurt him," Kanan tells his son as he pockets the gun. Something tells me this isn't going to end well.
After finding out Angela is a federal prosecutor, Tommy is under the impression that she and Ghost are playing him, and are planning to flee to Miami. He's only (partially) right about one of those things, and he finds that out when he discovers fully packed bags that belong to Ghost and Angela in Angela's apartment.
And to answer my question earlier, YES, he was DEFINITELY trying to KILL Angela, but luckily, she wasn't there.
Thinking that Ghost set him up to take the fall for their big drug operation, Tommy immediately goes on the lam. He tries to call Holly, but she's being wheeled into surgery to save her life.
Tommy then shows up at someone's house, and you see him get him hit over the head with a baseball bat. This might not end well.
Angela feels the heat back at work after Nomar's murder, and a new agent takes over the Lobos (Enrique Murciano) case, replacing Angela with Cooper (Shane Johnson) as the lead.
Angela thinks it couldn't get any worse, but she's proven wrong when her new supervisors puts her on "white collar" work, and strips her of any duties she had related to the case.
Angela tries to get her ex boyfriend Greg (Andy Bean) to spill some tea on the case, but he, and everyone else, has been ordered to not speak with anyone who isn't assigned to it … ESPECIALLY Angela. And he's not going to risk his career for some woman who left him for another man … WHO SHE DOESN'T EVEN REALIZE IS THE MAN SHE AND EVERYONE ELSE ARE LOOKING FOR.
Even though Angela has been taken off the Lobos case, she hasn't given up just yet. It turns out she stole Nomar's phone from the murder scene, so she uses that to pursue a new lead — Isabel, Ruiz's 14-year-old daughter with whom Nomar was very close with (perhaps TOO close).
Angela comes up with this bright idea after going undercover at Nomar's wake, which was ironically paid for by Ruiz — the same guy who hired Tommy to kill Nomar after seeing his penis on his daughter's phone. "May you rot in hell, cocksucker" Ruiz says to his former soldier's lifeless body as he leans over his casket.
Isabel later meets up with Angela after receiving a text from Nomar's phone, but the teen doesn't want to talk about what happened because she knows her father had something to do with it and she doesn't want to incriminate him. But when Angela tells Isabel that a white man was the one who killed Nomar, the girl seems to reconsider talking to her and agrees to meet up again so they can talk.
With Tommy missing and refusing to return any of Ghost's phone calls, Ghost begins to panic, because not only can he not find his best friend/brother — who could be dead at this point — but let's not forget he did make a promise to Lobos that they would distribute double the goods. Lobos is not a man you want to disappoint.
Back at home, Ghost confides in his wife Tasha, who volunteers to step up and and help Ghost just like the old days. But there's a catch. She knows about Angela, and demands that Ghost stop seeing her, which turns out to be one of two major bombshells of this episode.
Ghost doesn't stop seeing Angela, immediately has sex with her and while he doesn't break things off completely, he does tell her (in Spanglish) that their plans of being together for real will have to be put on hold in light of the recent events. He knows that in this state, if he were to go through with a divorce, Tasha would grab him by the balls and take him for everything, possibly exposing him and what he does all in the process.
Ghost later promises that he "handled it," which pleases Tasha because it's exactly what she wants to hear. (FYI: Her BFF LaKeisha, played by LaLa Anthony, isn't buying it. We all need friends like LaKeisha.)
We find out Tommy is actually hiding out at his mom Kate's house ("Duh!" thinks Ghost) after Ghost calls her asking if she knows where Tommy is. "You mean my ungrateful son Tommy who I haven't seen or heard from in weeks?" Kate responds.
Ghost asks if she wants him to come by to "check up on her" and she declines, which tips Ghost off that Tommy is definitely hiding there. So he shows up unannounced and gets Kate to open the door by flashing some coke in front the peep-hole.
As he forces his way into Kate's house, Tommy — with a loaded gun in his hand — confronts Ghost and accuses him and Angela of setting him up. Completely bewildered, Ghost questions Tommy, who then points a gun in his best friend's face demanding the truth. When Tommy sees the confusion blaring from Ghost's eyes, that's when he realizes that Ghost didn't set him up, and he obviously didn't know Angela is a federal agent.
"I wasn't playing you Tommy, I was getting played. She told me she was a lawyer for the government," a shocked and confused Ghost tells Tommy. "What kind of lawyers do you think work for the government?!?" Tommy yells back. This is, in my opinion, the second bombshell of the episode, and it gets Ghost to start thinking in retrospect.
"Does she really know who I am? Is she trying to get me AND Tommy set up?" are the types of questions Ghost is probably asking himself at this point.
Tommy wants to take Angela out, not now, but RIGHT now, because he believes that the reason why she's with Ghost is a way for her to collect evidence on him and their organization. The funny thing about that is that Angela believes that Tommy is Ghost, and she has no idea that Ghost (or "Jamie" to her) is even a big time drug dealer.
Ghost obviously doesn't want to kill Angela simply based on Tommy's impression of her. Remember what happened the last time Ghost listened to Tommy regarding something like that. An innocent man (Rolla) got killed. So he buys time by telling Tommy something he needs to hear to calm his crazy ass down: "Holly was shot."
As Tommy rushes to be by Holly's side, Ghost contemplates whether or not he's going to kill Angela. He goes to visit her — while strapped with a gun, no less — and Angela, apparently oblivious to what's happening, offers to make him dinner.
While James sits down at the couch waiting for his meal, he asks Angela a question: "So baby, how was work?"
Is Ghost going to kill Angela? Probably not, but I do want to know the answer to that "How was work?" question just as much as Ghost does, if not, more.
Be the first to receive breaking news alerts and more stories like this by subscribing to our mailing list.