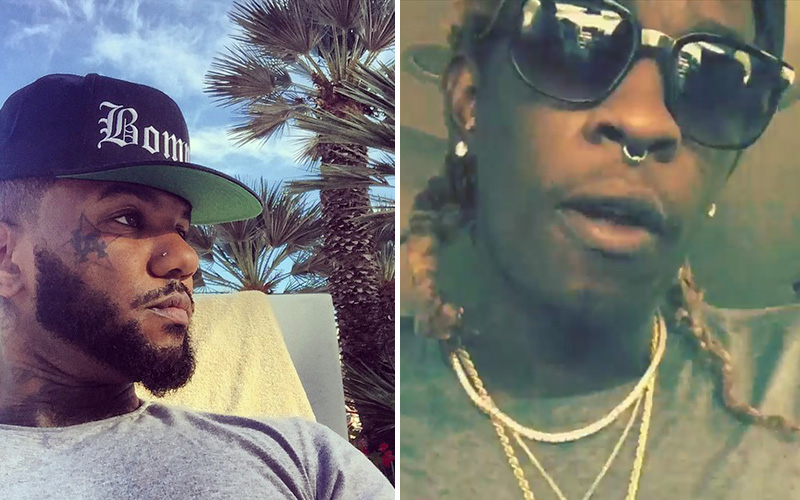 Well, that was fast. The Game has squashed his Insta-beef with Young Thug.
Last week, both rappers took to social media to throw shots at each other after footage surfaced of Game during a club appearance threatening to "fuck Young Thug up" or anyone who has a problem with his good friend Lil Wayne.
Thug responded, calling Game a blood and a crip, and accused the Compton rapper of once being a male stripper.
"See, you used to be a Crip, now you a blood, so I don't want no smoke with you. You got Bloods and Crips on your team," said Thug. "And you was a male stripper once before, so I don't want to fight you. I don't want no germs from you, pussy nigga, and you know I'm in L.A. more than Arnold Schwarzenegger and he the governor, fuck nigga."
Game didn't let Thug's comments go under the radar. The Compton rapper responded, making fun of Thug getting his nails painted and calling his homies "bae."
"I just seen your little video you hoe-ass nigga," Game said. "You paint your nails like a fucking girl, you call your niggas bae. Keep fucking around niggas gonna drive by that nail shop and light that mother fucker up."
Either Thug finally woke up and realized Game would beat the living hell out of him or he seriously doesn't want that nail shop he gets his nails done at shot up.
The 22-year-old rapper later posted another video apologizing to Game for his comments, but made it clear Weezy needs to man up and speak for his self.
"See the way the world works, they want all Blacks to kill each other. But we're not," he said. "Black lives matter, so I salute Game, I respect him, and I'm sorry for making that post about him. Even though he was wrong and he was in the wrong business, and taking up for a nigga that wasn't taking up for himself, it's all good."
Game accepted Thug's apology and offered to be a mediator between him and Lil Wayne. Game also wants to help Birdman and Wayne to settle their differences.
"I seen Thugga video and shit. I think it take a real nigga to apologize and dead some shit. I think the next phase is getting him and Tune shit buried 'cause Tune my nigga," said Game. "And then gettin' Tune and Birdman to settle their shit and gettin' back to gettin' their money."
Be the first to receive breaking news alerts and more stories like this by subscribing to our mailing list.