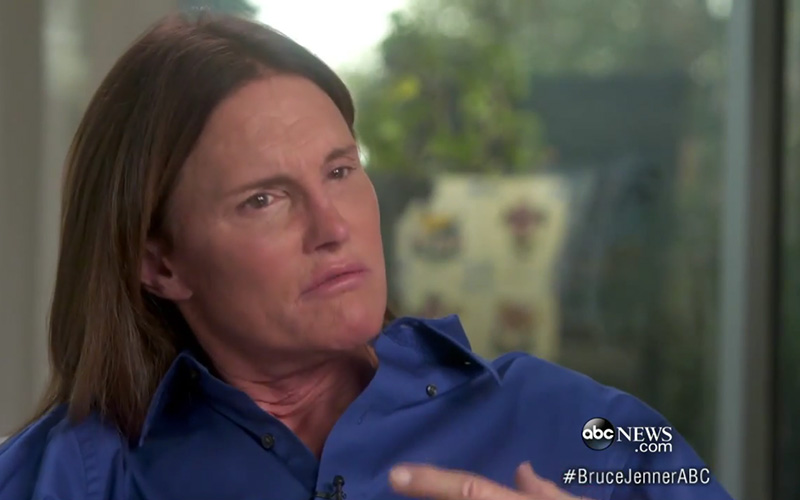 During an exclusive two-hour interview with ABC's Diane Sawyer on Friday night (Apr 24), Bruce Jenner — the Olympic gold medalist and former patriarch of the Kardashian Klan — came out as a transgender woman, confirming (and ending) months of speculation regarding Jenner's gender identity and marking the first time Jenner has discussed the topic publicly.
"For all intents and purposes, I am a woman… People look at me differently. They see this macho male, but my heart and my soul and everything that I do in my life is part of me. That female side is part of me. It's who I am. I was not genetically born that way. As of now, I have all the male parts… but [I] still identify as female."
For the purpose of the interview, Jenner — who admits that he's "stuck in the middle" — said he preferred the familiar pronoun "he" until his transition is more complete.
Jenner said that he plans to share his new name when he more fully transitions, though he, during the interview, referred to himself as "her" and called his emerging identity "she."
"I look at it this way — Bruce always telling a lie. He's lived a lie his whole life about who he is. And I can't do that any longer. My brain is much more female than it is male. It's hard for people to understand that, but that's what my soul is."
He also said that he is not gay and has never been with a guy.
"No, I'm not gay, I am, as far as I know, heterosexual. I've always been married [to women] and raising kids."
Sawyer asked Jenner if he was a lesbian, since he's essentially a "woman who likes women." Jenner's response?
"You're going back to the sex thing, and it's apples and oranges. There's two different things here. Sexuality is who you are personally attracted to, who turns you on, male or female. But gender identity is who you are as a person, and your soul, and who you identify with inside."
Jenner's interview also delved into his childhood, past relationships (Kris Jenner was his third wife) and how his kids reacted to the news.
In the late 1950s, during the Eisenhower era, Jenner said he was about 8 or 9 years old when he did something new: put on a dress from his mother's or sisters' closet when she was out of the house.

"I marked the closet so when I put it back I could put it all back, everything back in the exact same spot so I wouldn't get caught," Jenner said. "And, at the time, I didn't know why I was doing it besides it just made me feel good."

Cross dressing became a part of Jenner's adult life as well. He described trips on the road during his time as a motivational speaker where the anonymity of a hotel room provided an ideal venue for trying to express what he felt within.

"I'd literally go up into the hotel room, change [into women's] clothes, and walk around," Jenner said.

For decades, Jenner's ex-wives and sister kept the secret of his gender identity struggle as the only people who knew. The circle expanded recently when Jenner told his mother and his 10 children. Jenner has six biological children – Burt, Cassandra, Brandon, Brody, Kendall and Kylie — and four step children — Kourtney, Kim, Khloe and Rob Kardashian.

"They all cried. Mainly because they didn't want anybody to hurt dad," Jenner said. "They are very protective of me."

Bruce Jenner's third child Brandon Jenner told Sawyer during the interview with "20/20" that he used to beam with pride when a stranger asked if his dad was the hero champion of the Olympics.

And now?

"I'm just honored and more proud than ever to be a part of the family," Brandon said.

Bruce Jenner has told his children they can still call him "dad," but Jenner is not yet sharing the female name he has chosen for himself, joking that the only decision that has been made is that it won't start with "K."

"She's definitely a Jenner," the Olympian joked.
WATCH THE FULL 2-HOUR INTERVIEW (1 HR. 20 MIN. W/O COMMERCIALS) HERE:
Be the first to receive breaking news alerts and more stories like this by subscribing to our mailing list.