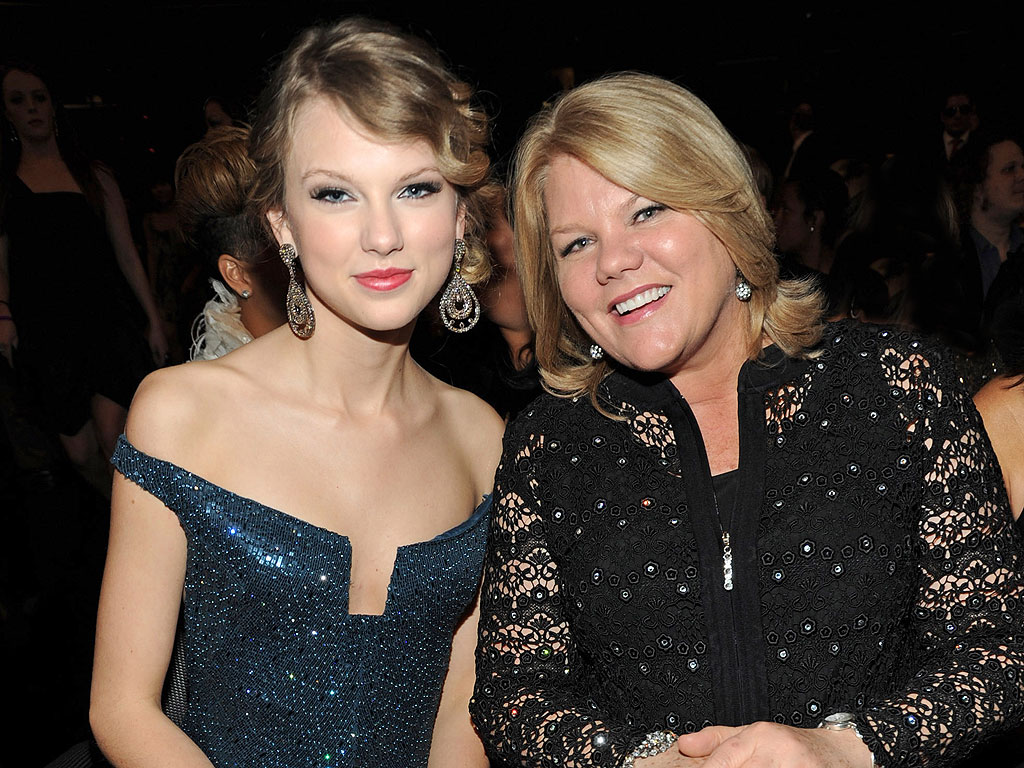 Taylor Swift broke some sad news to her fans this week regarding her mother Andrea Finley.
In an emotional letter on her Tumblr page, Taylor revealed that her mother, 57-year-old Andrea Finlay, has been diagnosed with cancer.
According to Taylor, she asked her mom as a Christmas gift to get checked out by doctors late last year, and that's when her family found out about her mom's illness.
Taylor says her mother asked her to tell fans about her diagnosis and wants other to use this to inform their loved ones to go get checked.
Peep her letter below:
Hey guys,

I'm writing to you with an update I wish I wasn't giving you, but it's important and I'm used to sharing important events in my life with you. Usually when things happen to me, I process them and then write music about how I feel, and you hear it much later. This is something my family and I thought you should know about now.

For Christmas this year, I asked my mom that one of her gifts to me be her going to the doctor to get screened for any health issues, just to ease some worries of mine. She agreed, and went in to get checked. There were no red flags and she felt perfectly fine, but she did it just to get me and my brother off her case about it.

The results came in, and I'm saddened to tell you that my mom has been diagnosed with cancer. I'd like to keep the details of her condition and treatment plans private, but she wanted you to know.

She wanted you to know because your parents may be too busy juggling everything they've got going on to go to the doctor, and maybe you reminding them to go get checked for cancer could possibly lead to an early diagnosis and an easier battle… Or peace of mind in knowing that they're healthy and there's nothing to worry about. She wanted you to know why she may not be at as many shows this tour. She's got an important battle to fight.

Thank you for caring about my family so much that she would want me to share this information with you.
I hope and pray that you never get news like this.

Love you.
Taylor
Shortly after Taylor announced her mother's cancer diagnosis, #prayformamaswift started trending on Twitter.
This hurts. #PrayForMamaSwift pic.twitter.com/QEST5dd2M8

— shay (@temptedbiebs) April 9, 2015
#prayforMamaSwift lets make sure we see more pics of her & video like this pic.twitter.com/l1fEMw45dV

— Brian (@BrianSwiftie13) April 9, 2015
A mother daughter relationship is stronger than any disease. #PrayForMamaSwift #FUCancer pic.twitter.com/7UV9dyJE7K

— Taylor Swift Updates (@TSwiftPR) April 9, 2015
This breaks my heart #PrayForMamaSwift https://t.co/tTvniQeTEZ

— karrizze (@REDSREGUI) April 10, 2015
Our prayers go out to Taylor, her mom and their family. We wish them nothing but the best.
Be the first to receive breaking news alerts and more stories like this by subscribing to our mailing list.