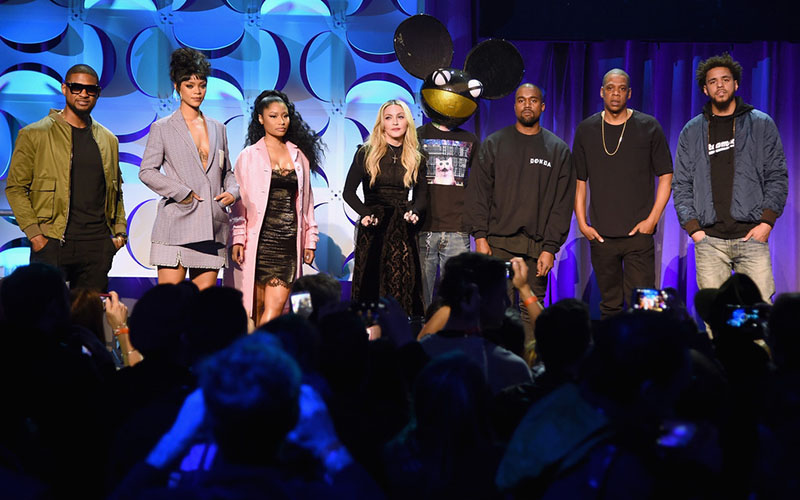 Back in February, Jay Z purchased a music streaming service called "TIDAL" for $56 million from Swedish tech company Aspiro, and on Monday (Mar 30), the Hip Hop mogul officially announced TIDAL's relaunch as the first-ever global music entertainment platform owned by artists during a star-studded press conference in New York City.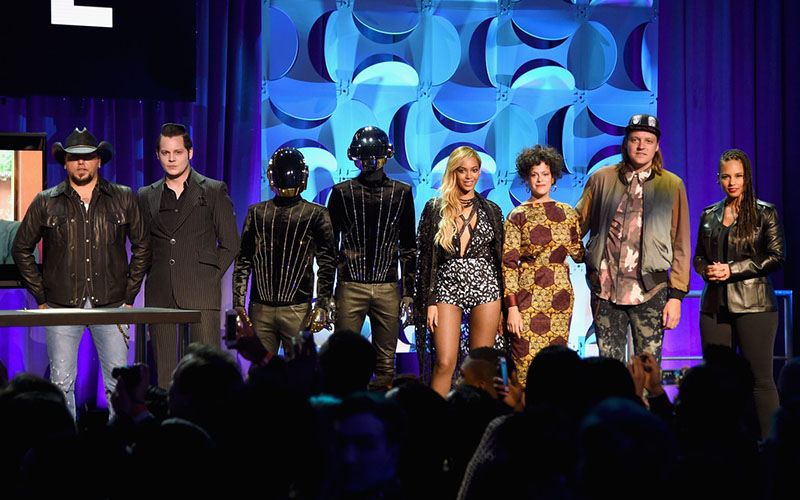 Beyoncé, Alicia Keys, Madonna, Kanye West, Rihanna, Nicki Minaj and Usher were among the dozen or so well-known artists who not only showed up to press conference, but also updated their social media pages to reflect their involvement with the company.
"The Tides They Are-A Changing" #TIDALforALL

— Mr. Carter (@S_C_) March 30, 2015
NAVY, turn the tide…#MakeMusicHistory #TurnitBlue #TIDALforALL

— Rihanna (@rihanna) March 30, 2015
Change your avi in support of what is fair, of what is the future. The tides have changed, Barbz.… https://t.co/UqGLHerO37

— QUEEN (@NICKIMINAJ) March 30, 2015
https://twitter.com/kanyewest/status/582391919218532352
If you want to join us in something exciting, please turn your profile blue #TIDALforALL PH pic.twitter.com/1IxBJnMTGH

— Coldplay (@coldplay) March 30, 2015
It's time to turn the tide and make music history. Show you are part of the movement by turning your profile pic blue. #TIDALforALL

— Usher Raymond IV (@Usher) March 30, 2015
Tides are about to turn. #TIDALforALL

— Goat lord (@deadmau5) March 30, 2015
Music makes the people come together. Join Madonna and turn your profile picture blue. Do it for the music. #TIDALforALL

— Madonna (@Madonna) March 30, 2015
During the press conference, Alicia Keys spoke briefly on behalf of the artists up on stage.
"We come together before you on this day, March 30, 2015 with one voice in unity in the hopes that today will be another one of those moments in time, a moment that will forever change the course of music history," she said.
"Our goal is simple. We want to create a better service and a better experience for both fans and artists. And that is our promise to the world. Our mission goes beyond commerce. It goes beyond technology. Our intent is to preserve music's importance in our lives."
She added, "We believe that it is in everyone's interest — fans, artists, and the industry as a whole — to preserve the value of music and to ensure a healthy and robust industry for years to come. Today is the day that we begin that journey together, all of us as one."
At the end of Keys' speech, each artist went up to a table in the center of the stage and signed a "declaration of independence."
The purpose of Jay Z's acquisition of TIDAL is to compete with popular streaming media services such as Spotify, Pandora, Vevo, iTunes and the Apple-owned Beats Music. TIDAL considers itself the first music streaming service that combines high-fidelity sound quality, HD music videos and expertly-curated editorial.
The service will cost $20/month (compared to Spotify's $10/mo and Vevo's $0/mo) and it will also pay artists up to twice as much as its rivals. Oh, and did we also tell you how the artists involved with the company each hold a 3% stake in the company?
At this point, you might be asking yourself, "Now why on earth would I pay TWICE as much for the same thing I can get on Spotify, making already super rich people even richer in the process?"
No one really knows how to answer that question, but with names like Jay Z, Beyonce, Madonna, Kanye West, Rihanna, Coldplay, etc. involved, it won't be hard for them to find a user base.
Jay Z explained in an interview with Billboard why he and his millionaire musician friends decided to get into the streaming business.
"We didn't like the direction music was going and thought maybe we could get in and strike an honest blow," he said. "And if, you know, the very least we did was make people wake up and try to improve the free vs. paid system, and promote fair trade, then it would be a win for us anyway."
#TIDALforALL, y'all.
Be the first to receive breaking news alerts and more stories like this by subscribing to our mailing list.