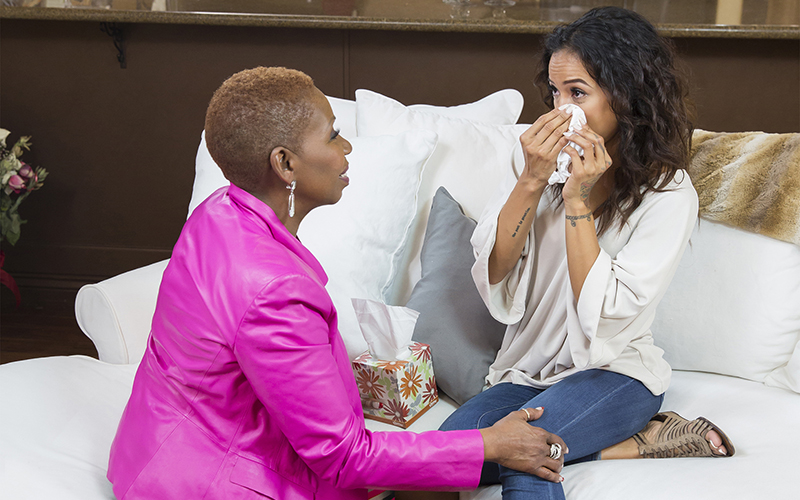 Just weeks after Karrueche Tran found out that her boyfriend Chris Brown fathered a 9-month-old baby girl with another woman, the aspiring model/actress sat down with Iyanla Vanzant for a super revealing "Iyanla: Fix My Life" interview that aired on OWN, in which she opened up about her on-and-off relationship with the singer.
During the one-on-one, Karrueche described how she met Chris about five years ago when she was a stylist's assistant and what made her fall in love.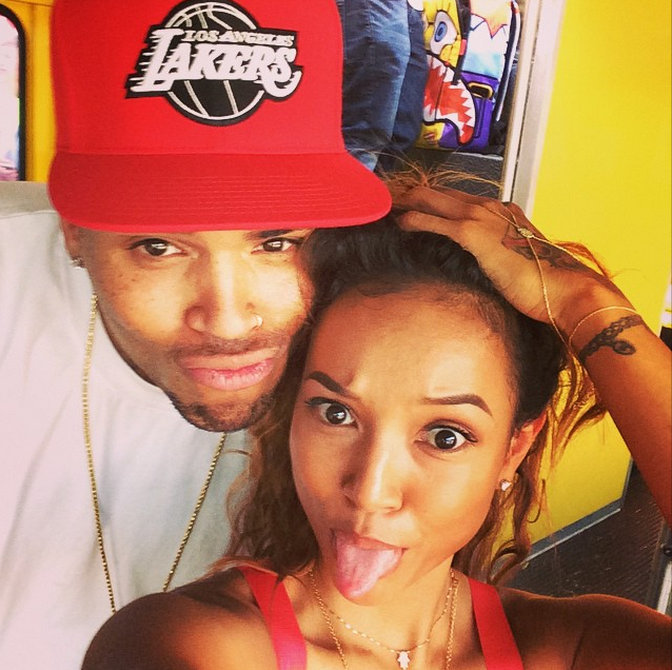 "When I first met him, he was nice and charming and I wanted to love him," Tran told Vanzant. "To be a friend, to be different than all these other girls who would sleep with him in a second or girls who are gonna go crazy, or people who are just gonna use him. I didn't want it to be that, I wanted it to be different, and that's how it was."
For Karrueche, being "different" included making Chris wait before they had sex. "I made him wait a month-and-a-half to two months. That's not what he's used to," she said.
The 26-year-old said she knew Brown was still hanging out with Rihanna, but she was OK with it because she initially thought it was just an innocent "friendship." She admitted that she knew the type of man she was dealing with, she just didn't want to believe it.
"I didn't want to believe it," she said. "Because I loved him. I've never dated a celebrity, I've never been in the light that way, so I didn't know what to expect."
Tran also revealed that she and Chris had talked about having kids one day, but she said she wasn't ready for that until he put a ring on it. She told Iyanla she found out about his daughter the same way everyone else did, on the Internet.
"How did you find out he had a baby by another woman, that he's not married to?" Iyanla asked.
"Honestly, through social media," Karrueeche admitted. "He wanted to talk in person. Actually, at the moment that I found out, he was texting me saying, 'I need to talk to you in person.' Then I got online and I saw that."
Immediately after catching wind of the news, Tran went on social media to publicly call end her relationship with Brown. "Listen. One can only take so much. The best of luck to Chris and his family. No baby drama for me," she wrote in a now deleted Twitter post.
Even though they aren't together anymore, Karrueche said she's spoken with Chris since their break-up, and he's been very apologetic. "He said he's sorry, he's dropped flowers off and tried to, you know, say sorry and be back in good graces," she said. "He's sorry for what he put me through."
And despite everything she's been put through, Karrueche said she still loves Chris. "I still love him," she explained. "I've tried to help him. Go to church, pray, yoga, meditate. If he were to change, we'd be in a better place. But that's the problem. Yes, he is damaged but I'm damaged too."
A visibly emotional Karrueche Tran made it clear that she has no plans to take Chris Brown back anytime soon though. "Now? It ain't no making up right now," she insisted. "There's no making up. I'm trying to be my strongest and I understand what he's put me through and I'm fed up with it."
Watch the full 41-minute interview on Page 2!
Be the first to receive breaking news alerts and more stories like this by subscribing to our mailing list.