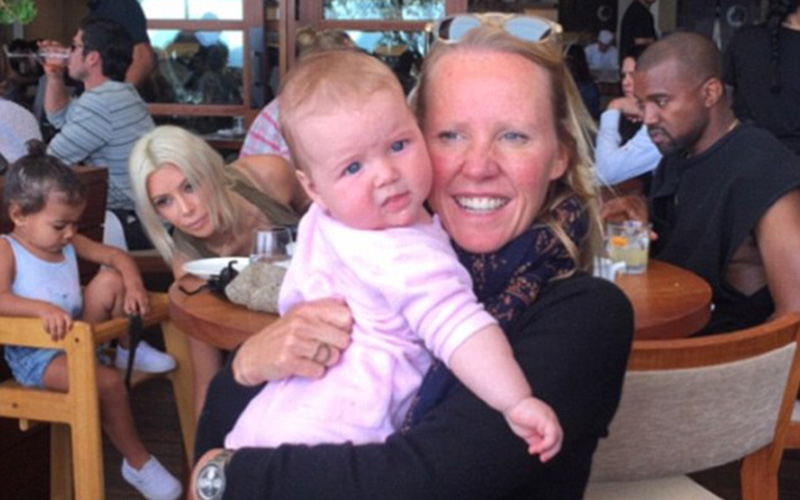 How many multi-millionaires can you fit in one photograph? In this case, at least five.
In a photo shared on Instagram last week, Kim Kardashian, Kanye West and their daughter North are caught accidentally photobombing a woman and her baby.
You don't even have to really look that hard to see the famous family right behind the lady — who, according to the Daily Mail, is a British heiress named Alice Bramford whose family is worth over $4 billion and owns JCB farm equipment and Daylesford Organics.
The image was taken outside Nobu, a popular A-list Japanese restaurant in Hollywood, and it's obvious that Kim and Kanye have no idea that a picture is being taken in front of them.
That, plus Bramford's apparent lack of awareness (or lack of care) that Kimye and Baby North are literally right behind her is what has everyone on the Internet rolling with laughter.
"Lunch with Lilou at Nobu!! #Lilou #NobuSundays #greatcompany #Carolin #papaB @casiebamford @malibubuffy @anneysenring @jasoncampbellmalibu," the photo's caption read.
Whether or not Alice realized the Wests were in the background of her photo before she posted it on social media is anyone's guess (maybe that's what the #greatcompany hashtag was for?) but the folks in the comments certainly noticed.
One user commented:
she has no idea whos behind her smh😂😂
Another user commented:
Lol I saw this on Twitter and I wanted to see if it was true 😂😩, she has no idea that Kim Kardashian and Kanye is behind her
And another wrote:
she didn't even notice who's behind her 😱😂😂😂
Be the first to receive breaking news alerts and more stories like this by subscribing to our mailing list.