Just when you thought an already horrible story couldn't get any more horrible, it goes and gets more horrible.
According to police records, the Detroit mother whose two children were found dead in a deep freezer forced one of her kids to help her commit the heinous act.
35-year-old Mitchelle Blair was arrested Tuesday (Mar 24) after the frozen bodies of her daughter and son were discovered in a freezer inside the family's three-bedroom townhome.
The mother of four was arraigned on child abuse charges Thursday and is being held on a $1 million cash bond.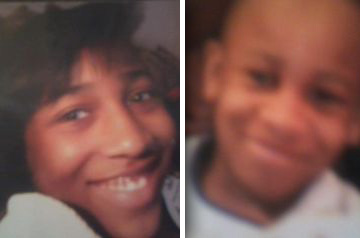 The two children found in the freezer were identified as Stoni Ann Blair and Stephen Gage Berry, who were believed to be 13 and 9 years old, respectively, at the time of their deaths. If they were alive today, Stoni would be 15 and Stephen would have been 11.
A petition filed in Wayne County Juvenile Court details the severe abuse that Blair put all four of her children through, which eventually led up to Stephen and Stoni's deaths.
The causes of their deaths — which could lead to murder charges for Blair — aren't yet known because the coroner is waiting for their frozen bodies to thaw naturally before performing autopsies.
The petition, which includes information from interviews with both surviving children, alleges that Blair, 35, tortured Stephen in the two weeks before his death by tying a belt around his neck, scalding him with hot water and putting a plastic bag over his head.

On Aug. 30, 2012, when Stephen, then age 9, was found unresponsive, Blair wrapped his body in a bed linen and placed him in the freezer. About nine months after Stephen was killed, Stoni suffered the same fate – being killed and stuffed in the freezer.

Blair is accused of burning Stoni with a clothing iron, hitting her with a 2-by-4 and striking her with a hot curling iron, causing one of her front teeth to break. "Her mother refused to provide her with medical treatment," the petition alleges.

Stoni died on May 25, 2013, after an enraged Blair allegedly "strangled Stoni with a black T-shirt and suffocated her with a plastic bag." After the then 13-year-old died, Blair is accused of then making her older daughter "put Stoni in the deep freezer."
Stephen and Stoni's bodies were found Tuesday by court officials who were working to evict Blair from the apartment for failing to pay her rent.
While Blair was being arrested, she reportedly said: "They're both dead. I did it." She said she killed her children because she believed they had sexually assaulted their younger brother, though there was nothing to indicate the child had been sexually assaulted.
Meanwhile, the state wants to terminate the parental rights of the fathers of Blair's two surviving children, who are now in the custody of a family member — their maternal great aunt Angela Gordon, a retired Detroit police child abuse investigator.
The fathers hadn't seen their children in years and both owe thousands in child support.
Alexander Dorsey — Stoni's father, as well as the father of Blair's 17-year-old daughter — owes $39,000. Stephen Berry — Stephen's father, and the father of Blair's 8-year-old son — owes over $12,000.
The petition states that each father "failed to protect his children from an unfit home environment where the children were physically abused, tortured and murdered."
Dorsey said he last saw his children about two years ago, and Berry said he hasn't seen his kids since April 2012.
Both fathers told the court that Blair prevented them from seeing their children, and when they would ask her about their whereabouts, she would tell them that they were visiting their great aunt Angela Gordon.
The two surviving children also allegedly suffered abuse, according to the petition, which stated that the 8-year-old had 25 scars and injuries on his back "both old and new, as a result of physical abuse by Mitchelle Blair," in addition to "numerous loop-shaped scars and injuries" on his body, which were believed to be "consistent with Mitchelle Blair using an extension cord" to physically abuse her children.
Medical personnel reportedly saw a scar over the left eye of the 17-year-old, and the petition stated that the teen "has also been beaten with a cord and burned with a clothing iron and has burns on her body that are consistent with that of a clothing iron."
The 8-year-old also reportedly told officials that "he knew his sister and brother were killed and subsequently placed in the freezer."
Be the first to receive breaking news alerts and more stories like this by subscribing to our mailing list.