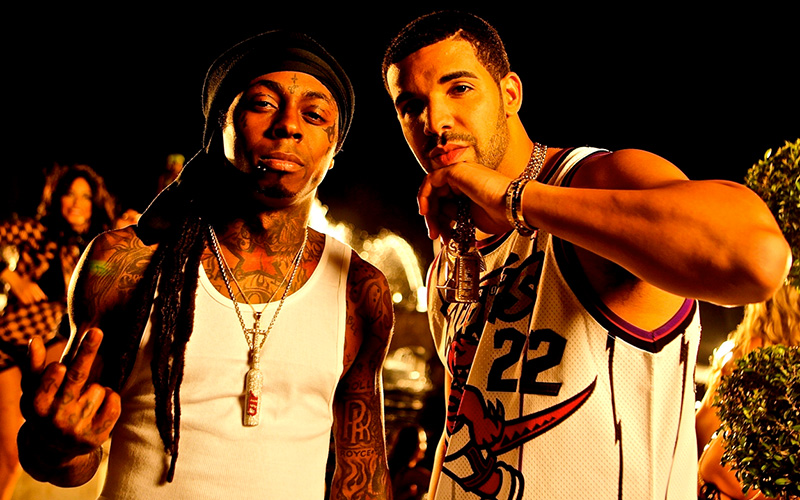 Drake is the true definition of a "f*ckboy," which the Urban Dictionary defines as "a manipulating d*ck who does whatever it takes to benefit him, regardless of who he screws over."
Sounds a lot like Drake, doesn't it?
In the past, Drake has been known to be the sneaky rap guy who will wine and dine your girl all across the country (maybe the world too). But nothing tops what he once did to his boss Lil Wayne.
One of the number 1 rules when it comes to guy code is to never, ever, EVER sleep with your homie's girl … even if she throws it at you.
Drake obviously gives no damns about the phrase "bros before hoes" because in a new tell-all book being shopped around to various publishing companies, Lil Wayne reveals the time he found out Drake slept with his girlfriend while he was locked up for eight months in Rikers Island in 2010 on that 2007 gun charge.
Weezy says that he was furious when he found out the news, and thank God he was arrested at the time, because it prevented him from doing something he would have later regretted.
"This is the type of shit that a man never wants to find out when he's locked up. Or, maybe so, cause only God knows what I would have done if I wasn't locked up right now," Wayne wrote, according to TMZ. "Finding out that she fucked Drake was the absolute worst thing I could've ever found out. As a man, honestly, that shit hurt … and not because it was Drake, it could have been any man. It would've hurt the same."
In the tell-all book, Wayne talks about how Drake admitted to having sex with his girlfriend during a visit at Rikers Island, and even advised Wayne to leave her.
"Yeah, it's true. Don't f*ck with her like that cause I did f*ck her," Drake allegedly told Wayne.
Weezy says he was so depressed by the news Drizzy had dropped on him, he didn't come out of his cell for days.
When Wayne later confronted his girlfriend, she copped to having sex with Drake, but said it was the day before she met him … because OF COURSE SHE WOULD SAY THAT.
If we were in Wayne's position though, we would have whooped Drake's azz soon as we touched down from prison. You give a man a career and then he stabs you in the back by screwing your lady?
Chris Brown said "these hoes ain't loyal," but maybe he should have said "these homies ain't loyal."
Be the first to receive breaking news alerts and more stories like this by subscribing to our mailing list.