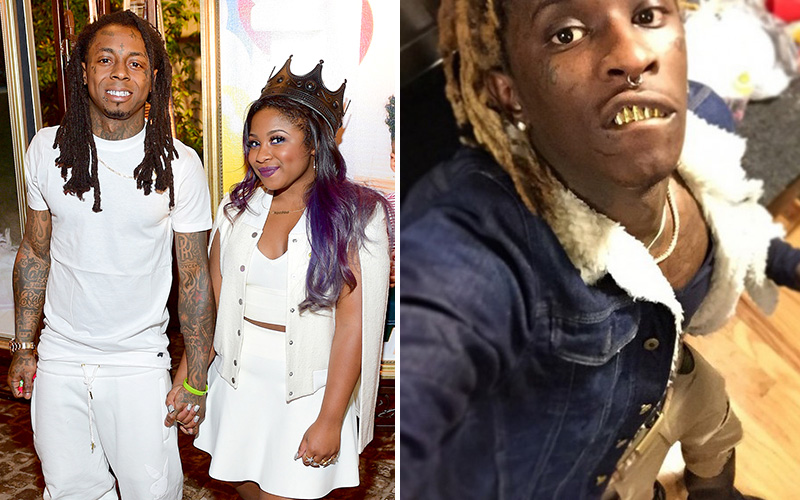 Sh*t. Just. Got. Real.
You know you've stepped out of line when the daughter of one of the biggest rappers in the game comes for you.
As we previously reported, Young Thug revealed to the world yesterday that his upcoming debut album will be called "Carter 6," and while many found Thug's announcement distasteful and disrespectful to Wayne's Carter series, one person in particular took offense to Thug calling his album "Carter 6," and that's Weezy's 16-year-old daughter Reginae Carter.
Reginae sent out a number of tweets going in on Thug and even told the Rich Gang rapper he will never be on her father's level.
The "My Super Sweet Sixteen" star also responded to those who had something to say about her taking up for her daddy, and it's clear she doesn't give a damn about what anyone thinks.
Peep her tweets below:
Is he trying to be funny with this Carter6 ? ? Cause it's pretty childish to me ! #myopinion

— Love me (@reginae_carter1) March 17, 2015
Try again if you're even trying to get on my fathers level ?

— Love me (@reginae_carter1) March 17, 2015
Listen . I usually stay in a child's place but that's my father and I'll stick up for him no matter what ! It was not to be disrespectful ?

— Love me (@reginae_carter1) March 17, 2015
But you know what . I don't have to explain myself ! I don't regret anything and I'll repeat myself if I have to ?

— Love me (@reginae_carter1) March 17, 2015
Behind all the cameras and media , there's a real family with real feelings….

— Love me (@reginae_carter1) March 17, 2015
YOU CANT SIT WITH US!!!!!!!!!!!!!!!

— Love me (@reginae_carter1) March 17, 2015