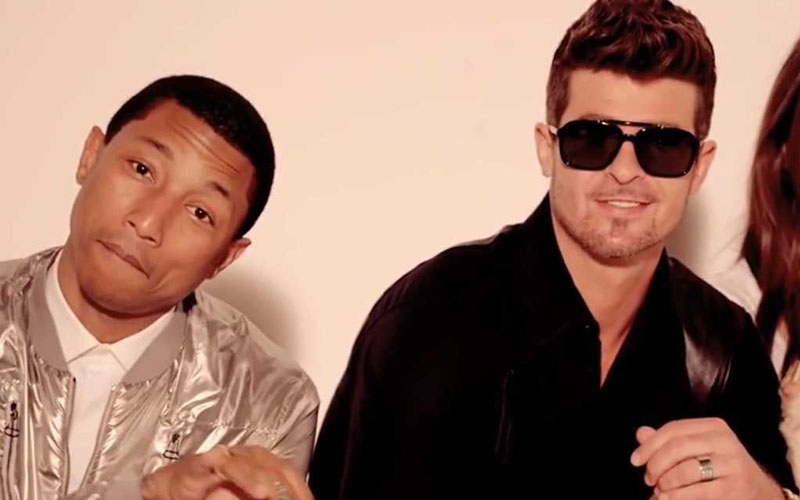 A Los Angeles jury decided Tuesday (Mar 10) that Robin Thicke's hit single "Blurred Lines" was a blatant rip-off of Marvin Gaye's own immensely popular hit single "Got To Give It Up," and the duo has been ordered to pay $7.4 million to Gaye's family.
If you'll recall, Thicke and Williams preemptively sued Gaye's children in 2013 to force the court to decide if "Blurred Lines" — which was met with immense success worldwide (despite its rapey lyrics), peaking at number one in 20 different countries — infringed on Gaye's 1977 hit, and the Gaye family responded with a countersuit, for obvious reasons.
Then, in his court deposition for the case, Robin, in a lame effort to distance himself from the song, said he was addicted to Vicodin and booze and was too "messed up" to be a part of the writing process for the song, basically laying all the blame on Pharrell and throwing him under the bus:
Q: Were you present during the creation of 'Blurred Lines'?

Thicke: I was present. Obviously, I sang it. I had to be there.

Q: When the rhythm track was being created, were you there with Pharrell?

Thicke: To be honest, that's the only part where — I was high on Vicodin and alcohol when I showed up at the studio. So my recollection is when we made the song, I thought I wanted — I — I wanted to be more involved than I actually was by the time, nine months later, it became a huge hit and I wanted credit. So I started kind of convincing myself that I was a little more part of it than I was and I — because I didn't want him — I wanted some credit for this big hit. But the reality is, is that Pharrell had the beat and he wrote almost every single part of the song.
Turns out Robin — high or not — was still held liable for his part in the creation of the $16 million song, which, according to The Hollywood Reporter, made both Thicke and Williams over $5 million each.
More via THR:
All told, the Gaye family was seeking more than $25 million — a mammoth demand that would shatter the song plagiarism high-water mark of $5.4 million that a California court ordered Michael Bolton and Sony to pay two decades ago for infringing The Isley Brothers' "Love Is a Wonderful Thing."

In closing arguments, [Gaye family attorney Richard] Busch raised the issue of Thicke's credibility, telling jurors, "What it boils down to is, 'Yes, we copied. Yes, we took it. Yes, we lied about it. Yes, we changed our story every time.' … It boils down to this: Who do you believe? … Are you going to believe Robin Thicke, who told us all he's not an honest person?"

[Pharrell, Robin and T.I.'s lawyer Howard] King offered a rebuttal. "Why would Mr. Williams need to copy anyone to create a hit?" he asked the jury. "Why would Mr. Thicke and Mr. Williams endure a proceeding like this, where their personal financial details are revealed to the world?"

In what might now be the landmark legal controversy over songcraft, the jury decided that Thicke and Williams infringed both songs and had to pay $4 million in damages (essentially accepting the Gaye family's contention that if "Got to Give It Up" was properly licensed, the family would have gotten a 50 percent cut of the $8 million in "Blurred Lines" publishing revenue).

On top of that, the two songwriters had to hand back nearly $3.4 million of their profits on "Blurred Lines." The verdict will echo through the ages.
T.I. (real name: Clifford Harris, Jr.) — who profited $700,000 from the song, which he rapped on — isn't being held accountable and won't have to pay up since his lyrics were 100% original.
Pharrell Williams, Robin Thicke and T.I. released the following joint statement:
"While we respect the judicial process, we are extremely disappointed in the ruling made today, which sets a horrible precedent for music and creativity going forward. 'Blurred Lines' was created from the heart and minds of Pharrell, Robin and T.I. and not taken from anyone or anywhere else. We are reviewing the decision, considering our options and you will hear more from us soon about this matter."
Meanwhile, the Gaye family's lawyer said that they are seeking an immediate injunction to halt all future sales and distribution of "Blurred Lines" until a formal agreement between the parties is reached.
Be the first to receive breaking news alerts and more stories like this by subscribing to our mailing list.