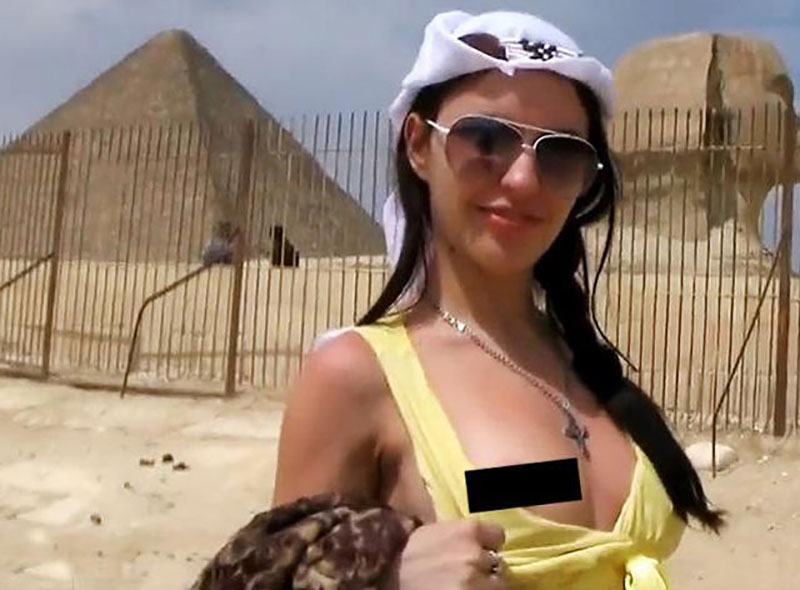 A group of Russian-speaking tourists are believed to have recorded a porno near the 4,500 year-old Giza pyramids and the Sphinx in Egypt, and officials are (rightfully) pissed.
Egypt is investigating how foreign tourists managed to film a pornographic video near the Giza pyramids, the government said.

"There is unlawful footage of pornographic scenes in the area of the pyramids made by a foreign female tourist," Antiquities Minister Mamdouh al-Damaty said in a statement on Thursday, adding that he had referred the issue to the public prosecutor.
According to local newspaper Al Masry Al Youm, the 10-minute video clip was posted online last year, but gained major attention this week when the paper published a story about it along with screenshots showing a woman's blurred breasts.
The clip, which appears to have been shot on a lower quality handheld camera, shows a Russian-speaking woman traipsing about the pyramids of Giza before briefly showing her beasts and giving the man behind the camera oral sex.
Most of the video looks like it was shot in areas usually not accessible to tourists, and while the actress in the video hasn't been named, several media outlets have identified the woman as a 23-year-old porn star named Aurita, who contributes to a website called "Porn Traveling."
Be the first to receive breaking news alerts and more stories like this by subscribing to our mailing list.