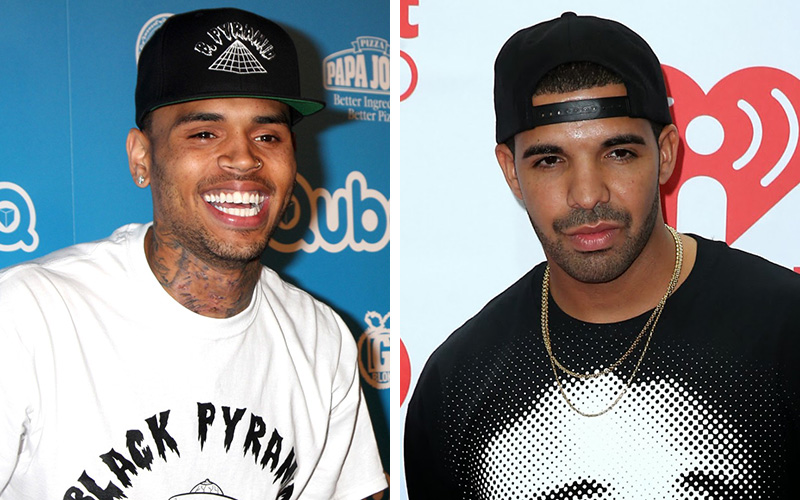 As expected, Drake has passive aggressively responded to Chris Brown's remarks about him, by indirectly mentioning his fellow frozen waffle colored entertainer in a song.
During his appearance on "The Breakfast Club" Monday morning (Feb 23), Brown called Drake a "corny singing rapper" and insisted that the two are not friends.
Days before that, in a joint Hot 97 interview with Tyga, the singer mocked Drake's voice after saying "I can't keep making these motherf**kers famous" when asked about the Young Money frontman.
Apparently Drizzy caught wind of the Hot 97 interview and fired back at Breezy during his performance in Auckland, New Zealand Monday night. (Note: New Zealand is more than 12 hours ahead of the Eastern U.S. so Monday night for them was late Sunday night/early Monday morning for us — before the Breakfast Club interview).
"R&B n**gas that I gotta act like I like / But my actin' days are over, f**k them n**gas for life, boy." Drake rapped, slightly changing the lyrics to his "Energy" track off his recently released surprise mixtape 'If You're Reading This It's Too Late.'
Not surprisingly, Brown and Drake's reignited beef comes not too long after Drake blasted Tyga for dating Kylie Jenner on his "6 PM in New York" song.
Tyga responded telling Drake to "pull up on him" and claimed that Drake is still "ducking the fade from Brown" (meaning Drake has been running from getting an azz-whooping from Chris).
We guess Tyga wasn't kidding about that after all.
Peep the video of Drake indirectly dissing Breezy — and still ducking the fade — below:
Be the first to receive breaking news alerts and more stories like this by subscribing to our mailing list.