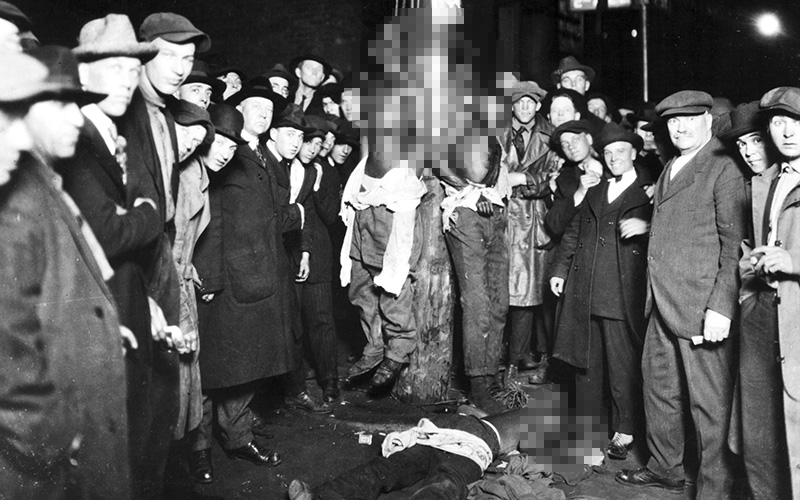 According to a newly released report by the Alabama-based Equal Justice Initiative, between the end of the Civil War and World War II (more specifically the years between 1877 and 1950), nearly 4,000 Black people were lynched in the American South — a number that is almost 1,000 more than what was previously known.
The report, titled "Lynching in America: Confronting the Legacy of Racial Terror," took at least half a decade of research to complete, and it claims that lynchings were part of a system of racial terror designed to subjugate Black people.
EJI founder Bryan Stevenson spoke with the New York Times about his project to build memorial markers in honor of the thousands of African Americans who were lynched in the South between the aforementioned years:
The process is intended, Mr. Stevenson said, to force people to reckon with the narrative through-line of the country's vicious racial history, rather than thinking of that history in a short-range, piecemeal way.

"Lynching and the terror era shaped the geography, politics, economics and social characteristics of being black in America during the 20th century," Mr. Stevenson said, arguing that many participants in the great migration from the South should be thought of as refugees fleeing terrorism rather than people simply seeking work.
According to EJI's report, the lynchings resulted in millions of Black people being forced to flee the South, which has in turn shaped the geography of black people in America today.
Black people didn't end up in places like New York, California, Chicago, Detroit, and other non-Southern states and cities because they were seeking opportunities, but due to them fearing being attacked and lynched if they remained in the Jim Crow South.
EJI staff spent thousands of hours over a four-year period researching and documenting where the lynchings actually occurred in the 12 most active lynching states in America: Alabama, Arkansas, Florida, Georgia, Kentucky, Louisiana, Mississippi, North Carolina, South Carolina, Tennessee, Texas, and Virginia.
The report distinguishes "racial terror lynchings" from hangings and mob violence that were the direct result of some criminal trial process or that were committed against non-minorities without the threat of terror.
The EJI's detailed report also deeply examines specific lynching cases, particularly the disturbing practice of public lynchings, where spectators were given body parts of the dead as souvenirs while vendors sold food and drinks and printed postcards featuring photos of the lynching.
"Large crowds of white people, often numbering in the thousands and including elected officials and prominent citizens, gathered to witness pre-planned, heinous killings that featured prolonged torture, mutilation, dismemberment, and/or burning of the victim.

"White press justified and promoted these carnival-like events, with vendors selling food, printers producing postcards featuring photographs of the lynching and corpse, and the victim's body parts collected as souvenirs.

"These killings were bold, public acts that implicated the entire community and sent a message that African-Americans were sub-human, their subjugation was to be achieved through any means necessary, and whites who carried out lynchings would face no legal repercussions."
One example in the report tells the story of Luther Holbert, who was accused of killing a local white landowner in 1904. A mob of angry white people captured Holbert and a Black woman believed to be his wife and they were taken to Doddsville, Mississippi to be lynched before hundreds of white spectators.
"Both victims were tied to a tree and forced to hold out their hands while members of the mob methodically chopped off their fingers and distributed them as souvenirs.

"Next, their ears were cut off. Mr. Holbert was then beaten so severely that his skull was fractured and one of his eyes was left hanging from its socket.

"Members of the mob used a large corkscrew to bore holes into the victims' bodies and pull out large chunks of 'quivering flesh,' after which both victims were thrown onto a raging fire and burned.

"The white men, women, and children present watched the horrific murders while enjoying deviled eggs, lemonade, and whiskey in a picnic-like atmosphere."
In 2013, the EJI successfully placed three historical markers in Montgomery, Alabama (like the one here) in an effort to give context to the city's involvement in the domestic slave trade, a move that — as one would imagine — was not fully supported by the Montgomery and Alabama governments.
The group hopes that publicly marking and memorializing lynching sites will "end the silence and inaction" and help with America's recovery process.
Be the first to receive breaking news alerts and more stories like this by subscribing to our mailing list.