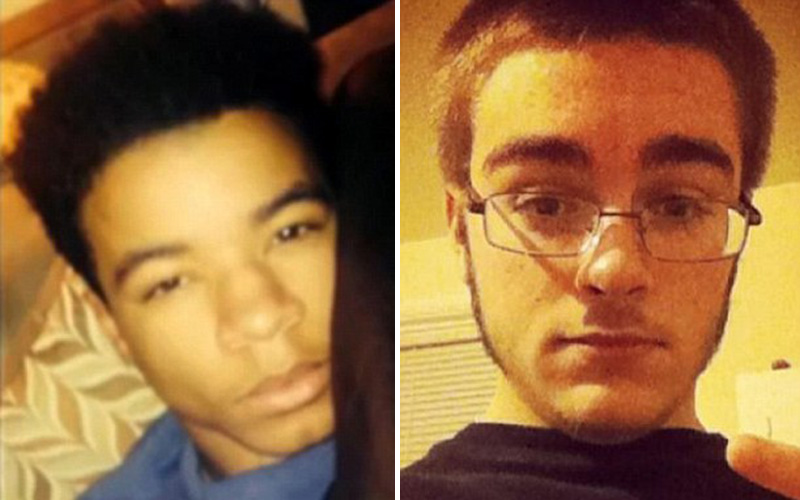 A teenager from Pennsylvania is facing murder charges after he allegedly shot his classmate in the face and posed for a "selfie" with the teen's dead body, which he shared on the popular photo messaging app Snapchat.
16-year-old Maxwell Marion Morton (pictured on the left), a football player at Jeanette High School, reportedly confessed to police in the killing of Ryan Mangan (pictured right), also 16, who was found dead by his mother in their home on February 4th.
Morton was arrested on February 6th after police received a photo showing Morton posing with Mangan's body, which was slumped over in a chair with a single gunshot wound to the face.
The day after Mangan's mother found his body, the mother of one of Morton's friends tipped police off about the photo, which her son had received from Morton on Snapchat.
Snapchat is a messaging app popular with teens, but unlike its social media counterparts (such as Instagram, Facebook, Twitter, etc.) anything that's posted is deleted after a few seconds. Instinctively, Morton's friend took a screenshot of the image before Snapchat's servers deleted it.
The friend's mother also said the boy received a text message from Morton saying, "Ryan was not the last one" and the gruesome Snapchat photo had Maxwell's name written across it in capital letters, CBS Pittsburgh reported.
Investigators searched Morton's home and found a 9-mm handgun in his basement that matched a spent shell casing found at the scene of the murder, according to reports.
In addition to being charged as an adult with first-degree murder, Maxwell Morton was also charged with criminal homicide and possession of a firearm.
Be the first to receive breaking news alerts and more stories like this by subscribing to our mailing list.