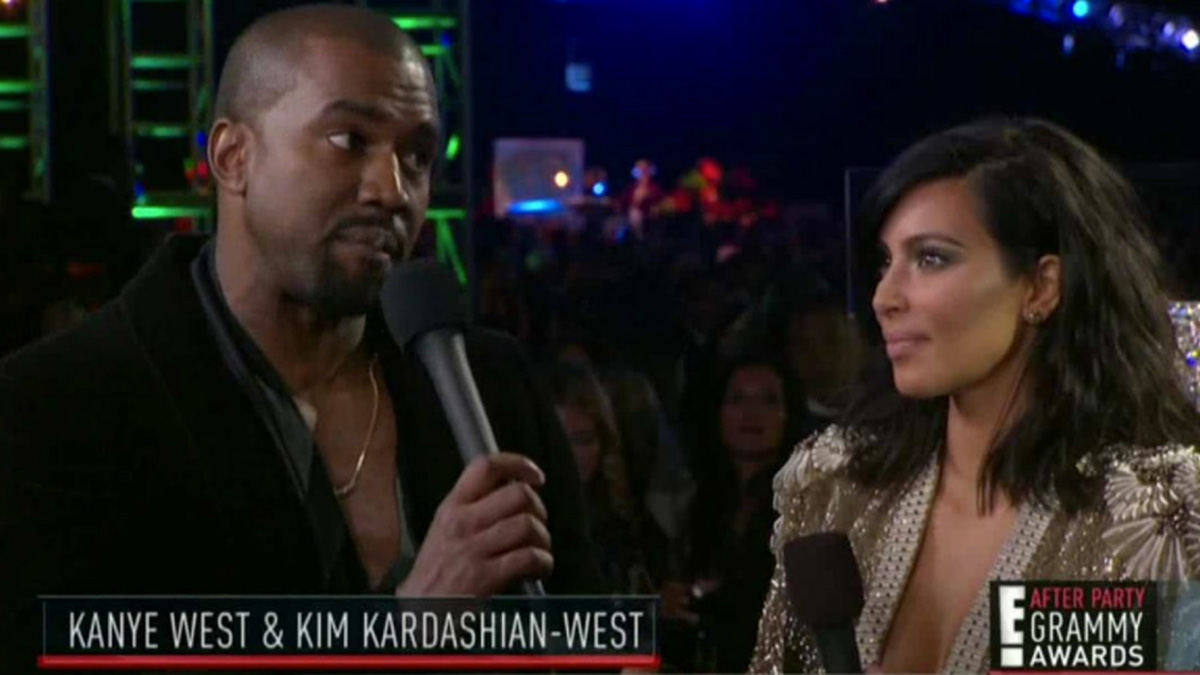 Kanye West ripped a page out of his own book at the 2015 Grammys Sunday night when he bum rushed the stage as Beck accepted his award for "Album of the Year," an award Kanye thought Beyoncé deserved.
Giving the audience a strong dose of déjà vu, Ye went up to the Grammys stage and made everyone (including Jay and Bey … ESPECIALLY JAY AND BEY) freak out about whether he was going to repeat the 2009 VMAs when he "stole Taylor Swift's moment."
Luckily, the whole thing was a joke and we all laughed it off. But was Kanye REALLY joking? Hell no. He really thinks Beyoncé deserved that award, because Beyoncé deserves all the awards.
When the rapper stopped by the E! After Party, he definitely didn't hold back and made it very clear that his little antic tonight was not just for fun, and said he thought that Beck should have given his award to Beyoncé.

"I don't know what he said, all I know is if the Grammys want real artists to keep coming back, they need to stop playing with us. We ain't gonna play with them no more. 'Flawless,' Beyoncé video. Beck needs to respect artistry and he should have given his award to Beyoncé, and at this point, we tired of it," 'Ye began to say with his usual intensity.

"Because what happens is, when you keep on diminishing art and not respecting the craft and smacking people in the face after they deliver monumental feats of music, you're disrespectful to inspiration and we as musicians have to inspire people who go to work every day and they listen to that Beyoncé album and they feel like it takes them to another place.

He continued, "Then they do this whole promotional event, they'll run the music over somebody's speech, the artist, because they want commercial advertising. Like, no, we not playing with them no more. By the way, I got my wife, my daughter and my clothing line, so I'm not going to do nothing to put my daughter at risk but I am here to fight for creativity. That's the reason why I didn't say anything tonight. But you all know what it meant when 'Ye walks on the stage."
As his wife Kim Kardashian-West nervously smiled on, Kanye made it known that he ripped E!'s logo from his mic and he asked everyone else to do the same, and of course they obliged (albeit hesitantly) because it's Kanye.
Watch Kanye go off on his epic rant here:
Be the first to receive breaking news alerts and more stories like this by subscribing to our mailing list.