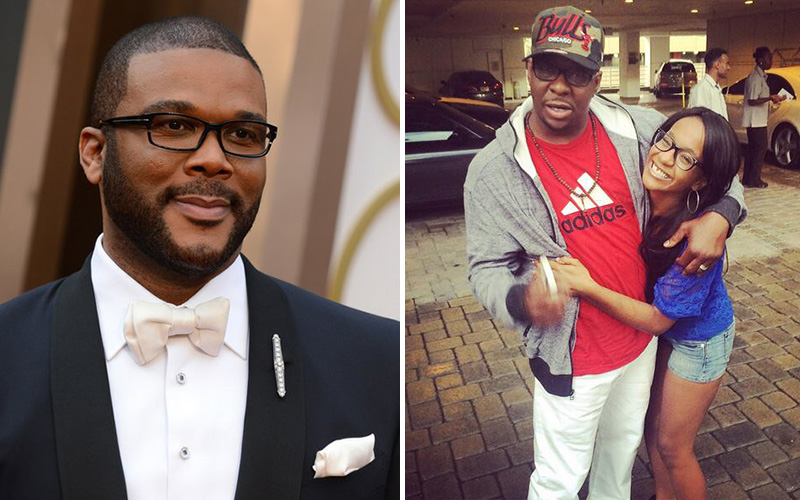 When Tyler Perry heard the news about Bobbi Kristina being rushed to the hospital after being found unconscious lying facedown in a bathtub, the Hollywood titan reportedly offered his support to Bobby Brown by allowing the singer to use his private jet so that Brown could be by his daughter's bedside.
"Tyler was absolutely shocked by the news," a source tells Us Weekly. "He heard the news and immediately offered Bobby Brown a flight in his private jet, which is why they arrived at the hospital together."
Fortunately for Bobby, Tyler was already on his way to Atlanta when they found out about Bobbi Kristina, so Perry let Bobby ride with him. "He called Bobby immediately and offered to take him," Us Weekly's source added.
Perry — who recently welcomed his first child with his model girlfriend Gelila Bekele last November — is said to feel "terrible" about what's happened to Bobbi Kristina and he's reportedly doing everything he can to offer support to her family.
"He's been working on being a good father himself and I know he feels terrible about this situation," the source continued. "He's canceling his meetings and calls to be with them."
Though their professional relationship had fallen off, Perry has always felt a connection to the celebuspawn and even offered her some acting jobs so that he could keep a close watch on her, but she turned them down in favor of spending more time with her husband
"He reached out to Bobbi a few times and they talked, but she was very much living her own life," added Us Weekly's source. "He offered her gigs on his shows, where he would have had a closer look at her day to day but she wanted to be with her husband."
Bobbi Kristina's husband Nick Gordon and a friend found Bobbi unresponsive in a filled bathtub Saturday (Jan 31). According to a police spokesperson, Gordon was performing CPR when officials arrived. Brown was rushed to Fulton hospital, where she was placed in the ICU.
Though her condition isn't known officially, TMZ has reported that Brown had "significantly diminished" brain function after being deprived of oxygen for anywhere between two and five minutes while she was submerged in the tub.
After performing tests this morning, doctors determined that the swelling in her brain had gone down, and she's been able to "move her eyes."
The Houston family said the following in a statement: "Bobbi Kristina is fighting for her life and is surrounded by immediate family. As her father already stated, we are asking you to honor our request for privacy during this difficult time."
Be the first to receive breaking news alerts and more stories like this by subscribing to our mailing list.