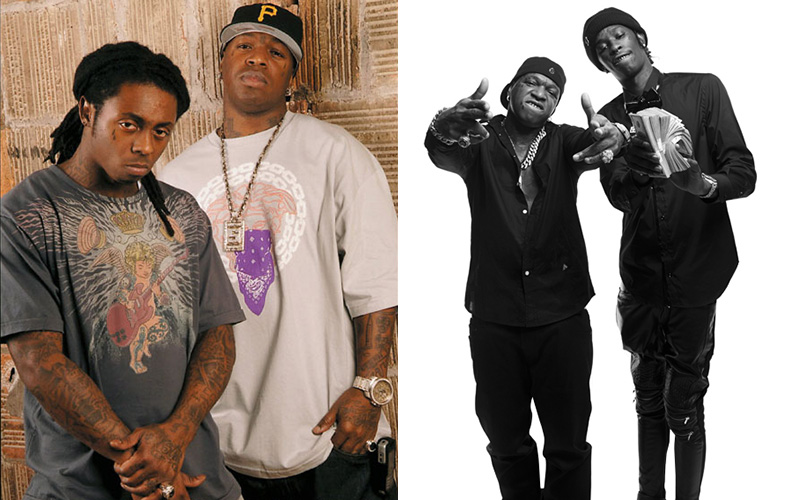 Based on recent social media postings, Young Thug and Lil Wayne appear to be fighting over Birdman's affection. As Momma Dee would say, "It's a shake-up in the palace and all the chambermaids are running amok!"
This is what Young Thug posted on Instagram Wednesday (Jan 21):
http://instagram.com/p/yIYHvwRz4q/
He captioned the photo: "Me and my love @birdman5star gone on lil bitty bitch…!!!"
It's assumed that the "lil bitty bitch" Thug is referring to is Lil Wayne, the same guy he said was a major musical influence for him. Is he firing shots? Probably.
For years, we've all considered Lil Wayne to be Birdman's "bottom bitch." For the uninitiated, the Urban Dictionary defines a "bottom bitch" as such:
A bottom girl, a bottom woman or bottom bitch, sits atop the hierarchy of prostitutes working for a particular pimp. A bottom girl is usually the prostitute who has been with the pimp the longest and consistently makes the most money. Being the bottom girl gives the prostitute status and power over the other women working for her pimp. However, the bottom girl also bears many responsibilities.
Apparently, Lil Wayne has not been fulfilling his duty as Cash Money's "bottom bitch," so Birdman the Pimp has been forced to hit the streets in an effort find someone else to fill the coveted position. That's where Young Thug comes in.
Last year, following the success of his hit singles "Danny Glover" and "Stoner," Birdman recruited Young Thug to join his Rich Gang collective, along with Thug's hubbie Rich Homie Quan, under the management division.
Now, after watching Birdman release hundreds of songs and videos from Thug and Quan, Lil Wayne is feeling slighted because he can't get his own album released. He's been demoted to sidechick and he doesn't want to play that position after being the bottom bitch for so long. Who would?
To all my fans, I want u to know that my album won't and hasn't been released bekuz Baby & Cash Money Rec. refuse to release it.

— Lil Wayne WEEZY F (@LilTunechi) December 4, 2014
I want off this label and nothing to do with these people but unfortunately it ain't that easy

— Lil Wayne WEEZY F (@LilTunechi) December 4, 2014
I am a prisoner and so is my creativity Again,I am truly sorry and I don't blame ya if ya fed up with waiting 4 me & this album. But thk u

— Lil Wayne WEEZY F (@LilTunechi) December 4, 2014
Now that Lil Wayne knows Young Thug has been handed his own keys to what Wayne feels is his empire, he's lashing out.
Take these lyrics from the opening song on his newest mixtape "Sorry 4 the Wait 2" for example:
I'm sorry for the wait, I'm sorry for the wait / Tha Carter gon' be late so I cooked up a tape

The garden's full of snakes so I had to escape / Lil homie gon' be straight, lil' homie gon' be straight

Who kept this sh*t together? N**ga, me, that's who / Who was there when niggas left us? N**ga, me, that's who

Cash Money is an army, I'm a one man army / And if them n**gas comin' for me, I'm goin' out like Tony

Now I don't want no problems, I just want my money / Ain't gotta hold no conversation or my luggage

Tell whoever's countin' that I'm on a hundred / Birdman Jr., more like Ugly Duckling
According to TMZ, Birdman is far from pleased with Wayne's mixtape, especially the lyrics above, and he feels "disrespected." He's reportedly doing everything in his power to prevent Wayne from getting out of his Cash Money contract and he only plans to release 'Tha Carter V' on his terms, not Wayne's.
Meanwhile, Young Thug gets to release new music every other day and you can bet Birdman would never make him wait to put out his album.
Where is the love, Baby?
Be the first to receive breaking news alerts and more stories like this by subscribing to our mailing list.