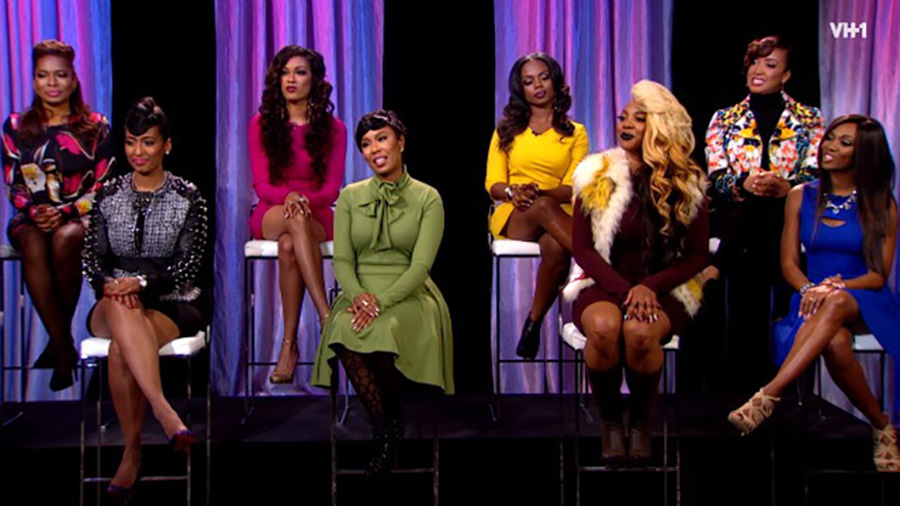 After receiving massive backlash, criticism and boycotts over their controversial reality show "Sorority Sisters," VH1 is abruptly bringing the series to an end.
VH1 will air the final three episodes of their controversial reality show "Sorority Sisters" back-to-back Friday (Jan 16) beginning at 9:30 pm EST. The network said the move is intended to satisfy viewer interest by bringing the cast's stories full circle.
According to the AJC, the show's abrupt ending doesn't really mean it's been officially canceled, but it still very well could be over.
This doesn't mean the show has been officially cancelled. VH1 rarely makes such announcements when a show is killed anyway, but no network with any intention of bringing a show back would make a move like this. It's not a stretch to say it's over for "Sorority Sisters."
The final episode will air at 11:10 and end just after midnight, and they will not be repeated for the West Coast.
The show has been attacked for its portrayal of African American sororities by tying well-respected Greek organizations to the ridiculous drama that VH1's reality shows are known for.
Several prominent sponsors pulled ads from the show, including T-Mobile, Hallmark, Carmex, Coca-Cola, Honda, Crayola Dominos, JC Penny, the Selma movie and many others.
Additionally, the Alpha Kappa Alpha sorority suspended two cast members from separate chapters after the VH1 series began airing.
VH1 aired a special last week called "Sorority Sisters: The Dialogue" to give the women on the show a platform to explain why they decided to apart of the series and to also address the show's critics.
The network sent the following statement to BuzzFeed about their decision to bring the series to a quick end.
"Based on the feedback we saw on Twitter after Sorority Sisters: The Dialogue debuted last week, it was clear that the audience wanted to see the stories of the cast play out more fully," a rep for the network said in a statement. "We felt it would be best to run the remaining episodes back to back, bringing the season full circle."
Be the first to receive breaking news alerts and more stories like this by subscribing to our mailing list.