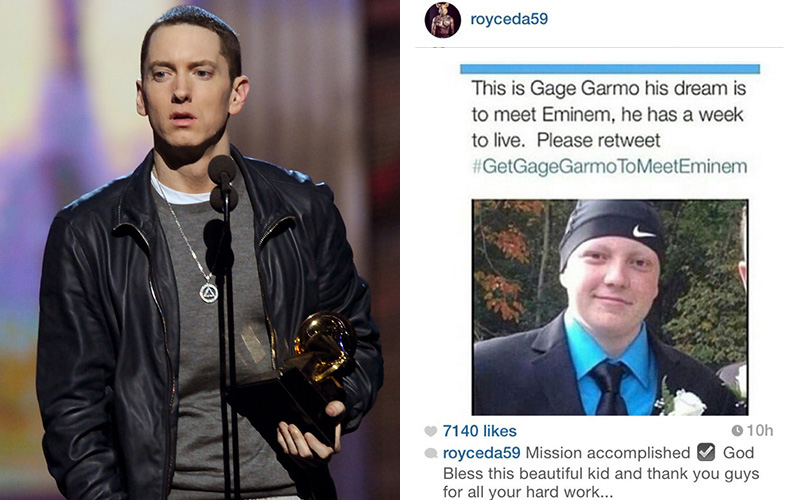 Eminem gets a pretty bad rap for being reckless with his lyrics and the awkward way he carries himself outside of music, but the 42-year-old Hip Hop legend proved that he's one of the coolest guys to ever walk this planet when he granted a terminally ill fan his last dying wish: to be able to meet The REAL Slim Shady.
A 17-year-old fan by the name of Gage Garmo was diagnosed with a rare form of bone cancer called Osteosarcoma, and was recently told he only had less than a week to live.
A few days ago, Gage's friends and family rallied together using the hashtag #GetGageGarmoToMeetEminem in hopes of getting the attention of the teen's idol, and their efforts paid off.
Gage's story reportedly caught the attention of Michigan-based charity The Rainbow Connection, which grants wishes to terminally ill kids, and the Detroit superstar — despite being known for avoiding the spotlight — fulfilled Gage's last wish by spending some personal time with him Sunday (Jan 11) at his home in Michigan, which, according to TMZ, is only about 20 minutes away from Em's own home.
We're told Em was adamant he did not want the visit to become a media spectacle — and quietly arrived to Gage's home around 5PM Sunday. The two spent around an hour together — talking and hanging out. We're told the whole thing meant a lot to Gage, who was in good spirits during the visit and after.
"Gage sat up with a grin of his face," a Rainbow Connection rep told the Detroit Free Press. "His family hadn't seen their son do that in such a long time. It was one of the most amazing things I've ever seen. The stars aligned, and Gage's wish came true."
The day after his wish of meeting his favorite rapper was granted, Garmo — who would have turned 18 years old on Friday — passed away as his battle with cancer came to an end. His friends and family held a candlelight vigil at the football field at Rochester High School, where Gage was a student.
"He's one of the most inspiring people I have ever met," his friend Gabbie Ratkowiak said.
Be the first to receive breaking news alerts and more stories like this by subscribing to our mailing list.