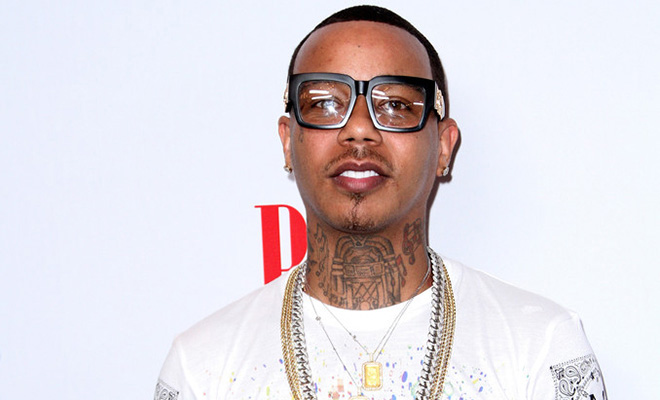 Yung Berg has been in the news a lot lately, from the abuse allegations against his girlfriend Masika Tucker to rumors about his sexuality, and he set the record straight in radio interviews with "The Breakfast Club" and "Sway in the Morning" last Friday.
Earlier this month, Ray J's manager Cash "Wack 100" Jones alleged via Instagram that Yung Berg was an "exposed homosexual" after he said he walked in on the 28-year-old rapper engaging in homosexual activities with a teenage boy.
"What you and that lil teenager was doing was out of line next time lock the Fuckn door nigga," Jones wrote on Instagram. He added, "No disrespect to the gay community there was greats that did it but the problem I got with @hitmaka is you running around here with our Black women putting them at risk."
Now Berg is clearing up the gay rumors, and he says the man who accused him isn't even Ray J's real manager.
"No! I'm not gay, I've never been gay!" Yung Berg told Power 105's The Breakfast Club. "The guy that said that has never been in the studio with me, he's a grown motherfucking man liar."
Berg explained "Wack 100" is just a "street" dude who "can make things happen," and even though he may have some industry connections, he doesn't really manage Ray J.
Berg also said the day Wack says he "walked in" on him was the same day he was in the studio with Teairra Mari working on her new song "Deserve."
Wack called Berg's phone threatening him about working with Teairra, and Berg believes Ray J was behind the whole thing because he doesn't like Berg working with Teairra (his ex).
"God bless Ray," Berg said on Sway in the Morning. "He's got his own issues. Maybe he didn't step up because he's dealing with his own cases. But I'm a grown-ass man. You're not gonna talk shit about my manhood and not see me come to Sway In The Morning and clear the air."
Watch Berg's interviews with The Breakfast Club and Sway in the Morning below:
Be the first to receive breaking news alerts and more stories like this by subscribing to our mailing list.