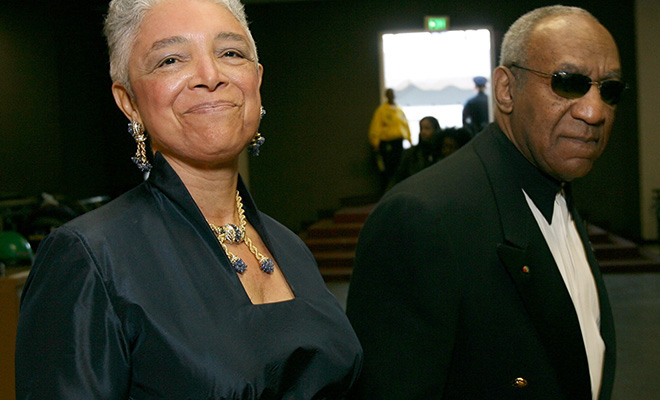 Bill Cosby and his wife Camille have both (kinda sorta) broken their respective silences regarding the mounting sexual assault allegations against Bill.
Bill Cosby, who has been accused of drugging and/or raping an increasing number of women, spoke with freelance reporter Stacy Brown for the New York Post's Page Six, and while Cosby didn't specifically address the allegations, he did give more than the head-shake he offered during an interview with NPR last month that caused several moments of awkward silence.
When asked about the allegations, Cosby pleaded with the media to stay neutral with its reporting of his situation, but the comedic legend turned activist suggested the white media isn't being fair to him.
The 77-year-old told Page Six, "Let me say this. I only expect the black media to uphold the standards of excellence in journalism and when you do that you have to go in with a neutral mind."
Cosby reportedly "sounded upbeat on the phone," and when asked how his wife is holding up, he said, "Love and the strength of womanhood … Let me say it again, love and the strength of womanhood. And, you could reverse it, the strength of womanhood and love."
He then ended the conversation, saying "they don't want me talking to the media."
Stacey Brown reported that Cosby, who is being represented by attorneys Martin Singer and John B. Schmitt, has been advised not to speak with the media about the ongoing allegations from more than a dozen women, which span at least four decades, beginning in the 1960s.
Brown spoke with CNN about his conversation with Bill Cosby and he said that he came away with the clear sense that Cosby wants to talk more, but he's remaining silent under the advisement of his lawyers and representatives.
"I definitely came away with the belief that he wants to talk about everything," Brown said. "He seemed as if he really does have a lot to say and, oddly enough, he didn't in any way appear worried about anything. To me, he sounded like a happy individual without a care in the world."
For Camille Cosby's part, she released a statement through CBS News, saying that her "kind," "generous" and "funny" husband isn't the person the media is portraying him to be, comparing the claims against Bill to the recent Rolling Stone article about an alleged gang rape at the University of Virginia that turned out to be untrue.
"We all follow the story of the article in the 'Rolling Stone' concerning allegations of rape at the University of Virginia. The story was heart-breaking, but ultimately appears to be proved untrue. Many in the media were quick to link that story to stories about my husband—until that story unwound. None of us ever want to be in the position of attacking a victim. But the question should be asked—who is the victim?"
Read Camille Cosby's full statement here:
NEW: Billy Cosby's wife Camille releases statement comparing coverage of her husband to Rolling Stone UVA rape story pic.twitter.com/lzWdytGC22

— CBS Evening News (@CBSEveningNews) December 15, 2014
WOW! Can you say … DENIAL?
Be the first to receive breaking news alerts and more stories like this by subscribing to our mailing list.