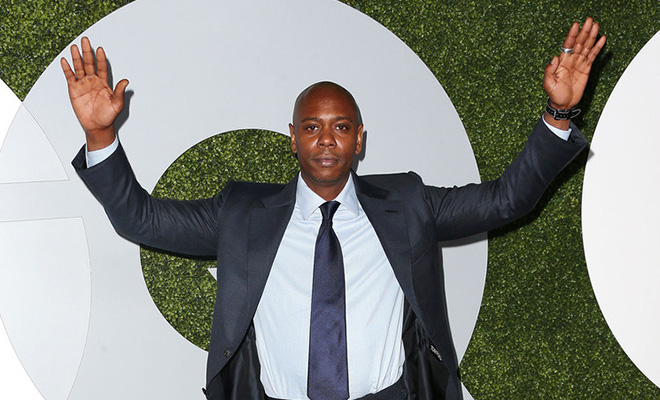 Famed comedian Dave Chappelle reportedly told a crowd at a show Thursday night (Dec 11) at the Saenger Theatre in New Orleans that he was once choked by a police officer while filming a movie there.
Though Chapelle's act wasn't caught on tape, Jarvis DeBerry of The Times-Picayune was able to retell the story from memory:
Chappelle said he was working on his "first movie" here in New Orleans. He was playing a mugger, he said. He was dressed for the part. The movie set was surrounded with police tape. He ducked under it. Then a police officer set upon him and immediately started choking him.

According to the Internet Movie Database, Dave Chappelle played a mugger in the 1993 movie "Undercover Blues," part of which was filmed in New Orleans. The movie was shot in the summer of 1992. Filming ended the same month Chappelle celebrated his 19th birthday.

One of the women working on the set saw what was happening to the actor and yelled to the police officer that he belonged on the set. After relaxing his hold on Chappelle's neck the police officer said, according to the comedian, "Well why didn't he say something?"

The weirdest thing about being a black man being choked by the police, Chappelle said, is that you don't even wonder why it's happening. You just think, he said, "OK, here we go."
The issues of racial disparities in the criminal justice system and the police's excessive use of force have been on the forefront of the news following a string of police killings of unarmed black men.
The use of chokeholds particularly have received national media attention after NYPD officer Daniel Pantaleo was caught on video putting unarmed Eric Garner into a chokehold that led to Garner's death.
Garner was supposedly resisting arrest after officers stopped him for allegedly selling untaxed cigarettes, and a grand jury decided earlier this month not to indict Pantaleo for Garner's death.
via: Vox.com
Be the first to receive breaking news alerts and more stories like this by subscribing to our mailing list.