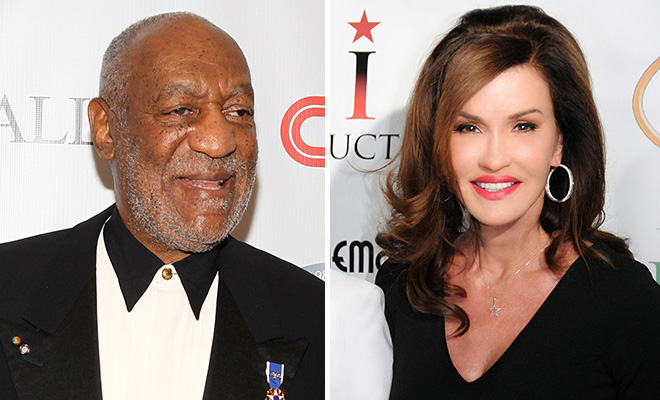 Earlier this week, Janice Dickinson revealed in an exclusive interview with Entertainment Tonight that she was drugged and raped by Bill Cosby back in 1982 after she got out of rehab.
But according to a statement from the actor/comedian's lawyer Marty Singer, the self-proclaimed "world's most supermodel" is a liar and her story is false.
"Janice Dickinson's story accusing Bill Cosby of rape is a lie," he told CNN in a statement. "There is a glaring contradiction between what she is claiming now for the first time and what she wrote in her own book and what she told the media back in 2002. Ms. Dickinson did an interview with the New York Observer in September 2002 entitled 'Interview With a Vamp' completely contradicting her new story about Mr. Cosby.

"That interview a dozen years ago said 'she didn't want to go to bed with him and he blew her off.' Her publisher HarperCollins can confirm that no attorney representing Mr. Cosby tried to kill the alleged rape story (since there was no such story) or tried to prevent her from saying whatever she wanted about Bill Cosby in her book."

He added, "Documentary proof and Ms. Dickinson's own words show that her new story about something she now claims happened back in 1982 is a fabricated lie."
After catching wind of Cosby's denials, Janice followed up with ET's Nancy O'Dell and Kevin Frazier and told them "it is not a lie," according to CBS News.
She continued, "It is my right as a woman. I have to speak up and you have to be able to go in and just be brave and do it for all the women that can't come forward."

Dickinson was emotional during the interview, breaking down in tears immediately after, but maintained that she is glad she has spoken up. "The loss of innocence that I suffered and that these women suffered is why I'm sitting here today. And I don't care about what Cosby or networks or anybody says, you will hear me."
Bill Cosby has yet to respond to the allegations from numerous other women who say he drugged and raped them too.
Be the first to receive breaking news alerts and more stories like this by subscribing to our mailing list.