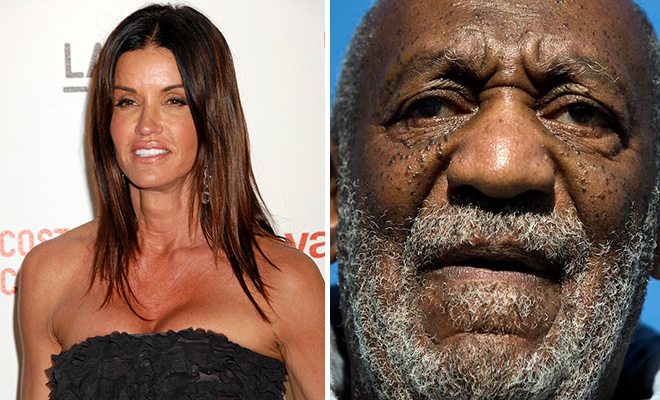 According to Janice Dickinson, you can count her among the many women who have accused Bill Cosby of drugging and sexually assaulting them.
The former supermodel made the shocking revelation in a new interview with Entertainment Tonight, where she explained how she was in rehab in the early 1980's when Cosby contacted her and offered to fly her to his home in Lake Tahoe so that he could fulfill his promise to her that he would help her with her career.
Dickinson said they had dinner, and afterward, he gave her a glass of wine and what she thought was a pain pill. It was then that the alleged sexual assault happened.
"The next morning I woke up, and I wasn't wearing my pajamas, and I remember before I passed out that I had been sexually assaulted by this man. Before I woke up in the morning, the last thing I remember was Bill Cosby in a patchwork robe, dropping his robe and getting on top of me. And I remember a lot of pain. The next morning I remember waking up with my pajamas off and there was semen in between my legs."
The 59-year-old said she has never confronted Cosby, but she did speak with his lawyers when she tried to write about the 1982 incident in her 2002 autobiography 'No Lifeguard on Duty: The Accidental Life of the World's First Supermodel.'
After she submitted a draft for the book to her publisher Harper Collins, Cosby's legal team pressured them to remove it from the final edit. The former "America's Next Top Model" judge told ET she's coming forward now because "it's the right thing to do."
Be the first to receive breaking news alerts and more stories like this by subscribing to our mailing list.