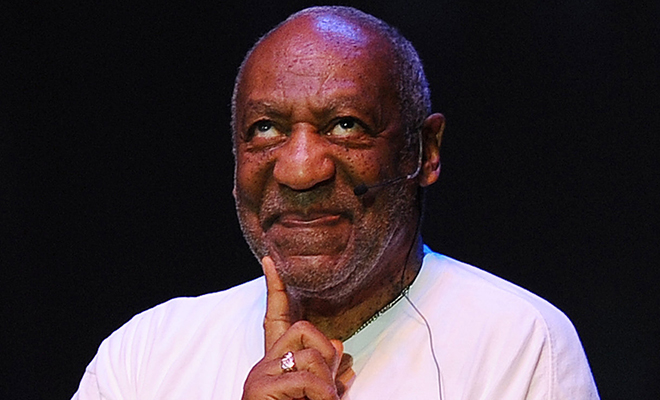 Bill Cosby's family-friendly image has been ruined thanks to the resurfacing of numerous allegations from several different women that he drugged and raped them (some more than once).
The sexual assault accusations date back to the 1970's, but Cosby has come under fire more recently due to a routine about the actor by stand-up comedian Hannibal Buress. The 77-year-old inadvertently fueled the flames when he asked his Twitter followers to "meme" him, which backfired tremendously as people shared memes about the rape allegations.
After Buress' comments on the scandal went viral, a woman named Barbara Bowman (who is now in her mid-40's) published an essay in the Washington Post recalling the assault that she says happened when she was a 17-year-old aspiring actress. "(He) brainwashed me into viewing him as a father figure, and then assaulted me multiple times," she wrote.
Bowman wrote about an alleged incident that took place at his home in New York, as well as another time she was sexually assaulted by Cosby at a hotel in Atlantic City. "I furiously tried to wrestle from his grasp until he eventually gave up, angrily called me 'a baby' and sent me home to Denver," she revealed.
Another woman, 63-year-old Linda Joy Traitz, spoke out about Cosby being a rapist on Facebook on Monday (Nov 17), and described an encounter she had with the comedian in which he was "sexually aggressive" with her and refused to "take no for an answer."
From Radar Online (via Traitz' now private Facebook post):
I promise you, the stories are true. I can't believe I'm doing this again as I just posted on another "Trove" site about the subject two days ago. Here goes (and I already know I'm opening myself up to public scorn).

When I was 19 years old I lived in Los Angeles and worked at a restaurant called Café Figaro, which was part owned by Bill Cosby. He used to come in from time to time and one day he offered me a ride home … I accepted.

Instead, he drove out to the beach and opened a briefcase filled with assorted drugs and kept offering me pills "to relax," which I declined. He began to get sexually aggressive and wouldn't take 'No' for an answer. I freaked out and demanded to be taken home. I never went after him for this and have no financial gain to put myself out there like this. I'm 63 years old now and felt compelled to speak out. To all of you refuse to believe that a beloved actor could do this, you are wrong. Human failings come in all shapes and sizes. Does him being a famous actor exonerate him from this?
Traitz' post followed the release of a video interview another accuser — 64-year-old journalist/publicist Joan Tarshis — did with Splash News, which was also obtained by Radar:
Tarshis said she and Cosby were working on a comedy bit when "he made me the drink that he knew I liked to drink which was bloody mary and he topped it off with about an inch of beer … and then the next thing I remember was waking up or coming to on the couch being undressed by him."

"My skirt was up and my underwear was being pulled down and I was shocked," she claimed. "And I thought I was being so clever because I said, 'Oh, I have an infection and if you have sex with me your wife will catch it and she'll know that you're having extramarital sex.'"

"And I wasn't so smart bc of that he sort of Bill Clinton, Monica Lewinsky-d me," she alleged. "Which was kind of worse in a way."

Asked whether he forced her to perform oral sex, Tarshis claimed, "Yes. … [It] seems to be more invasive to me than if we had just had regular sex. It just was horrible. And then it was over."
Bill Cosby has refused to comment publicly on the mounting rape accusations, with him silently shaking his head in an interview with NPR and canceling other previously-slated interviews with Queen Latifah, David Letterman and the Associated Press.
Cosby's attorney recently issued a statement via his official website that said, in part, "decade-old, discredited allegations against Mr. Cosby have resurfaced. The fact that they are being repeated does not make them true. Mr. Cosby does not intend to dignify these allegations with any comment."
Be the first to receive breaking news alerts and more stories like this by subscribing to our mailing list.