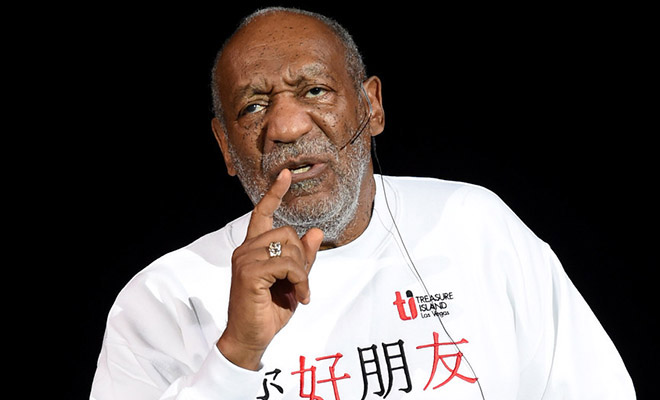 On Saturday morning's episode of NPR's "Weekend Edition," revered television dad Bill Cosby and his wife Camille joined host Scott Simon to talk about their extensive collection of African art.
But at the end of the interview, Cosby was asked point-blank to comment on the accusations by more than a dozen women saying that he sexually assaulted them.
In response, the comedian — obviously totally unprepared for questions regarding his rape allegations — shook his head and said absolutely nothing, which is really him saying absolutely EVERYTHING.
SIMON: This question gives me no pleasure Mr. Cosby, but there have been serious allegations raised about you in recent days.

[SILENCE]

SIMON: You're shaking your head no. I'm in the news business. I have to ask the question. Do you have any response to those charges?

[SILENCE]

SIMON: Shaking your head no. There are people who love you who might like to hear from you about this. I want to give you the chance.

[SILENCE]
There's an old saying that goes like this: "often the best choice is to say nothing." And that's probably why Heathcliff Huxtable has canceled interviews with Queen Latifah and now, more recently, David Letterman.
Bill Cosby may have made the "best choice" by saying "nothing," but he also basically confirmed the allegations too.
Here's a tip to Mr. William Henry Cosby. Stop doing interviews and stop asking the Internet to Meme you. It's just NOT working out in your favor right now.
Between the 1970's and mid-2000's, at least thirteen women have accused Bill Cosby of drugging and sexually assaulting them.
We the public have known about the rape allegations brought against him for almost a decade, but they were brought to the forefront once again thanks to comedian Hannibal Buress, who called the actor/comedian out for being "a rapist" during a recent stand-up set.
Cosby has never been criminally charged in any of the cases, though the 77-year-old settled a 2006 civil suit with a woman over an alleged incident that happened in 2004.
Be the first to receive breaking news alerts and more stories like this by subscribing to our mailing list.