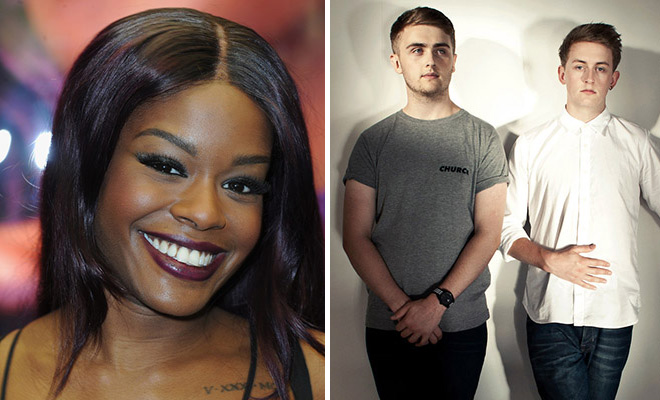 Azealia Banks became a breakout rap sensation back in 2012 after Kanye West co-signed her first single "212," and now two years later, she has finally released her oft-delayed debut studio album Broke with Expensive Taste.
To celebrate the album's official debut, Banks has been making all kinds of media rounds, and she recently sat down with The Guardian to discuss what she's been doing over the past few years, her new album and all of the Twitter feuds she's been a part of with other celebrities.
One beef mentioned was with she has with the group Disclosure — famous for their wildly catchy "Latch" single with Sam Smith.
Like the one with Disclosure, with whom she had a preliminary recording session last September and which she then tweeted about, much to the Lawrence brothers' chagrin. They felt she was being a little previous.

"I tweeted that I just had the best session with Disclosure, because I was such a fan-girl and I was so excited to have met them. But I guess their thing was: 'What if the song isn't that good and you hyped it up?' But I was like: 'So fucking what?' So they tried to be, like, assholes. And the next day they went to the media and they were like," – she assumes the identity of an uptight Brit – "'Oh well, I don't know why she's so excited, because we haven't even finished this song or written a hook for it.' I mean, come on!"

She reflects for a second. "I want to punch one of them in the face – the little one [possibly Guy Lawrence]. The ugly one. I want to hit him so bad. I saw him at the airport in Australia and I came over to him and I was like: 'Hello? Like, what are we going to do with this song?' And he was just being a dickhead. I started crying, I was so angry. I wanted to hit him. I cannot stand that little boy with all those pimples around his mouth. I love their music, though."
Banks — who is openly bisexual — also (once again) defended her use of the word "faggot," specifically in relation to her spat with openly gay celebrity blogger Perez Hilton when she called him a "messy faggot." At the time, she claimed that her definition of the word was "not a homosexual male," but "any male who acts like a female."
Now she has another meaning for the word:
"I don't regret doing it, but I'll never do it again, because I don't care enough about the person to have the battle again and defend my use of the word 'faggot'… A lot of gay men are way more misogynistic than straight men. The shit they say about women behind their backs, it's like: 'Wow, oh my God!'

"You can be a straight faggot, you can be a gay faggot. A faggot is anybody that hates women. It's like, y'all sing along to my words when I'm saying 'nigga' and 'cunt', but as soon as I call this one white man a faggot the whole world exploded. Listen, I didn't say all gay men are faggots; I said Perez Hilton is a faggot, so don't try and bring the rest of the gays down with your faggotry."
Click Here to read more from Azealia Banks' interview with The Guardian.
Be the first to receive breaking news alerts and more stories like this by subscribing to our mailing list.