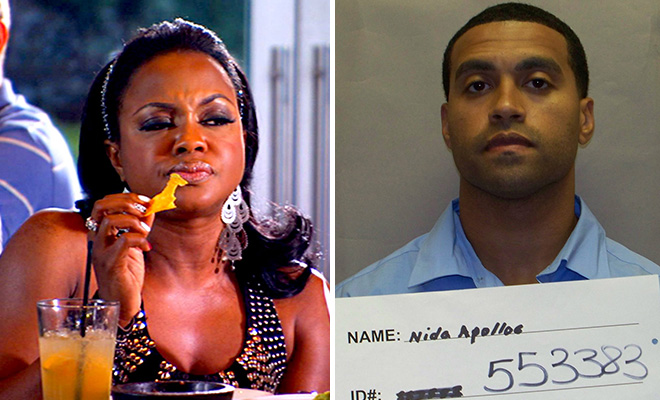 We were all tuned in to "Real Housewives of Atlanta" Season 7 premiere episode last Sunday night (Nov 9) as Phaedra Parks and Apollo Nida's marriage imploded right before our eyes, and it looks like their relationship is still on the rocks with no means of recovery in sight.
While Apollo rots away in a prison cell for the next eight years, the "light-skinned gorilla" (in the words of Kenya's friend Brandon) apparently took some time out to write his estranged wife a nasty letter, calling her a "fat, selfish bitch" who is "conceited" and "disloyal."
He even reportedly went as far as to bring their kids into it.
A source told Hollywood Life: "He's so childish. Phaedra said, 'He tried to get me together by telling me what he thought about me and numbering each pathetic insult.'"
Phaedra also reportedly said Apollo called her a "bitch, selfish, fat, conceited, and a wife that ain't loyal."
"He even told her that if it wasn't for their kids, he wouldn't care if he saw her fat ass ever again," the source continued. "He said it to her in a letter just like that."
The source went on to say that Phaedra "didn't even think the letter was worth the cost of turning on the fire to burn it!" and she "ripped it up and threw it in the garbage after reading the first few lines."
Another source previously revealed to the gossip site that Phaedra refuses to accept Apollo's collect calls from jail because she doesn't want to waste "money that [she] could be putting towards [her] kids' college," so maybe that could explain why he's being so damn hateful.
Still, that doesn't excuse him for acting out like this. What a loser!
PREVIOUSLY: Phaedra is Divorcing Apollo Because "She's Had Enough"
Be the first to receive breaking news alerts and more stories like this by subscribing to our mailing list.